After Charlottesville Drops Jefferson's Birthday, UVA Republicans, Democrats Differ on School's Celebration
University of Virginia students agree that being a slaveholder was a stain on former President Thomas Jefferson's legacy, but differ in their views on whether it made him unworthy of being honored through campus events.
Jefferson's complicated legacy as both the author of the Declaration of Independence and a slaveholder raised questions about if and how he should be celebrated. On July 3, City Council members in Charlottesville, Virginia, not far from Jefferson's home in Monticello, decided to replace the city's official holiday marking his birthday with Liberation and Freedom Day.
Months earlier, students at Hofstra University, a private university in New York, called for the removal of a statue of Jefferson. University President Stuart Rabinowitz ultimately decided to keep the statue where it was, but acknowledged that the founding fathers' words were both ahead of their time and their own actions.
During a protest of the one-month anniversary of the Unite the Right rally in Charlottesville, University of Virginia students covered a statue of Jefferson with a black tarp. After the Charlottesville City Council's decision, Jackson Samples, president of the University Democrats at UVA, told Newsweek the school should follow suit.
"Ceasing to celebrate his birthday is just one of the many changes the university should make towards rebalancing its priorities and fostering a history-telling that truly respects the contributions of all communities here at UVA," Samples said.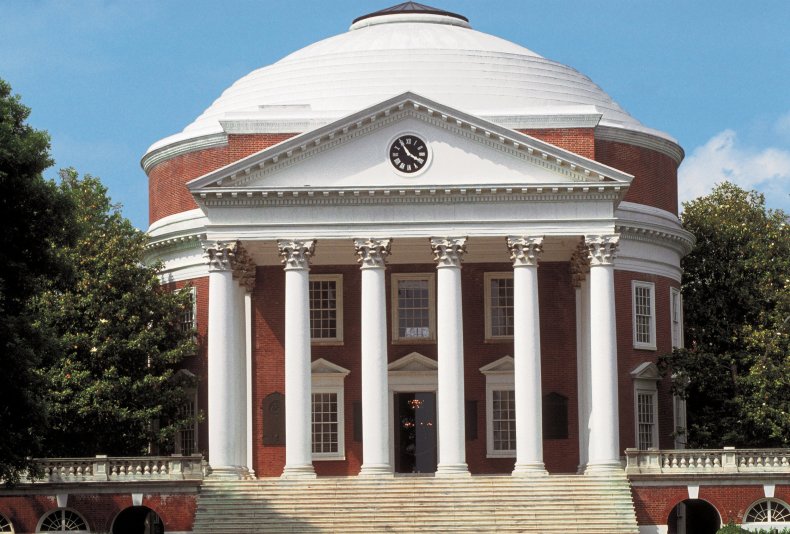 Jefferson founded the University of Virginia in 1819 and each year, the public university in Charlottesville celebrates his April 13 birthday. Known as Founder's Day, each year a tree is planted in celebration to a university community member who made a lasting contribution, although it's not observed as a university holiday.
Along with the tree planting and other events, university officials join the Thomas Jefferson Foundation at Monticello for a formal dinner and luncheon recognizing recipients of the Thomas Jefferson Foundation Medals in Architecture, Law, Citizen Leadership, and Global Innovation.
Samples credited the university's construction of the Memorial to Enslaved Laborers with being a "huge step" in the right direction. However, he advocated for additional material changes that better financially support low-income and minority students and possibly reparations.
"For far too long, we have blindly venerated the founding fathers at the expense of recognizing the hard-fought gains of minority communities," Samples said.
Matthew Nalls, president of the College Republicans at UVA, disagreed with Charlottesville's decision and told Newsweek the student group hoped the university would continue to celebrate its founder. Nalls acknowledged that Jefferson's actions were contrary to some of the values he proclaimed, but said he sees the founding father's complicated history as an educational opportunity.
"We must acknowledge the contributions of Jefferson which brought us to this point in time, while also learning from his shortcomings and vowing to never repeat his mistakes," Nalls said. "Jefferson's story is America's story of overcoming our own evils to allow individual freedom to triumph for all citizens."
Nalls credited the university with being open about the negative side of Jefferson by teaching students that the Academical Village — the school's original Jefferson-designed grounds and still a center of student activity — was built by slaves and through the Memorial to Enslaved Laborers.
"Acknowledging both the good and the evil of Jefferson's story is paramount to the future of our university, as well as our country," Nalls said.
While Nalls said the university deserved praise for showing both positive and negative aspects of Jefferson, Samples said the administration revered the founding father to an excessive degree.
"The amount of times one hears the words, 'Mr. Jefferson's University' or encounters quotes from his writing on [campus] is more than overwhelming," Samples explained. "Such worship is unnuanced and unoriginal."
Whereas Nalls considered celebrating both Jefferson's birthday and Liberation and Freedom Day to be a good comprise, Samples said it was time to drop Jefferson's birthday in favor of a leader who didn't own slaves.