Wisconsin University Officials Approve Policy Punishing Students for Protesting Campus Speakers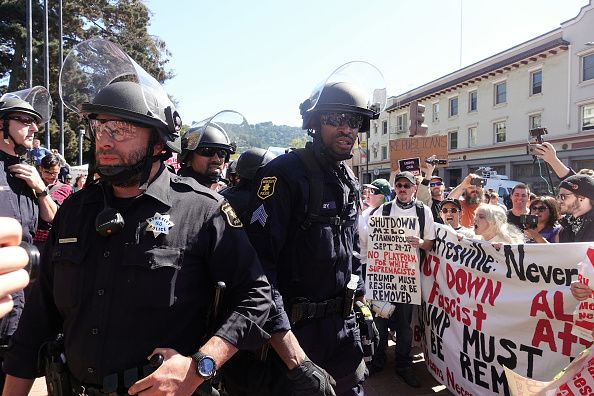 Wisconsin students who protest speakers on university campuses will now be punished, university officials decided last week in a move that is being praised by conservatives after several right-wing personalities had their scheduled speeches shut down by students on campuses around the nation.
The University of Wisconsin Board of Regents approved the new policy, which would suspend students after their second "violent or other disorderly misconduct that materially and substantially disrupted the free expression of others."
After a third time, the student would be expelled.
University officials say the policy honors academic freedom and freedom of speech, but critics question how the policy will be interpreted by students.
Suzanne Nossel, executive director of PEN America, a national human rights and freedom of expression organization, tells Newsweek that if students don't understand the policy, they might think they don't have the right to protest.
"Protesters are every bit as entitled to their First Amendment rights as are speakers," she said, adding that students or the university itself "may fail to recognize and uphold those rights."
Violent protests have long been prohibited by law, but the policy would keep protesters from disrupting speeches on campus. It's all about learning how to properly engage with aborrent speakers, the university system's president, Ray Cross, said in a statement.
"Modeling civility, reaching out intentionally to engage those who hold ideas and values we might find repulsive is not easy—especially in such a polarized society," he said. "But that is fundamental to what a learning community—and especially a university learning community—is all about."
Campuses are grappling with how to protect free speech in the wake of disruptions on campus, while conservatives argue that that their rights are not being defended. At the University of Wisconsin-Madison last fall, protesters attempted to disrupt conservative columnist Ben Shapiro by shouting and forming a line to block the stage during his talk.
Early this year, protests at the University of Calilfornia, Berkeley, escalated into violence ahead of a speech by right-wing personality Milo Yiannopoulos. More than 150 protesters caused about $100,000 in damages to the campus, and the school later canceled his appearance.
The University of Wisconsin Board of Regents started reviewing freedom of speech policies on campus in July. The board then decided it needed to take a stance on the contentious issue.
Regent José Delgado spoke about his Cuban heritage at the meeting and how in Cuba at age 14 he lived under a government that limited freedom of speech.
"We must open our mind to rational discourse," Delgado said in a statement. "I feel the pain of listening to someone with whom I vehemently disagree, but any limitation to this type of conversation cannot be accepted. And it would be a scandal to do so at our university."
The new university policy will be explained to students upon entering the Wisconsin university system as freshmen or transfers.