University of Wisconsin Settles With Former Student Who Claimed Professor Made Her Take Morning After Pill
The University of Wisconsin reached a settlement with a student who sued the school for failing to properly handle claims she made that a professor engaged in a coerced and emotionally abusive sexual relationship with her.
Only identified as A.R. in the lawsuit, the former student claimed a consensual relationship with her art professor, Michael Beitz, became abusive and ultimately caused her to withdraw from the Oshkosh, Wisconsin, campus. About nine months after a student filed the lawsuit, the University of Wisconsin system reached a settlement with the student.
"In consultation with the state's Department of Justice, we agreed to a settlement that is in the best interest of taxpayers and the University," Mark Pitsch, public information officer for the University of Wisconsin system, told Newsweek.
Jason Luczak, an attorney for Beitz, who was also named as a defendant in the lawsuit, expressed similar sentiments about the settlement. Luczak told Newsweek that litigation is costly and his client decided it was in his best interest to settle.
"Mr. Beitz did not make an admission of liability as part of the settlement agreement," Luczak said. "Mr. Beitz is no longer teaching."
The University of Wisconsin isn't the only higher education institution dealing with accusations of sexual misconduct. Before news broke of the settlement, Harvard University suspended a professor accused of sexual harassment and Stanford University also recently fired a professor over sexual misconduct allegations.
A.R. enrolled at the university in fall 2011 and had Beitz as a professor from her first semester until fall 2013. Beitz allegedly drank with students at local bars and in February 2012, after confiding in him about a breakup, he invited A.R. to his apartment where they had sex.
Newsweek reached out to A.R.'s attorney but did not receive a response in time for publication.
Their relationship lasted about three years, became "unwelcome" and "created an intimidating, hostile and abusive" environment for A.R., according to the lawsuit. At one point, the relationship caused A.R. to be hospitalized for severe depression and anxiety. "Professor Beitz knew plaintiff was emotionally fragile and used her vulnerability to manipulate their relationship," the lawsuit stated.
After A.R. started a relationship with someone else, the lawsuit claimed Beitz felt "threatened" and made unwanted sexual advances toward her. While helping Beitz set up a sculpture at the Madison Museum of Contemporary Art, the professor allegedly pressured A.R. to have sex and insisted she take Plan B, commonly called the morning-after pill.
"Plaintiff resisted, explaining she was on birth control and it was unnecessary. However, the next day Beitz drove plaintiff to Walgreens, bought her a Plan B and watched her take it in his car. Plaintiff protested, concerned about the possible side effects of such a serious pill, but Beitz made her take it anyway," the lawsuit claimed.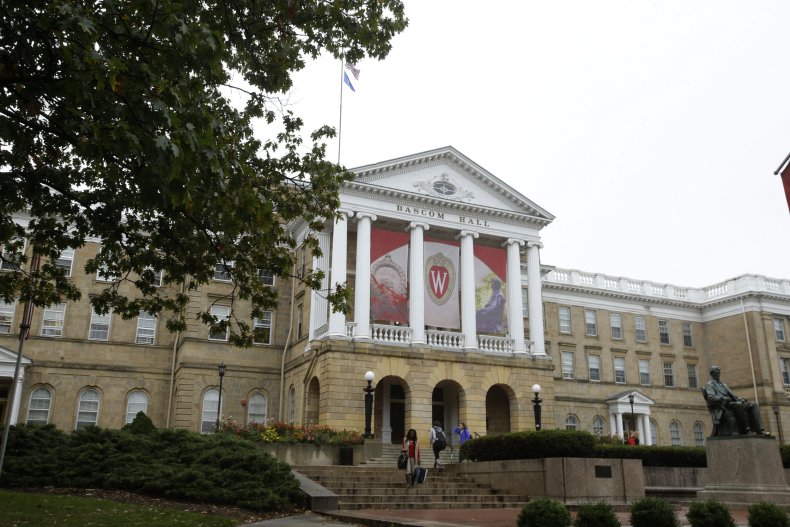 The lawsuit also stated that Beitz ejaculated on a drawing of the plaintiff sleeping and drilled holes in a plaster bust of her head created by A.R. Then he had sexual intercourse and ejaculated into it. During class, the lawsuit claimed he displayed "inconsistent behaviors" and the student stopped going to class to avoid him, ultimately failing the semester.
After finding it too difficult to return to school, A.R. allegedly contacted then-Department Chair Gail Panske in March 2014 to tell her about the inappropriate relationship. It was forwarded to Assistant Dean of Students Terri Gohmann and Assistant Vice-Chancellor and Interim Investigator for Equity and Affirmative Action Sharon Kipetz. Beitz allegedly admitted to Panske that he had a relationship with A.R.
In December 2012 and January 2013 respectively, over a year before A.R. told Panske about the relationship, an art student's mother and a student at the school allegedly sent an email to Panske about A.R. and Beitz.
Kipetz and A.R. spoke multiple times over the next few months, the lawsuit stated, and she returned to campus in August 2014. During a phone call with Beitz, which led to daily calls, he allegedly convinced her to retract the complaints.
In November of that year, she filed a formal sexual harassment complaint with the Office of Equity and Affirmative Action and the university issued a report that found Beitz violated the University's Consensual Relationships Policy and Sexual Harassment Policy.
However, the lawsuit charged that the school never took any formal action against Beitz and allowed him to finish the semester.
"Defendant Panske and, thus, also the Board did not take any effective action on any of these occasions to address Beitz' sexual harassment of plaintiff and, instead, acted with deliberate indifference to it, thereby, causing plaintiff to undergo further harassment and/or making her liable or vulnerable to it," the lawsuit stated.
Panske went on to teach at the University of Colorado, but he resigned in May, according to the Milwaukee Journal Sentinel. The case was dismissed with prejudice after a settlement was reached on July 9, which the Milwaukee Journal Sentinel reported was for the amount of $325,000.
Pitsch told Newsweek in 2016, the school updated the Board of Regent policy to prohibit relationships between employees and students that create a power differential.