University of Wisconsin Student Held Swastika Sign During Israel Independence Event to 'Spark a Conversation'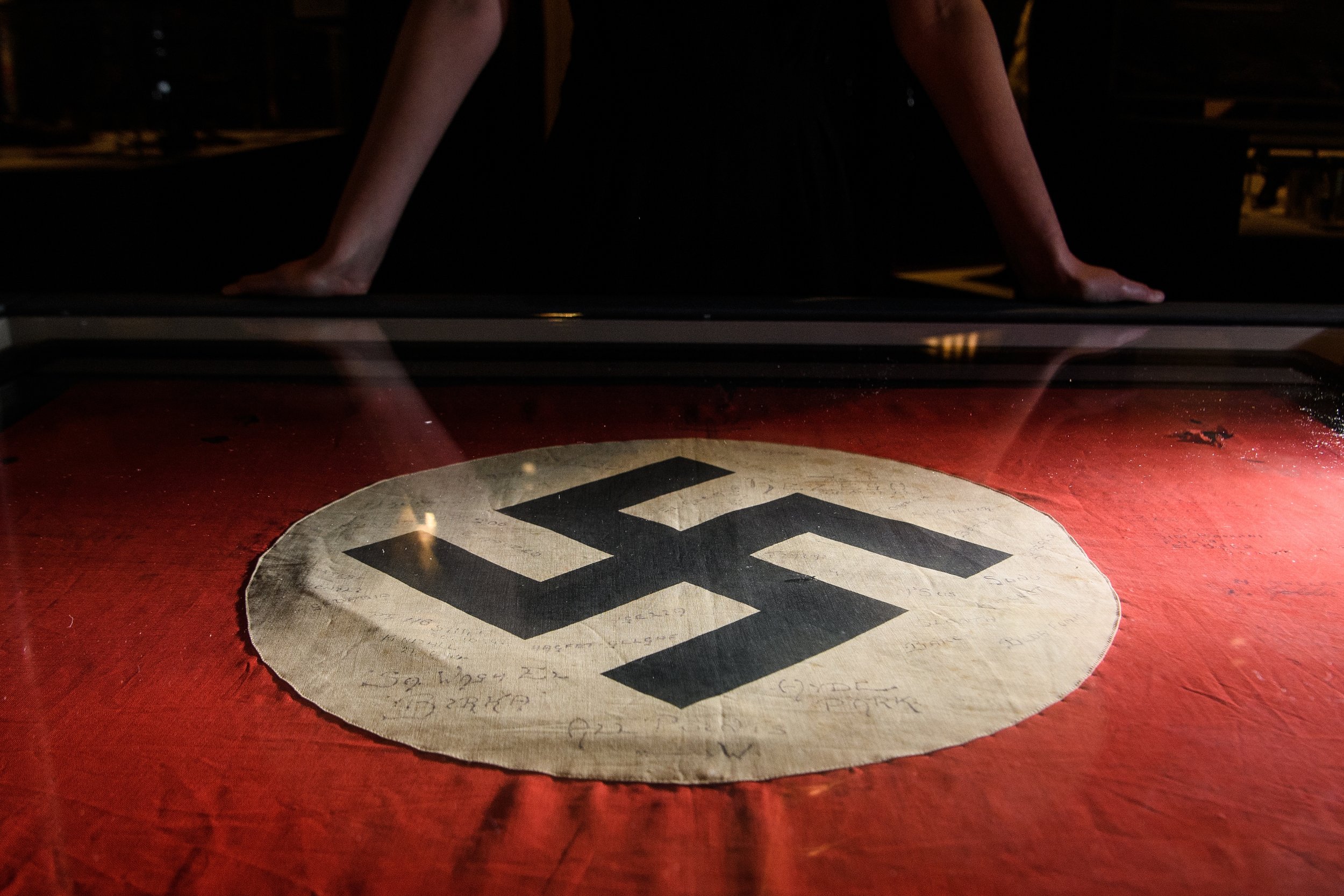 During a pro-Israel event at the University of Wisconsin-Milwaukee on Monday, a man displayed a sign with a swastika on it. While the event organizer believed his intention was to "spark a conversation," she said there were different approaches he could have taken.
To commemorate Yom Haatzmaut, Israel Independence Day, the university's chapter of Students Supporting Israel held an event in front of the Golda Meir Library, named after Israel's first and only female prime minister. While some students came by for free food or to see Artists 4 Israel, an organization that affects social change through various art forms, at work, one student brought a sign that had a swastika on one side and the word "gas" on the other.
Days before the event, a drone dropped fliers containing swastikas and hateful messages on California State University, Sacramento's campus. An FBI report found an almost 40 percent increase in hate crimes against Jewish people in 2018 and prominent figures have raised concerns about growing anti-Semitism in America.
In a video posted on Facebook, the student with the sign commented that he thought it was "funny" and later said it was intended to "spark a conversation."
Sarah Elizabeth Berry, the president of the university's chapter of Students Supporting Israel, told Newsweek she believed his intention was to "spark a conversation," but added that there were other, better ways to do that. Regardless of his reasoning, the symbol's presence was frustrating for her.
"Seeing this symbol makes me believe that his intentions were to be anti-Semitic and protest our event in an extreme method," Berry said. "I worked extremely hard to plan this event, and to see someone protesting with extremely anti-Semitic symbols, it was heartbreaking."
In contrast to the negative emotions she felt when she saw the swastika, Berry said she was "overjoyed and overwhelmed" by the support she received from students afterward. Far from allowing the student to ruin the event, Berry planned to double down in the future.
"One person is not going to stop us from hosting events and being discouraged," Berry told Newsweek. "It just means that we have to come back next semester stronger than ever."
Artists 4 Israel echoed Berry's message in a post on Facebook, saying they "will not be silenced or cowered."
"We will not stand for such blatant anti-Semitism at a time when Jewish men, women, and children around the country and world are being attacked for who they are," the post concluded.
The student, identified only as Chris, told WISN that he wanted to call attention to single motherhood homes, opioid addictions and abortion. If he were to do it again, he said he would "probably" take a different approach because his message was lost.
"The only reason I'm getting an interview from you right now is the fact that I put a swastika on that sign," the student told WISN, adding that a different message would have been ignored.
Since it's a public university, the University of Wisconsin-Milwaukee told Newsweek it respects everyone's right to free speech, even if it's something disagreeable.