'Go Back to Univision': Donald Trump Ejects Reporter From Press Conference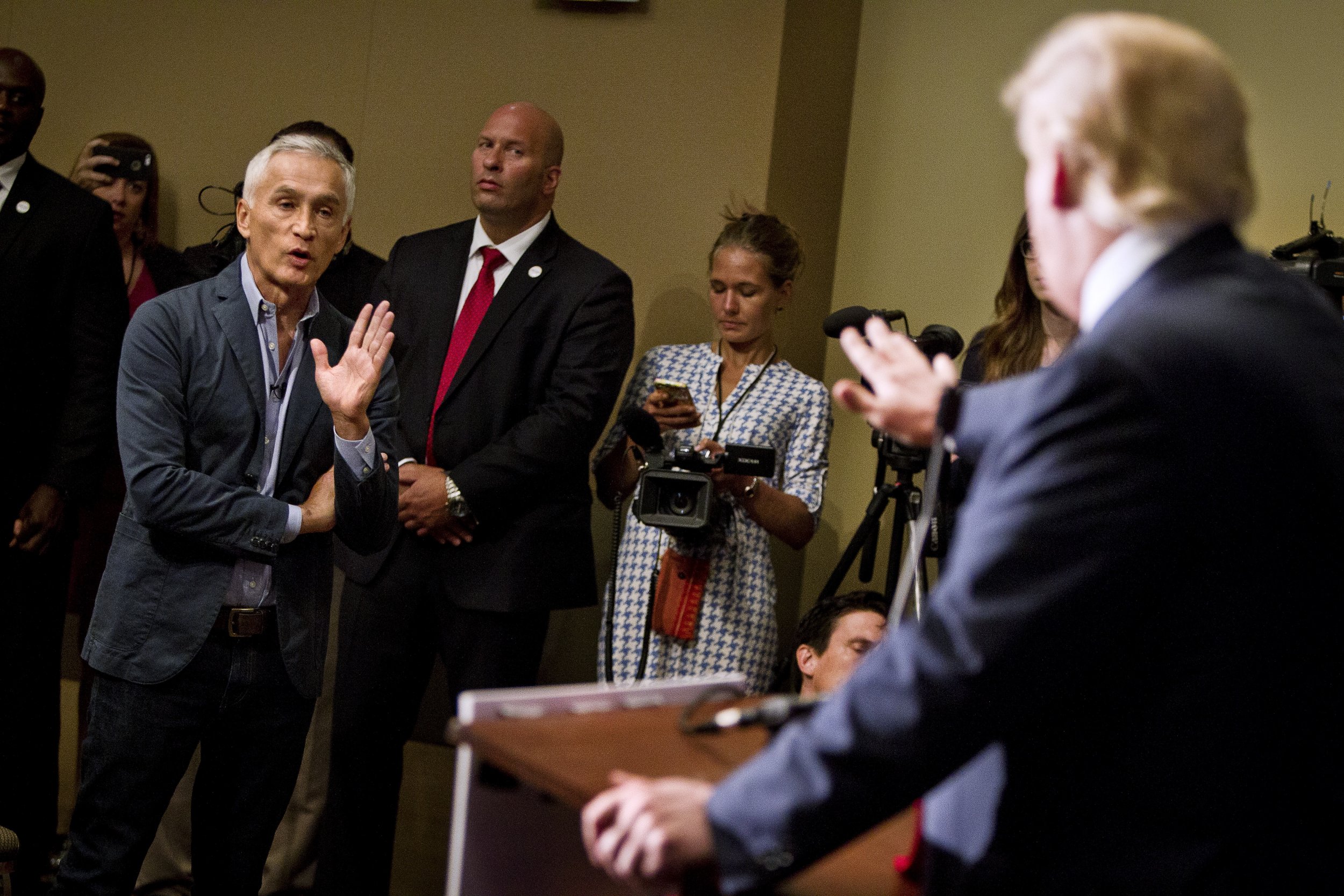 Republican presidential front-runner Donald Trump ejected a Univision reporter from his news conference on Tuesday night in Iowa, after the candidate said the individual spoke out of turn.
"Mr. Trump, I have a question," said Jorge Ramos, a Mexican-American anchor and journalist for Univision, at the Grand River Center in Dubuque. Ramos, who hosts Univision's Sunday morning political news program, is an outspoken critic of Trump's immigration policy.
"Excuse me," Trump said. "Sit down. You weren't called. Sit down."
"I'm a reporter, an immigrant, a senior citizen," he said. "I have the right to ask a question."
"Go back to Univision," Trump said, as he motioned to his bodyguards to have Ramos removed from the room.
Trump has said if he is elected president, he would crack down on immigrants entering the country illegally and change the constitutional amendment that allows children born to immigrants who came to the United States illegally to automatically become American citizens.
Ramos later returned to his seat in the front row. "Good to have you back," the candidate said.
Trump called on him, and they debated about his immigration plan for several minutes. Then the conversation turned to the $500 million lawsuit Trump filed against Univision, which cut its business ties with him in June, ahead of broadcasting the Miss USA Pageant.
"How much am I suing Univision for right now? Do you know the number? I know you're part of the lawsuit," Trump said.
"I'm a reporter," Ramos said.
"Five hundred million dollars," Trump replied. "And they're very concerned about it, by the way. I'm very good at this."
Univision is an American-Spanish language broadcast TV network. The decision to sever connections with Trump was a result of the candidate's comments during his campaign announcement speech about Mexicans being rapists and bringing drugs into the United States.
On Wednesday morning, Trump told the Today show that he's not a bully.
"He was totally out of line last night. I was asking and being asked a question from another reporter," he told NBC's Matt Lauer about Ramos. "He stood up and started ranting and raving like a madman. And, frankly, he was out of line."
The most recent Reuters/Ipsos poll on Tuesday showed Trump with a 20-point lead over his closest rivals, including former Florida Governor Jeb Bush. Former Arkansas Governor Mike Huckabee was in second place among Republican candidates with 10 percent of the support, followed by Bush and retired neurosurgeon Ben Carson with a third-place tie.