Unlike Donald Trump, New Acting Homeland Security Chief Kevin McAleenan Has Been a Big Supporter of Central American Aid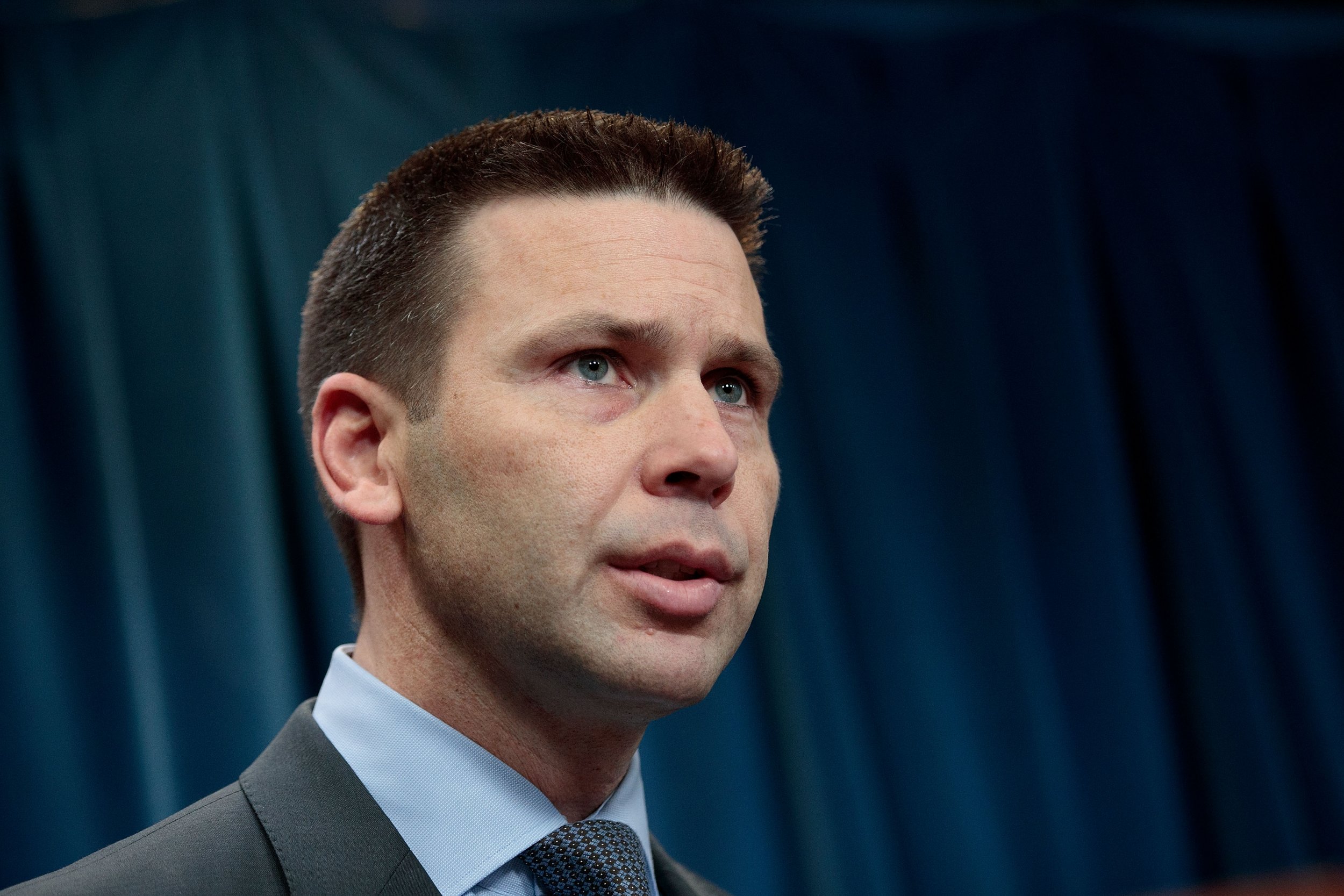 After months of rocky relations with President Donald Trump over her leadership on immigration, Department of Homeland Security Secretary Kirstjen Nielsen brought her tumultuous two-year White House tenure to an end on Sunday, submitting her long-anticipated resignation.
Trump announced Nielsen's departure from the White House in a Sunday tweet as he ushered in her replacement, U.S. Customs and Border Protection Commissioner Kevin McAleenan, who will now serve as acting DHS chief.
While Nielsen's resignation appeared to be the culmination of months of condemnation from the president over her seeming inability to stop asylum seekers from arriving at the U.S. border, it remains to be seen whether McAleenan will be any more up to the task of satisfying Trump's demands.
At least one issue on which McAleenan and the president differ vastly is on U.S. aid.
Since taking office, Trump has repeatedly threatened to cut financial support to Central American countries. The president has renewed the threat with greater force over the past month in response to a surge of Central American asylum seekers, including many families, arriving at the southern border.
On Sunday, White House chief of staff Mick Mulvaney said in an interview with Fox News that Trump could "absolutely" follow through on his vow to end foreign aid to Honduras, Guatemala and El Salvador, where the majority of the asylum seekers arriving at the southern border come from.
But Trump's approach could put him at odds with McAleenan, as McAleenan has repeatedly stressed the importance of continuing U.S. aid to the three Central American countries, collectively known as the Northern Triangle in the not-so-distant past, as the Global Leadership Coalition pointed out to Newsweek.
In one such instance, four months ago, on December 7, 2018, McAleenan touted the progress that the U.S. had made with its Alliance for Prosperity initiative, which was launched in 2014 to help Northern Triangle countries improve security and economic opportunity in response to a surge in arrivals of unaccompanied minors at the U.S.-Mexico border.
Speaking at a discussion on development, security and migration in Central American nations, McAleenan asserted that his colleagues at USAID were "very mindful of ensuring that these investments are targeted and that they're making an impact for U.S. policy" and "reducing migration flows" to the southern border.
"We're four years into supporting the Alliance for Prosperity with investment in Central America—over $2 billion set aside by Congress. A lot of that is in the process of being deployed," McAleenan said.
"I think we're starting to see the fruits of that...I saw it firsthand when I was in Central America in September and hope to see more progress when I go back," McAleenan said.
Meanwhile, in a July interview at the Bipartisan Policy Center in Washington, D.C., McAleenan said the U.S. should not "shy away from investing heavily in our partnerships in Central America.
"We've got three good partners in the administrations there," he said. "If you look at El Salvador, the migration level from El Salvador has reduced 65 percent this year. What they're doing is working both on the security front and on the economic opportunity front.
"We want to achieve those same successes in Honduras and Guatemala as well," McAleenan said. "So I think there actually can be a more near-term reaction to sustained investment and a really whole-of-government on the U.S. side effort—ideally partnering fully with Mexico to support our Northern Triangle partners, so I think that's a near-term opportunity."
McAleenan's stance on the importance of maintaining aid to Central American countries has remained the same since his nomination hearing on October 24, 2017, when he was asked point-blank whether he believed that funding to support the Alliance for Prosperity was important for securing the southern border.
"Yes," he responded. "Supporting the efforts of the Northern Triangle governments to enhance their economic and security environment will serve to address the push factors that drive migration, smuggling and illicit trade from the region to the United States."
"The Alliance for Prosperity also shows a commitment by the Northern Triangle countries themselves to address economic and security challenges in the region," he said.
Discussing the push and pull factors for why asylum seekers were coming to the U.S. from Central American countries in his December comments, McAleenan said that he believed there were a number of reasons why asylum seekers felt pushed to flee their home countries, including violence, economic insecurity and food insecurity.
"On the push factors...a lot of people think first and foremost about violence. They think murder rates, they think about the gang violence and obviously, there are significant concerns there," he said. But, McAleenan said that while violence was still a pressing issue, food and economic insecurity had become major push factors driving asylum seekers to the U.S. border.
"What we looked at over the last several years is really a changing demographic coming from Central America, not arriving from the big cities, but primarily, now, we're seeing from Guatemala and Honduras, folks from rural areas."
Significant challenges with food security in rural areas, McAleenan said, were "affecting the ability of families to provide for themselves." "We're seeing that directly translate into who's arriving at our border," he said. "Really, the hunger concern has become a real prevalent push factor from our analysis and perspective."
The then-CBP chief said that many Central Americans were also driven to the U.S. because of a severe lack of economic opportunity in their home countries.
In Guatemala, for instance, McAleenan said, "the number of jobs that are created each year, about 35,000 to 40,000 when you have about 150,000 young people entering the work force, [creates] a huge mismatch.
"So, to look for opportunity, there are jobs in Mexico and there are jobs in the United States. You can see why people would want to move toward that economic opportunity," he said.
"The violence, though, remains an important issue," McAleenan added.
At another discussion on July 27, 2018, McAleenan stressed the importance of maintaining aid to "our partners in Central America, El Salvador, Guatemala and Honduras," saying: "This is a regional migration flow. It's driven by economic concerns and lack of economic opportunity.
"That's really fundamental to understand," McAleenan said. "There's a lot of discussion about gang violence, there's a lot of discussion about coercion, but economics is the fundamental core of this."
Economics, it seems, has also been at the core of Trump's own concerns around U.S. aid, with the president tweeting in December: "Honduras, Guatemala and El Salvador are doing nothing for the United States but taking our money," in response to reports of a caravan of asylum seekers making their way to the U.S.
The State Department has said it plans to follow through with Trump's threats by ending fiscal year 2017 and 2018 foreign assistance programs for the Northern Triangle, though it is unclear how soon that will happen, if it happens at all.
In a statement condemning the Trump administration's plans, U.S. Global Leadership Coalition President and CEO Liz Schrayer emphasized that "American aid to Central America is not charity, but investment in our national security—full stop!"
In a warning that has been echoed by numerous experts on foreign aid, Schrayer warned that "the idea of suspending the relatively small but essential foreign assistance" to Northern Triangle countries would only serve to "exacerbate the root causes driving people to flee their homes—brutal violence, hunger, and instability."