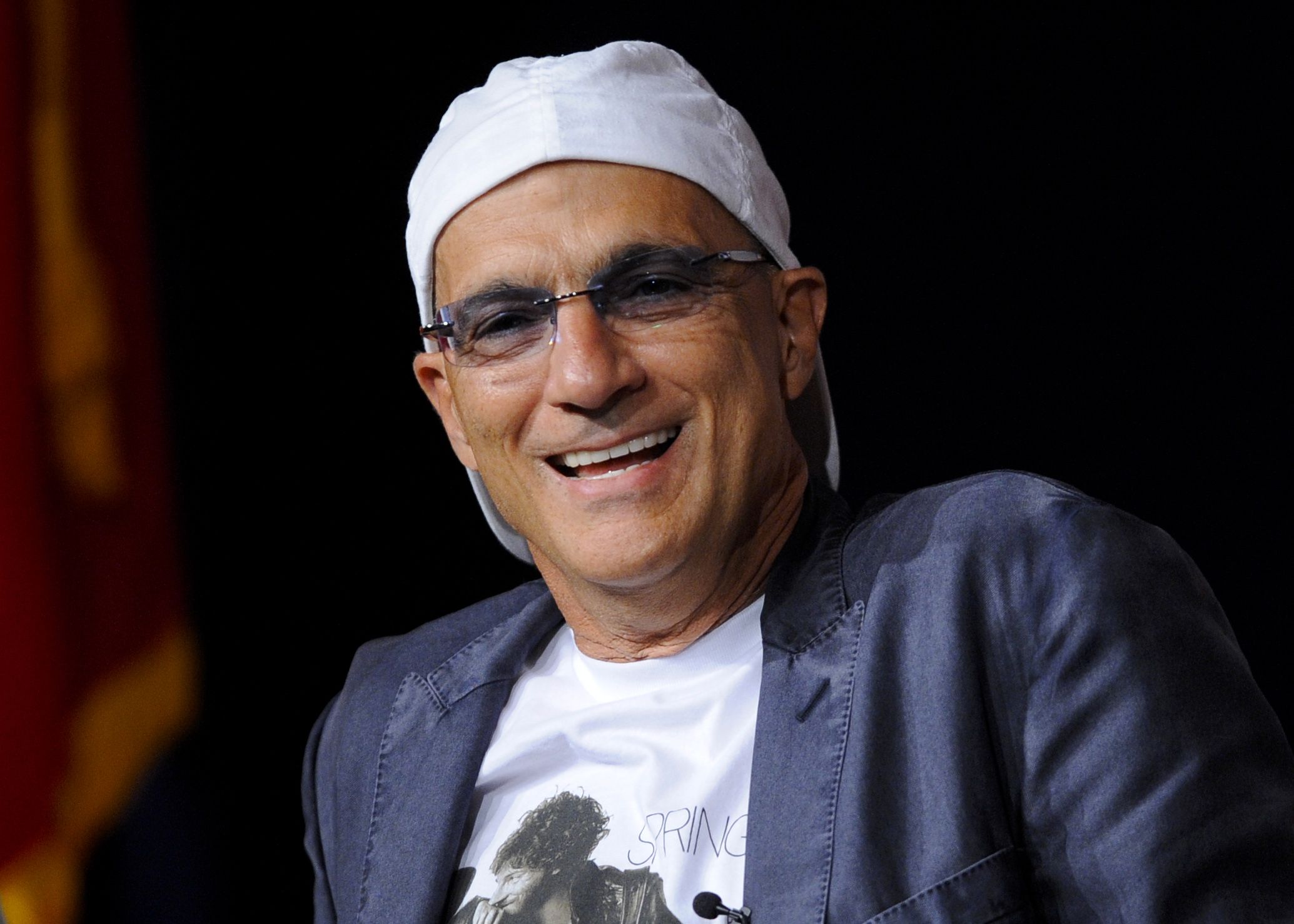 A stark presence and mouthy operator, music industry driver Jimmy Iovine hardly fits the mold of an Apple exec. He doesn't talk like one, freely sharing his mind to the anguish of PR offices everwhere. He doesn't look like one, either, usually appearing more like Dr. Evil on his way to an EDM concert on Jupiter in his flashy blazers and tinted shades.
Maybe Iovine, joined by Beats partner Dr. Dre, will be entirely what Apple needs, supplying the raw enthusiasm that's been lost since Steve Jobs' death. Maybe he'll be an unmitigated disaster. Either way, he's on board now, joining the tech company in an "undisclosed full-time" leadership position.
Here's a look back at several particularly striking episodes from his sweeping, four-decade career.
When he got his start as a record studio janitor. Iovine's career beginning isn't entirely typical of a tech executive. It isn't entirely typical of a music label head, either: he was sweeping floors. He landed a job cleaning a recording studio, then joined The Record Plant as a recording engineer and, in his early twenties, wound up working on major rock records like Springsteen's Born to Run and John Lennon's Walls & Bridges.
That relationship with Springsteen remained pivotal. "My life changed because Bruce Springsteen got on a mic in front of me," Iovine told The Times. Decades later, The Boss paid him back with a namecheck in the song "Ain't Good Enough For You."
When he signed Marilyn Manson and Nine Inch Nails. As founder of Interscope Records, Iovine became a tremendous player in popular music in the nineties and signed everyone from No Doubt to Smash Mouth. He didn't shy away from controversy: in 1992, Nothing Records, an offshoot "vanity label," was founded and became home to shock rocker Marilyn Manson and Nine Inch Nails, whose Trent Reznor remains a close collaborator of Iovine's. Iovine stood by as Manson became the scourge of mainstream media and conservative America in the mid-nineties, though that relationship ended poorly when Manson recently exited Interscope and bashed Iovine in Revolver Magazine.
When he understood the potential of Gangsta Rap before any other execs did—and stood by it. When hip hop was still a nascent urban phenomenon with an uncertain shelf life, Iovine saw potential in acts like now-partner Dr. Dre and Snoop Doggy Dogg. When the rappers on the associated Death Row label became the target of popular criticism in the mid-1990s, Iovine refused to compromise—or ask the artists to do so. Years later, Iovine was the producer of 2002 film 8 Mile, starring Eminem.
It's that understanding of the music side—or "content," as the tech industry would have it—that makes Iovine an appealing get for Apple, where the focus has always been on how people listen to music rather than what or why.
When he called a fellow executive at the same time every day for months. Iovine is "famously relentless," The New York Times reports, providing this example: "To seal a joint-venture deal, he once called an executive at another label every day at 3 p.m. for a year." It's not the only instance of this bracing sort of commitment. Asked how the Apple deal came together, Iovine said, "I asked them every day for 10 years."
Maybe such behavior is befitting of a hard-charging tech executive—just not the sort that the controversy-shy Apple has tended towards since Steve Jobs' death.
When he talked trash about Apple products the same day he joined Apple. Yes, this happened yesterday. As The New York Times' Bits blog reports, Iovine sat down for an interview with two Re/Code editors and, with an Apple senior VP listening along, said what he really thinks about Apple's trademark earbuds: "You listen to Apocalypse Now and a helicopter sounds like a mosquito."
That's perhaps fitting, though. Iovine and Dre founded Beats partly in response to those earbuds, intending to bring a higher-end, bottom-heavy audio experience into the mainstream. Now, that effort has come full circle. One 10-figure transaction later, $400 Beats headphones and cheap white earbuds will coexist under the same corporate banner.