The Unlikely Story of a Single Mom Who Became a Trucking Industry Matriarch | Opinion
She was in born in 1944 in Bluford, Illinois, a small rural town in the southern part of the state with fewer than 500 people living in it. Her youth wasn't much different than that of other kids across the country who grew up in such places.
"My mother always had a big garden, and she had a lot of chickens, and I'd help her can," recalled Marcia Taylor, owner and operator of one of America's largest trucking companies. "My dad always had a lot of wheat, soybeans and corn, so I'd always help him in the fields. It was a great way to grow up."
But all in Taylor's idyllic small-town life was about to change. "When I was 14, my father was sick, and he just got up and passed out, and right then he just died, and left my mother, my little brother Dwayne and I with a farm. It was just a devastating time for me. I ended up being the responsible one in the family."
Taylor plunged headfirst into adulthood, getting married at the age of 16. By 19, she was the mother of three children. "My aunt told me to call the last one the caboose and let it be the end," Taylor laughed.
The marriage, it turns out, wasn't a laughing matter. It produced children, but not a lot of love and nurturing. "Neither one of us were really ready to be married, nor ready for the responsibility of having three small children," Taylor confessed. "My husband started drinking, and it became a very abusive relationship both physically and mentally, so I knew I had to just get away from that situation."
Not one to wallow in misery, Taylor did something about her circumstances. Some friends in the neighborhood owned a stake in a small trucking company in Georgia, and there was a job opening there. Taylor jumped at the opportunity, seeing it for what it was: a chance to start her life anew.
"I knew nothing about trucking, but I knew it would be a way for me to get the children and move to a new location," Taylor recalls with pride. "We loaded everything we had up in a truck and a 40-foot van, and all of our belongings took up about 10 feet of that van, and we moved to Georgia and moved into a mobile home, and I was able to file for divorce."
She arrived in Georgia a single working mom with children in the fourth, fifth and sixth grades. But she wasn't alone. "My mother had not been in the best of health, so we called her and asked her to come to Georgia, live with us, and help with the children so I could really focus on work," Taylor remembers with gratitude.
Taylor would go on to marry the man she worked for, and together, they worked hard. In 1974, they made a business bet that would change their lives. "In 1974, we had the opportunity to buy this little small trucking company with 15 trucks and 30 trailers, and we only had $500 in cash to start this business," Taylor explained. "But they sold it to us on credit."
It wasn't easy making payroll in the early days, but after years of work, the couple managed to get the trucking company they'd bought onto solid financial ground.
But Taylor's life, already filled with tragedy and setbacks, was about to get the experience the biggest set back of her life.
Her husband, JD, had been a heavy smoker suffering from emphysema, and he decided to give a newly advertised treatment a chance. "So we went to this smoking clinic that was attached to one of the large hospitals," Taylor recalled. The operation didn't go as planned, and after a brief return home, she knew something had gone wrong. Very wrong. She rushed her husband to the emergency room. He never returned home. Taylor was once again a single mom, with no one to turn to for help.
"So all at once I was left with this business, and this was back in the '80s, and there really weren't any women in the transportation business, certainly nobody running a trucking company," Taylor said. "I was really worried the bank would recall our line of credit because they didn't trust a woman, and I had three small children that I had to take care of, and my mom. But I just had to put all my faith in God, that whatever was supposed to happen, he would see me through."
Her faith in God was complemented by her faith in her employees. And theirs in her. "My drivers all gathered around, there were 30 people who worked here at the time, and everybody just said, 'Look, we can do this,'" Taylor explained. "We just went to work."
Her work—and the company's success—came at a cost. She worked 60- and 70-hour weeks for many years to build what would become the largest female-owned trucking company in the country, with nearly $500 million in annual revenue.
"I feel guilty that I didn't spend more time with my children growing up. I wish I could go back and change that," Taylor said. "My mom was there, thankfully, and she always made sure there was a meal on the table, that they got to the ball games, that they got to wherever they needed to get to, but I feel like I missed a lot. Now, I've gotten to work with my children, so I'm very fortunate that way."
The family business now consists of 14 different companies that do all kinds of transportation, and has 3,200 drivers and owner operators and nearly 400 different offices—some outside the United States. They move things some companies won't, including agricultural equipment, rockets, and ammunition and explosives. Her company is also the largest mover of manufactured homes in the nation. Developing those niche businesses was a critical part of the company's growth.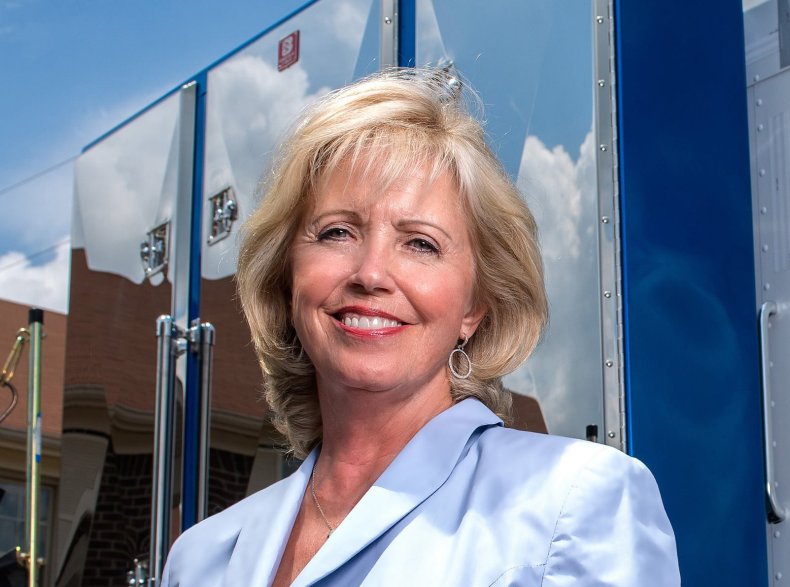 But what truly set apart Taylor's business from the industry pack was the culture she created at her company. The CEO and matriarch of Bennett International Group did things differently than her male competitors, creating an environment that nurtured her employees. And made them feel like they were family—something not ordinarily associated with the rough and tumble trucking industry. Indeed, her driver retention rates are the envy of the industry.
What Taylor was clearly most proud of was how her company managed its workforce through tough times, especially the 1980s recession, which hit her industry hard. She wanted more than anything to avoid draconian staff cuts, born out of a practical business sense, her experience as a single mom and her deep Christian faith.
Taylor and her executive team didn't want to lose any of the deep institutional experience in her operation that had taken years to cultivate, and knew it would be a competitive advantage when the economy rebounded to keep her team in place.
She also knew it would build camaraderie and trust, something that Taylor valued more than anything. Rather than do the customary industry layoffs and work force reduction, she reduced ancillary expenses, diligently watched cash flow and asked everyone in the company to make small sacrifices.
"I've always believed that if you treat people right and give customers great service, the profits will come," Taylor told a local Georgia business news outlet. "Our goal was to come out of the recession in a better place and we achieved our mission because our employees were willing to pitch in, which helped us avoid layoffs."
Employees were asked to take off one day per month without pay, while the sales team searched for new sources of revenue, and the management team scurried to streamline expenses. The team spirit was so strong, that employees with resources and security helped their cash-strapped co-workers by volunteering to take off additional days without pay.
That Taylor happened to be a woman, and a single mom, had a lot to do with her executive decision making. Her choices made her company better and stronger—and as the economy rebounded, they were poised to take more market share.
At the young old age of 75, Taylor doesn't have any immediate plans to retire. "I firmly believe that you should get up every day and work to make a difference," she said. "I feel like I can do that here."
Much of Taylor's satisfaction is found in the family atmosphere she's managed to create. And from the foundation she formed to give back to her people and the community.
"We started a foundation based on Christian values, where we give back 10 percent of our earnings each year," she noted. "One of the things we do is we have a friend that runs a camp in Old Town, Florida, and we take a week, and we sponsor employees' children and grandchildren, and we also sponsor kids that wouldn't have the opportunity to go to the camp," Taylor gushed.
What makes Taylor's business different than the others, in the end, comes from her faith and the worldview it engenders.
"We try to use this company to help show Christian love. I definitely think that this is a ministry," she said. "It allows us to reach people we might not be able to reach otherwise, both through our foundation and just every day."
Taylor's story embodies the best of America's virtues and qualities: grit, resilience, hard work, faith, generosity—and love.
There are stories all over this great country like hers. Stories worth telling. Stories worth imitating.
Lee Habeeb is vice president of content for Salem Radio Network and host of Our American Stories. He lives in Oxford, Mississippi, with his wife, Valerie, and his daughter, Reagan.
The views expressed in this article are the author's own.