Unmasked Hospital Potluck May Have Led to 112 COVID Infections, 12 Deaths
Health officials in Canada are investigating staff-to-staff transmission after a COVID-19 outbreak at the University Hospital in London, Ontario spread to six units.
London Health Sciences Centre (LHSC) officials reported that as of Friday, 64 patients and 48 staff have tested positive for COVID-19 in the outbreak—a total of 112 cases. Additionally, 12 deaths have been associated with the outbreak.
The Middlesex-London Health Unit (MLHU) first declared an outbreak on the fourth floor of the general medicine unit at University Hospital on November 10. A day later, the outbreak had spread to the ninth-floor orthopedics unit.
By November 24, the outbreak had spread to another three wards and the hospital stopped accepting new admission on the four floors. An additional 24 beds at a nearby hospital were set aside to offset University Hospital's reduced capacity.
But three days later, the outbreak expanded to a fifth floor and another ward on the initial fourth floor of the hospital. All non-emergency surgeries and procedures at University Hospital have been cancelled and the LHSC has halted most outpatient appointments and banned visitors with a few exceptions.
LHSC's chief medical officer Adam Dukelow is now looking into unverified reports of a staff potluck that may have led to the deadly outbreak.
"As soon as we were alerted to that (our team) started a line of investigation," Dukelow said at a Wednesday press conference. "Similarly, our colleagues at the health unit are also investigating it but we have no further information to confirm that there was a potluck at any point in time that would be related to the outbreak, but are actively investigating it."
"The last thing we need now are super-spreader events dressed as holiday traditions," MLHU's medical officer of health Dr. Chris Mackie said.
"Employers, in particular, need to create online events to mark the holidays for their staff members if they don't want their workplaces to turn into outbreak zones," he added.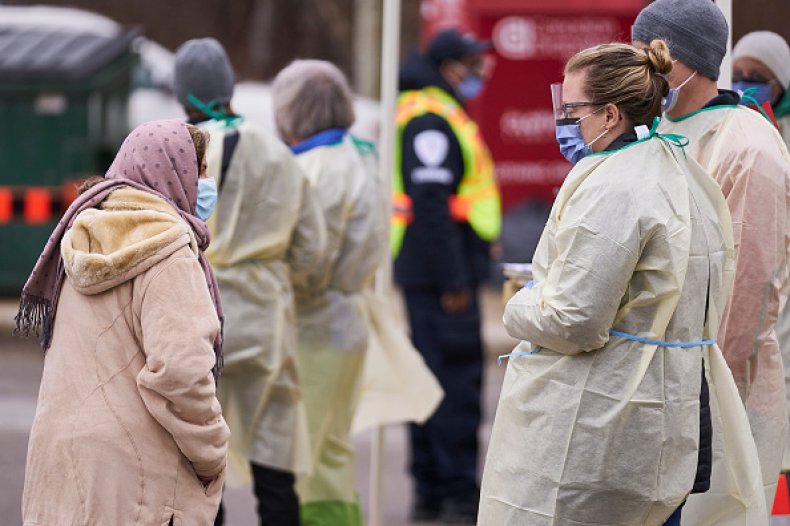 Dukelow also said transmission between staff members in hospital break rooms, where they should be wearing masks, is believed to be a factor in the outbreak. He said his team is actively auditing each hospital unit three times per shift to ensure 100 percent compliance from staff.
On Monday, the chief medical officer said that hospital staff who have battled the virus since the pandemic began are facing fatigue, which could cause slippages in wearing personal protective equipment.
Two weeks ago, LHSC president Paul Woods scolded hospital employees in an internal email for failing to follow public health recommendations during breaks. He warned there would be consequences, including termination, if it continues.
Additional break room space has been opened up to make social distancing easier between staff members, who are now required to stay at specific sties or units to limit movement within the hospital.
In a statement on Wednesday, London, Ontario Mayor Ed Holder said the outbreak "serves as a jarring reminder of the potential for tragic outcomes if public health guidelines are not followed."
As of Thursday, Ontario has reported over 121,000 COVID-19 cases and more than 3,700 deaths.