Unorthodox Kickoff Gives Dallas Cowboys An Improbable Comeback Win
The Dallas Cowboys held their first home game Sunday of the 2020 season, and they held it before the NFL's largest in-person crowd so far—a mere 21,000. Those who didn't leave early while the Cowboys were losing by three touchdowns saw an improbable comeback by the Boys.
The Cowboys trailed by nine points coming out of the two-minute warning, but they scored a touchdown and recovered a weird onside kick that led to a 40-39 win over the Atlanta Falcons.
Cowboys quarterback Dak Prescott scored on a 1-yard run with 1:49 remaining to cut Atlanta's lead to 39-37.
The Cowboys lined up for an onside kick, and kicker Greg Zuerlein placed the football on the field with no tee. After the Falcons called their final timeout, the teams lined back up for the play. Zuerlein once again placed the ball on the field with no tee.
"I've never seen an onside kick, or any kick, where the kicker didn't use a tee," Fox color analyst Daryl "Moose" Johnston said before the kick.
Zuerlein took two steps and gently booted the ball to his left. The ball slowly squirted 10 yards. The Cowboys could not touch the ball before it traveled 10 yards, but the Falcons could have recovered any time. The ball initially appeared to be headed out of bounds, then veered right, beyond 10 yards. The Cowboys recovered the ball underneath a big pile on the turf at AT&T Stadium.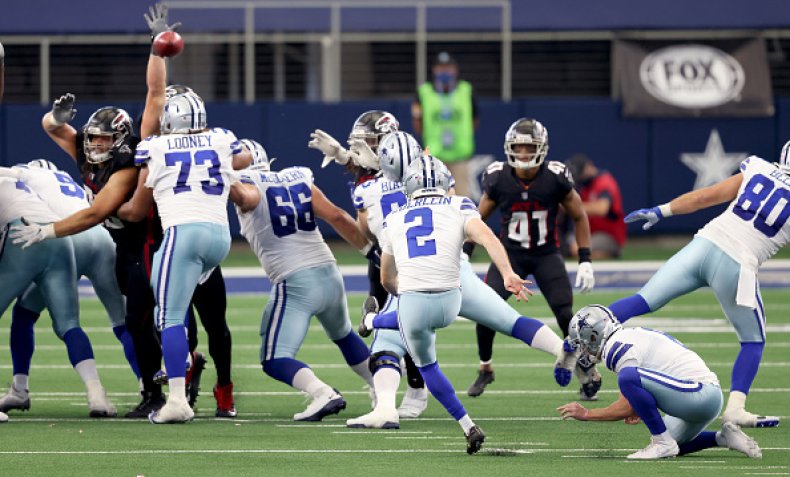 Neither team had any timeouts remaining, and the Cowboys worked the ball to Atlanta's 28-yard line, setting up a fourth-down kick with four seconds remaining on the clock. Zuerlein, who is in his first season with the Cowboys after playing several years with the Rams, booted a 46-yard field goal as time expired, sending the team into a frenzy for their first win of the season.
"Somehow, some way, the Cowboys have won it," said Kevin Burkhardt, the lead play-by-play caller for Fox. "That is an unreal win for Dallas, and a devastating loss for Atlanta."
Prescott finished the game with 450 yards on 34-of-47 passing with one touchdown. The quarterback rushed for three touchdowns on just five carries.
The Falcons took a 20-0 lead in the first quarter, and led 29-10 at the half. They led 39-24 with 7:57 left in the game.
Dallas improves to 1-1 on the season, and the Cowboys will travel to play Seattle next Sunday (9/27) to face the Seahawks at 4:25 p.m. ET. Atlanta falls to 0-2 on the season, and they will host the Bears on Sunday (9/27) at 1 p.m.