'Unprecedented' Flooding in Japan Leads to Landslides and Rooftop Rescues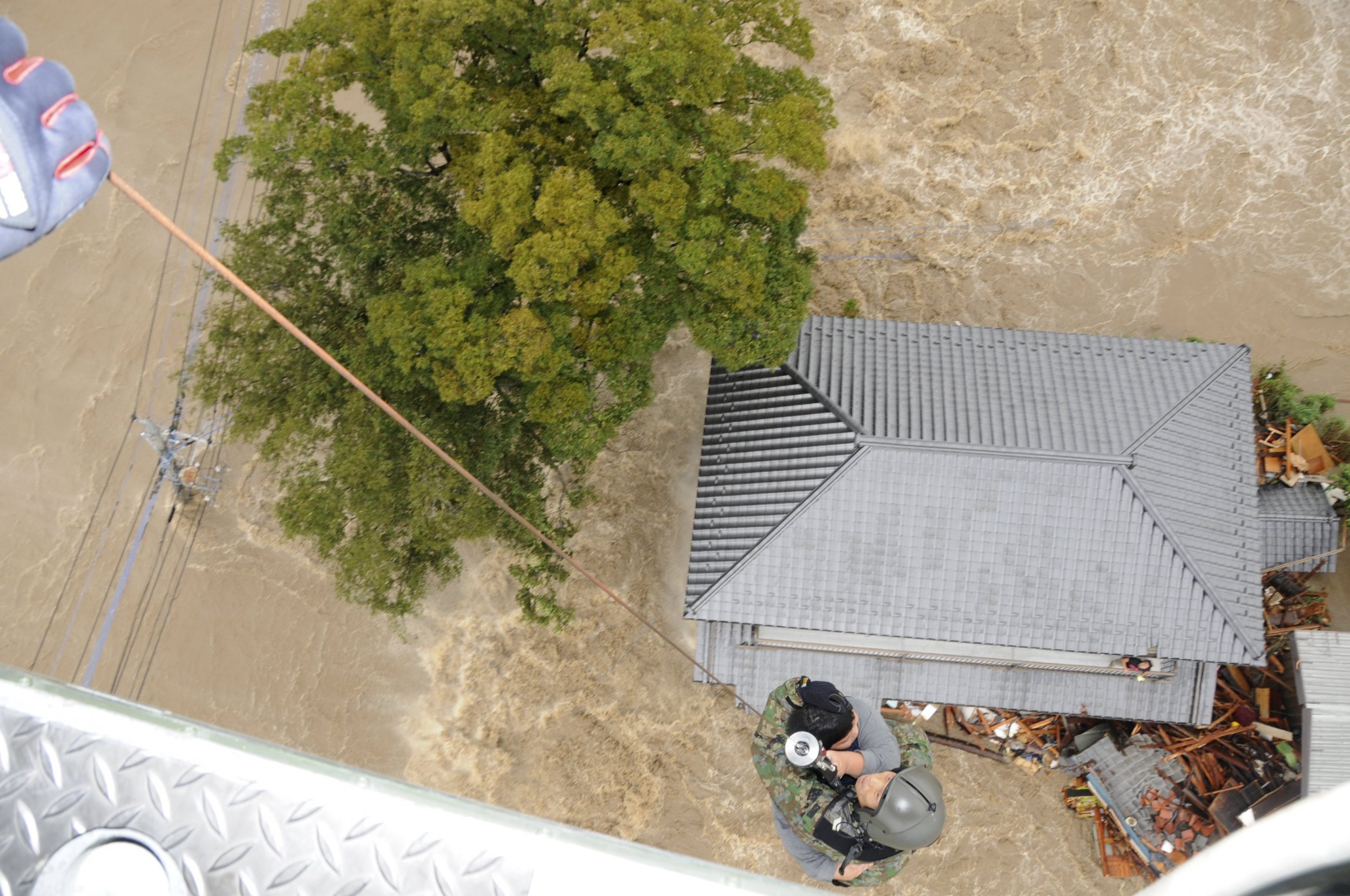 Tens of thousands of people have been evacuated from their homes in Japan after record rainfall led to flooding and landslides. The flooding comes days after Tropical Storm Etau—called "Typhoon No. 18" in Japan—hit Japan's main island of Honshu on Wednesday, resulting in winds of up to 78 mph in Aichi prefecture, in central Japan.
The head of the Japan Meteorological Agency (JMA), Takuya Deshimaru, said the resulting rainfall was "unprecedented" and called it "an abnormal situation" that posed "imminent serious danger." The JMA also said the kind of heavy rainfall seen on Thursday should only be expected once every 50 years.
In dramatic scenes on Thursday, helicopters rescued people from their homes after the Kinugawa River breached a levee in Joso, a city north of Tokyo, forcing some residents to escape to their roofs, the BBC reports. In Tochigi prefecture, in central Japan, some houses were washed away after more than 19 inches of rain fell in 24 hours, Japanese newspaper The Asahi Shimbun reports.
Seven people are still missing, including a 63-year-old woman who disappeared when a landslide hit her home, and 17 people were injured in floods, Reuters reports. More than 100,000 people in flood-affected areas have fled their homes.
Emergency warnings of heavy rainfall were issued to nearly 5 million people in Tochigi Prefecture, north of Tokyo, and Ibaraki prefecture, on Thursday, the Weather Channel reports. Japanese Prime Minister Shinzo Abe told reporters the government will "prioritize the safety of the people and do our best to prevent any further disaster."
Among the areas affected by the flooding include Fukushima, north of Tochigi, where a nuclear reactor was damaged during the 2011 earthquake and tsunami in Japan. Heavy rain continued throughout Thursday, according to the Weather Channel.