Donald Trump's Transition Was Chaos, Author Michael Lewis Writes in New Book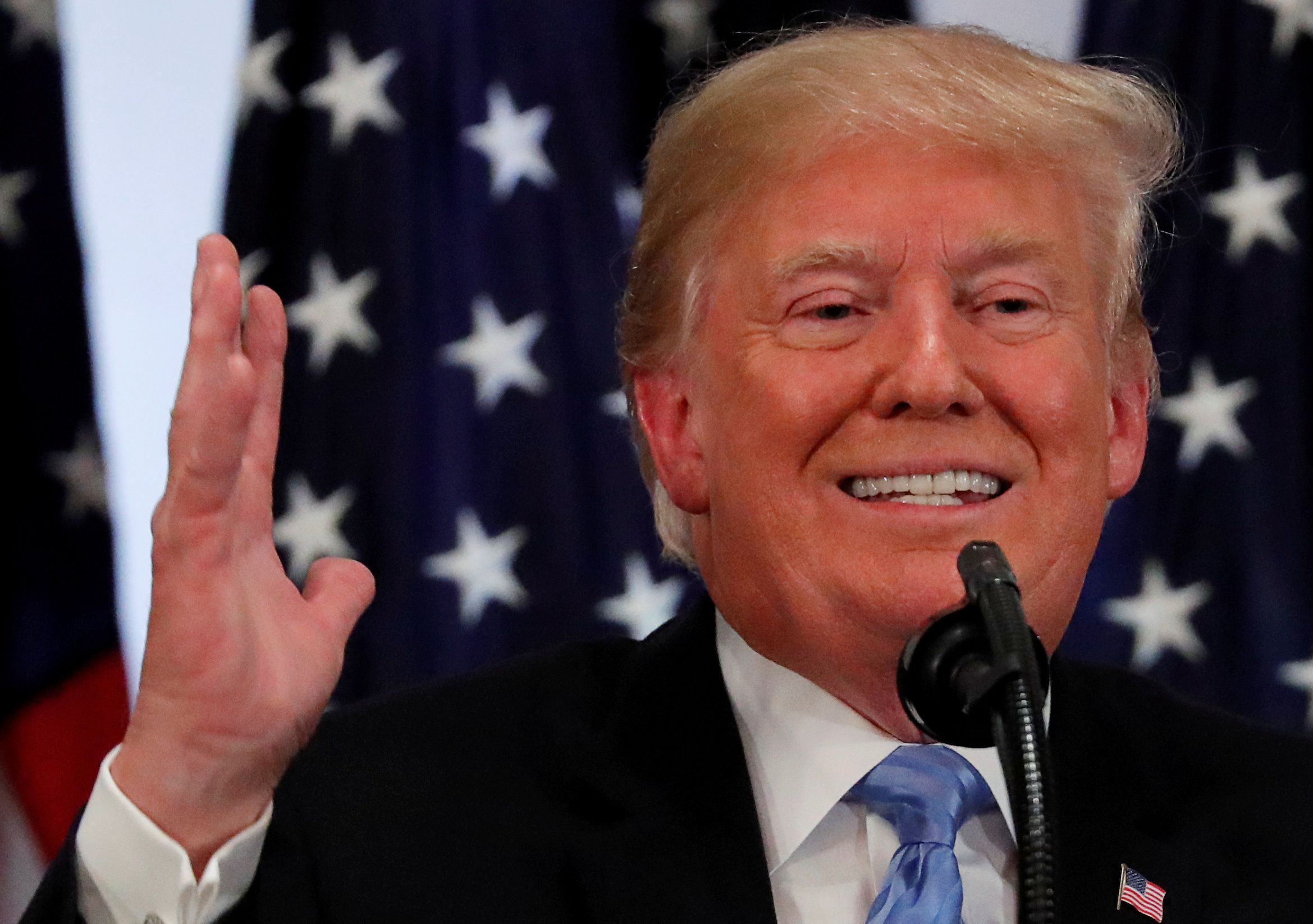 Donald Trump's preparations for the presidency were in total disarray, with Trump reportedly not even wanting a transition team despite being told this violated federal law, author Michael Lewis has claimed in an upcoming book.
Author of Moneyball and The Big Short, Lewis writes of the alleged chaos and carelessness of Trump's team ahead of the election in The Fifth Risk.
Lewis wrote of the ways he said the federal government machinery has both adapted to and become undone by Trump's presidency. An edited extract was published in The Guardian on Thursday.
In Lewis's telling, then-New Jersey Governor Chris Christie was the first to realize that Trump didn't have a transition team when he read a story in The New York Times in late April 2016. Christie had dropped out of the presidential race that February and, having endorsed Trump, wanted to be part of his team. In the transition team, he saw an opportunity.
"It's the next best thing to being president," he said privately. "You get to plan the presidency."
Trump reluctantly accepted Christie's offer, according to Lewis, but on the condition that Christie set up a separate fund to pay for the planning and not use too much money. A simmering tension between Christie and Jared Kushner, Trump's son-in-law, was ignored. Back in 2005, as a U.S. attorney, Christie had sentenced Kushner's father to prison for tax fraud. Trump, Lewis writes, "could not have cared less."
Since the passing of the Pre-Election Presidential Transition Act in 2010, U.S. law states that once each major party has chosen its presidential nominee, the candidate is legally obligated to prepare for entering government. The state grants the candidate office space and office equipment, and the candidate is eligible for funding for staff.
Trump only realized the scale of his transition team's operation later, when he saw a news story detailing the millions of dollars that his team had raised to pay staff. Far from being pleased, Trump was furious and wanted the operation shut down. "The money that people donated to his campaign Trump considered, effectively, his own," Lewis writes. "He thought the planning and forethought pointless."
According to Lewis, Trump accused Christie of "stealing my fucking money" and accused Steve Bannon of "letting [Christie] steal my fucking money." When the pair pointed out that a transition team was required under federal law, Lewis writes that "Trump replied: 'Fuck the law, I don't give a fuck about the law. I want my fucking money.'"
Lewis suggests that the pair only succeeded in convincing Trump when Bannon asked him: "What do you think Morning Joe will say if you shut down your transition?" referring to the NBC news show. Bannon told Trump it would look like he was conceding defeat. "That makes sense," Trump replied.
The transition team was resumed, although Trump was never truly convinced. "Chris, you and I are so smart that we can leave the victory party two hours early and do the transition ourselves," Trump told Christie at one point.
But no one, not least of all Trump and his team, ever thought that a victory party would be necessary. "His campaign hadn't even bothered to prepare an acceptance speech," Lewis writes. It was only after Trump won Pennsylvania on election night that Jared Kushner turned to Christie, panicked, and said: "We have to have a transition meeting tomorrow morning!"
As it happened, after Trump's surprise victory, Christie was fired along with the rest of the transition team. In November 2016, aPolitico investigation revealed how they were dismissed in favor of "a far more chaotic operation dominated by Trump loyalists."
According to Lewis, "not even Bannon thought this was a good idea." He quotes Trump's former strategy guru telling friends: "I was fucking nervous as shit. I go, 'Holy fuck, this guy [Trump] doesn't know anything. And he doesn't give a shit.'"
Matt Stier, the president and CEO of the Partnership for Public Service, was one the individuals who pioneered the legislation on safeguarding preparations for the presidential transition. "People don't understand that a bungled transition becomes a bungled presidency," he told Lewis.