'Unqualified Lesbian' Cynthia Nixon: 'I Never Received my Certificate From the Department of Lesbian Affairs'
Actor Cynthia Nixon has delivered a sharp response after being called an "unqualified lesbian" by a supporter of Democratic New York Gov. Andrew Cuomo.
Nixon announced Monday she will try to unseat Cuomo, who has been governor of the state since 2011, in the upcoming state Democratic primary in September. In an interview a day later, former New York City Council Speaker Christine Quinn, who is also a lesbian, levelled the insult at Nixon.
Quinn apologized and tried to clarify her remarks soon after. "Cynthia Nixon's identity has no bearing on her gubernatorial candidacy and it was not my intention to suggest it did," she said in a statement to Time.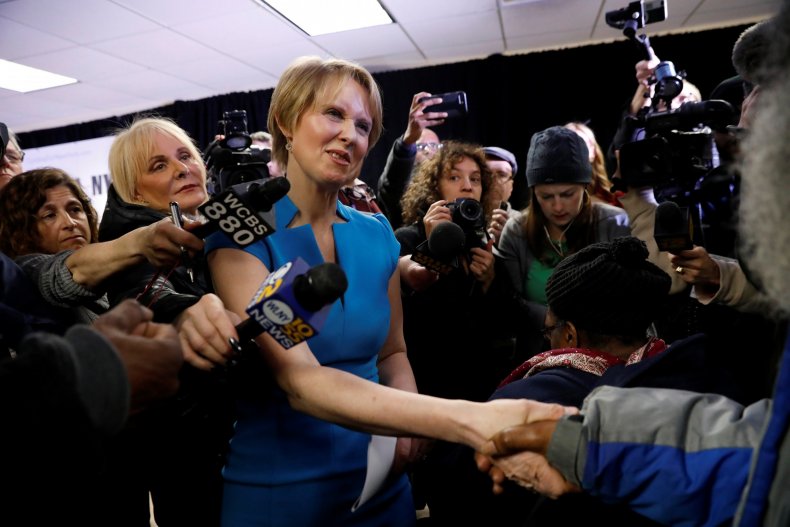 "Cynthia Nixon aggressively opposed my candidacy in New York, despite my qualifications for the office and despite my strong progressive credentials. I was attempting to make a comparison between the two of us," Quinn said, referencing her own run for mayor.
Nixon, an actor who is best known for her role in Sex and the City, identifies as bisexual and is married to a woman. She rebuked Quinn Wednesday. "When I announced yesterday that I'm running for gov, one of Cuomo's top surrogates dismissed me as an 'unqualified lesbian,'" Nixon tweeted. "It's true that I never received my certificate from the Department of Lesbian Affairs, though in my defense there's a lot of paperwork required."
Nixon made the comments at a campaign launch celebration she held at The Stonewall Inn, a historic site of the LGBT rights movement.
Read more: Who is Cynthia Nixon's wife, Christine Marinoni? Actor announces New York governor run
"If Washington is a swamp, Albany is a cesspool," Nixon said Monday when she announced her candidacy, referencing the conviction of Cuomo's top aide Joseph Percoco on federal bribery and fraud charges this month. She has indicated she will root out corruption.
She also took digs at Cuomo's handling of the Metropolitan Transportation Authority, which oversees subways in New York City and also serves 12 counties. The subway in the city has been plagued by decrepit infrastructure.
Nevertheless, Nixon has a challenge ahead of her. Cuomo leads 66 percent to Nixon's 19 percent in a Siena College poll of Democrats released the day she announced her run.
When asked earlier this week how she is qualified to be governor of the state, Nixon said: "I think it's time for an outsider." She said states across the country are in the grip of corporations.
"We can't just elect more Democrats, we have to elect better, bluer Democrats," Nixon said during her launch party Wednesday.