Unreported Foreign Donations to Universities Foment Anti-Semitism | Opinion
Officials at the U.S. Department of Education last month released findings in their investigation into Georgetown University, Texas A&M, Cornell, Yale, Harvard, Rutgers and other universities over billions of dollars in unreported funding from the oil-rich Gulf kingdom of Qatar. Much of the known Qatari funding has gone to Texas A&M, Georgetown, Cornell, Carnegie Mellon, Northwestern and Virginia Commonwealth, all of which maintain campuses subsidized by the royal family-linked Qatar Foundation.
Between 1986 and 2018, Middle Eastern countries donated more than $6.6 billion to U.S. universities, but reported less than $3.6 billion to the federal government as required by law. Of the roughly $5 billion donated by Qatar to various institutions, less than $2 billion was reported properly, according to federal records and seven years of research by experts and investigative accountants at the Institute for the Study of Global Antisemitism and Policy (ISGAP).
According to these findings, some of which were presented at a summit on contemporary anti-Semitism hosted by the Department of Justice in July 2019—which in part spurred the Department of Education investigation—inadequate federal oversight procedures failed to keep track of funding coming into the United States from abroad, and universities failed to report more than $3 billion given by Qatar and the Gulf States.
The bulk of Middle Eastern donations coming into the United States emanates from Qatari donors (75 percent), while the Qatar Foundation accounts for virtually all of the donations from Qatar. These funds have a significant impact on universities, especially with regard to attitudes toward Israel. ISGAP's research identified a direct correlation between the funding of universities by Qatar and the Gulf States and the active presence at those universities of groups such as Students for Justice in Palestine (SJP), which foster an aggressive anti-Semitic atmosphere on campus. In addition, the ISGAP project assessment found a correlation between funding and the ideological bent of scholarship, including anti-Israel and anti-Zionist sentiment, at departments and institutes at some of America's leading universities, publishing houses and academic professional associations. There is also a disturbing connection between this funding and the silencing of institutes and publications by scholars that are critical of the prevailing ideology.
Anti-Semitism has been on the rise at North American universities in recent years. As a result of traditional forms of anti-Jewish sentiment on the political Right and more modern anti-Zionism promoted by progressives on the Left, who seek to delegitimize the Jewish people's right to self-determination by advocating a wide-ranging boycott of the state of Israel, Jewish students have been made to feel increasingly unwelcome at institutions of higher learning. This perspective is becoming pervasive within academia.
Qatar is not unique and neither are those universities. Based on its "Follow the Money" report, ISGAP found that a number of autocratic Middle Eastern regimes funneled billions of dollars of unreported funding to U.S. universities in order to promote an atmosphere sympathetic to their efforts to demonize Israel on campus.
Qatar has long been an important source of funds for the Palestinian terror organization Hamas and has forged relationships with Islamist groups ranging from the Muslim Brotherhood to the Taliban.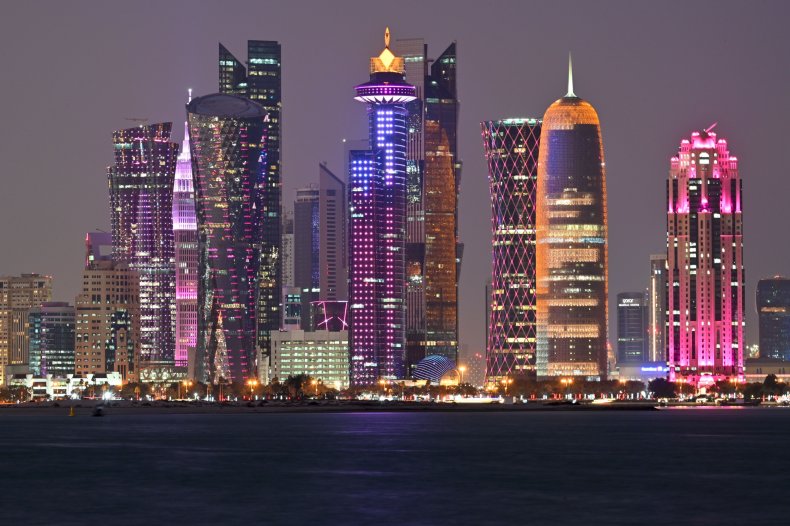 At the same time, it maintains an enclave known as Education City on the outskirts of its capital, Doha, which is home to a number of satellite campuses of prominent American universities, such as Georgetown, Northwestern and Cornell. Education City is funded by the Qatar Foundation, which maintains close ties to the Muslim Brotherhood and is linked directly to theologian Yusuf al-Qaradawi.
Al-Qaradawi is a leader of the Muslim Brotherhood and Qatari Foundation, holds a prominent position in Education City and his ideology emanates throughout—from the Al-Qaradawi Centre for Research and Modern Thought to the Sheikh Al-Qaradawi Scholarship and other similar programs. Al-Qaradawi is an extremist who has advocated the destruction of America and the Jews. He also calls on all "true believers" to finish the work of Hitler. He also been a trustee at the Center for Islamic Studies at Oxford University.
Qatar's $3 billion in unaccounted funds is the tip of an iceberg. Foreign funds are coming into the United States to promote certain ideologies now infiltrating into universities and permeating the most precious institution in our democracy: our education system.
ISGAP's findings on the paucity of appropriate university compliance with legally mandated disclosure of foreign funds have been echoed by DOE officials. Testifying before Congress earlier this year, Deputy Secretary of Education Mitchell Zais explained "All degree-granting domestic institutions of higher education are covered under section 117 [of the Higher Education Act]. There are approximately 3,700 such eligible institutions in the United States but, based on recent reports the Department has received, fewer than 3 percent reported receiving foreign gifts or contracts."
That is why last month's release of preliminary findings in the Department of Education's investigation into foreign funding of American universities is a critical first step in stopping the manipulation of American universities and the students they teach.
Charles Asher Small is the founder and executive director of the Institute for the Study of Global Antisemitism and Policy (ISGAP) and a Research Scholar, St. Antony's College, Oxford University.
The views expressed in this article are the writer's own.