'Unspeakable Crime: The Killing of Jessica Chambers' Highlights Both Sides of Torn Community, Director Says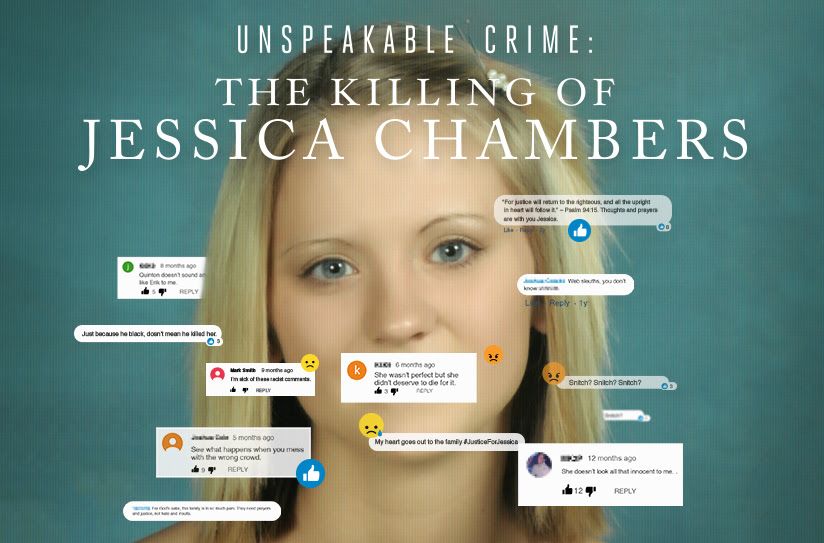 Jessica Chambers, a 19-year-old from Courtland Mississippi, was set on fire on December 6, 2014. The former high school cheerleader died in the hospital of her injuries and what followed was a massive social media storm resulting in "armchair detectives" who felt the could solve the case.
As pieces of information unfolded about Chambers, her lifestyle and her past relationships, the conversation became a war between races. Chambers' own father disapproved of her relationships with black men, as did some online commenters. Quinton Tellis, a black man who Chambers had a short-lived relationship with, was charged with murder, though he still maintains his innocence. His arrest resulted in intense racial tension in the Mississippi town and in armchairs around the country.
Unspeakable Crime: The Killing of Jessica Chambers, will premiere on Oxygen Saturday at 7 p.m. ET/PT and will focus on all sides of the confusing crime, from online commentators to the small town's opinions. Tellis was tried for Chambers' death last October, though it was declared a mistrial when the jury could not reach a unanimous verdict, according to WMC Action News. His retrial begins September 24.
The show's director, Joe Berlinger, sees the timing of the series release as a unique angle to the developing story. He told Newsweek the case was so alluring to the general public because of Chambers' image as an ideal teen, one who was rebellious, yet relatable.
"In many ways, Jessica was like most teenagers, strong-willed and rebellious. She was finding her way and learning to walk her own path and I think people can relate to that side of young adulthood," he said. "People wanted to know how this could have happened and who could have committed such a personal crime. I think that, plus the trial of the accused killer, Quinton Tellis, playing out in real-time really made this series unique."
Berlinger aimed to connect with families on both sides of the tragedy, as well as local law enforcement and reporters who broke the story. "We built trust and had incredible access to the families, the media, law enforcement and the investigation itself," he said. "Building that trust and embedding ourselves in the community is always key to the storytelling in documentaries that I make."
The director noted the complexity of the blurred lines in the case, from racial tension to opposing opinions. "Viewers will hopefully see both sides of a complex story. We really investigated the 'grey area' of truth vs. fiction, guilt vs. innocence and ultimately a family's and a town's pursuit of justice," he said. "Racial tension cast its shadow on the entire town of Courtland, to the point where it would be a disservice to the viewer not to highlight it."
He also noted the American justice system can be flawed, given human error. Berlinger hopes the docuseries can educate its audience on both sides of the case and give them access to information without any kind of bias.