The Unstoppable Infomercial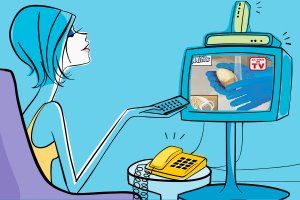 The appeal of washboard abs and a miracle smile hasn't faded much during the recession. True, most retailers were hit hard during the slowdown, as American shoppers pulled purse strings tighter than at any time since World War II. But infomercial marketers, with their late-night pitches for thinner bodies and fatter bank accounts, continued to sell butt toners and wonder drinks during the worst throes of the downturn.
As Americans cut back on trips to shopping malls, the market for products that made mundane tasks easier (think gloves that help you skin potatoes) or difficult tasks more mundane (three-minute abs anyone?) kept growing. Why did juicers and Shake Weights continue to sell even as consumers reined in spending? Products promising a better life have a special allure during tough times, says Tony Little, a fitness-infomercial personality known for his blond ponytail and toned biceps. "When the economy is bad, motivational products do well," says Little, who has put out more than 100 products in his two-plus decades in the business. "People don't cut back on things that make them feel better."
While the recession was squeezing mammoth chains and mom-and-pop shops alike, the late-night advertisers of products like Neti Pot and the ShamWow have experienced surprising growth. The direct-response industry, which includes all forms of television shopping, had $196 billion in sales in 2009, an increase of $8 billion from pre-recession 2007, according to trade publication Response. This year, the industry expects sales to hit $200 billion.
As Americans went out less over the past two years, they watched more television. And late-night-TV time slots, favored for 30-minute commercials, became cheaper as the advertising industry tanked, says John Yarrington, publisher of Response. The average price for a 30-minute spot about pants that flatter and flatten dropped by almost 50 percent. That meant infomercial marketers could buy more time for less, and they bombarded night owls with more and more of the same product.
Newsweek subscription offers >
One of the biggest infomercials marketers, Thane International, the maker of the FlavorWave Oven and the H20 Mop, had its best year ever in 2010, raking in $300 million—more than double its sales from 2006.
Amir Tukulj, the company's CEO, says he is not shy about offering products with names that contain a bit of exaggeration. Customers understand that 3 Minute Legs, for example, cannot truly give them perfect thighs and buns in 180 seconds. And products that don't deliver get returned and get taken off the tube. However, "everyone needs to sell. You can use a subtle message, or you can use a hard sell. We are not shy about using the hard sell," says Tukulj. "When someone buys Air Jordans, there is this little bit of hope that they will play basketball more like Michael Jordan."
And with some multiyear infomercial campaigns bringing in half a billion dollars for products like the H20 Mop—more than many blockbuster Hollywood films—the hard sell isn't going anywhere.
The Unstoppable Infomercial | Business