Unsuspecting Woman Almost Sits on Snake in Beach Chair
You've heard about checking your cowboy boots for scorpions before you put them on. But what about checking your beach chair for snakes before you sit down?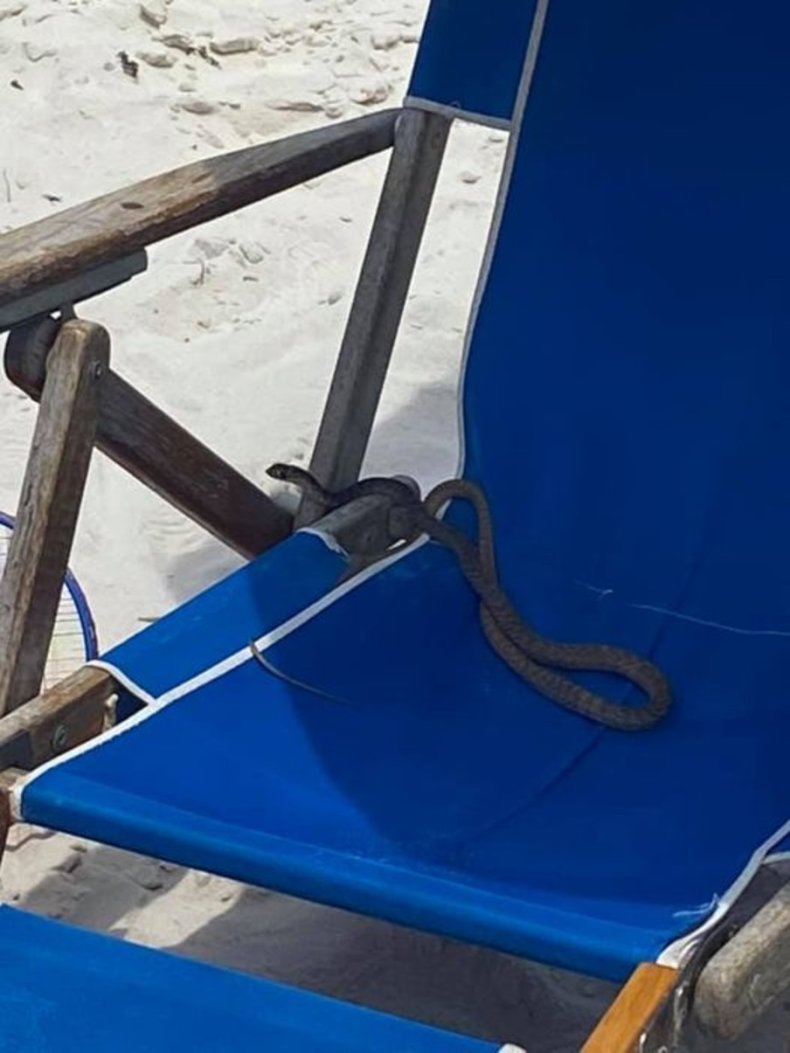 Louisiana woman Gerri Womack Garon was about to settle down in one in the seaside town of Orange Beach, Alabama yesterday when she noticed something slithery sunning itself in the seat, according to FOX 10 News. In a picture Garon shared in Facebook's OBA Group, which describes itself as "a community for people who love the Alabama/Florida Gulf Coast," a pale brown snake can be seen draping itself over the one of the chair's wooden struts, staring off into the distance.
Needless to say, Garon, whose Facebook profile states that she lives in Baton Rouge, was relieved that she looked before sitting down.
"Didn't know it was required to check your beach chair for reptiles until today!" she captioned the post, adding that the snake had made it out of the sticky situation alive. "Great job to the beach attendant who relocated this guy back to the dunes!"
While FOX 10 News was not able to identify the snake's species, several commenters on Facebook asserted that it was a coachwhip. Eastern coachwhips are nonvenomous and, in fact, frequently dine on their venomous counterparts. Their name is derived from the braided appearance of their tails, according to Outdoor Alabama, the defunct magazine of the Alabama Department of Conservation and Natural Resources. Once common, coachwhip numbers are on the decline, making Garon's sighting even more notable.
Not that everyone was pleased to hear about it.
"Burn the whole beach," one commenter said.
"They would have to replace the chair if i saw it!," another wrote.
"And with one post tourism to Orange Beach was halved," a third predicted.
And many more wrote something akin to, "Oh h*** no."
Others were more sympathetic to the snake's attempt to beat the heat.
"He's just looking for a little break from the hot sun, too," one commenter observed.
"He was just keeping your seat warm and enjoying the sound of the waves," another said.
"He heard how beautiful the water was today and wanted a front row seat, too," a third commented.
As of Tuesday afternoon, Garon's post had gained more than 826 reactions and racked up 229 comments and 291 shares.
Eastern coachwhips are one of the approximately 40 snake species native to Alabama, according to Alabama A&M and Auburn Universities. Of those 40, only six are venomous.