Unvaccinated Americans Returning to Pre-Pandemic Activities at Higher Rate Than Those Who Have COVID Shots
Unvaccinated Americans have returned to pre-pandemic activities—such as seeing friends and family outside of the home—at higher rates than those who have received the coronavirus vaccine, according to a new poll.
The survey, which was conducted by Axios/Ipsos Poll, found that 52 percent of unvaccinated people returned to socializing with friends and family in the past week, compared to just 41 percent of individuals who have gotten the shot.
Those who have not been vaccinated were more likely to say activities outside of their home would not pose a risk to their health and well-being, according to the poll. Conversely, vaccinated individuals reported being more likely to social distance.
In general, the poll found that Americans are increasingly venturing out to restaurants and social events, and easing social distancing guidelines.
In the past week, 45 percent of the people polled said they had dined out, up 12 points compared to this same point in February. Meanwhile, the number of people who reported staying home and avoiding others dropped by seven points in the past month, from 74 percent to 67 percent.
In total, 48 percent of Americans polled reported that they had seen friends and family outside of the home in the past week, up nine points from a month ago and the highest it's been since October 2020.
Additionally, the number of Americans who have reported an improvement to their emotional well-being has jumped to 17 percent, or the highest in a year, according to the poll.
"These are glimmers of hope," Cliff Young, president of Ipsos U.S. Public Affairs said, according to Axios. "We're seeing basically the reemerging of America."
"Obviously, it's the vaccine itself coming online," Young added. "That conditions the way they see the world, and that world is a less risky one compared to last year."
This latest survey was conducted from March 19 to 22 and includes responses from 995 U.S. adults. The margin of sampling error is plus or minus 3.3 percentage points.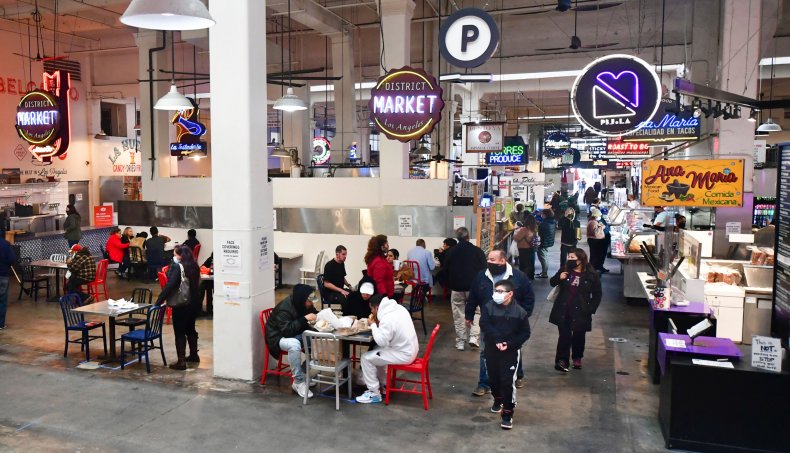 The results come as a growing number of people are receiving the coronavirus vaccine. According to the survey, nine out of 10 respondents said they know someone who has gotten the jab, while 36 percent reported being vaccinated themselves.
So far, over 82 million people in the U.S. have received at least one dose of the vaccine, while 44 million have been fully inoculated.
However, the survey found that roughly one in five respondents said they were still "not at all" likely to receive the vaccine due to government distrust, safety concerns, misinformation or the belief that they are healthy without it.
Despite the fact that the U.S. is vaccinating individuals at high levels, Dr. Anthony Fauci, the nation's leading infectious disease expert, warned Americans not to get complacent, or else the country could see another surge in virus cases.
Right now, coronavirus cases are rising in 21 states throughout the U.S. On Friday, Fauci urged Americans not to "declare victory" prematurely, and risk higher outbreaks.
"It is unfortunate, but not surprising, to me that you are seeing increases in number of cases per day in areas—cities, states or regions—even though vaccines are being distributed at a pretty good clip of 2 to 3 million per day," Fauci said on Friday. "That could be overcome if certain areas pull back prematurely on the mitigation and public health measures that we all talk about."