Unvaccinated Bodybuilder Loses 60 Pounds After Weeks on Ventilator, Urges Others to Get Jab
An Alabama bodybuilder who spent weeks in the hospital during his battle against COVID-19 is now urging others to get vaccinated.
Greg Darden, 50, spent seven weeks on a ventilator after he contracted the virus, and lost 60 pounds, according to Al.com.
The news site reported that Darden, who wasn't vaccinated before he got ill, is now encouraging others to get the COVID-19 shot.
"[My wife] said she knows about four or five people who said 'We're going to go get our shots,'" Darden told Al.com
"They're basically saying if it can take him down, and we're nowhere near his condition and his shape, it'll definitely take us down. So, I've probably urged at least a dozen people or more to get their shots," he added.
Darden, who lives in Loxley, Alabama with his wife and two children, spent two months at Thomas Hospital in Fairhope, Alabama. He returned home about a week ago. While at the hospital, he spent 40 days in a medically-induced coma on a ventilator, and woke up on September 22.
The newspaper reported that Darden, who was raised Southern Baptist, said he had a vision of St. Michael handing him a flower during this time. A friend asked him to share his story with a Sunday school class.
"He said, 'You've been given a second chance and it might be because you've got to tell people this story.' If it helps one person, you've helped the one person," Darden said.
Darden is still recovering, and lost much of the muscle mass he built up over the years, Al.com noted.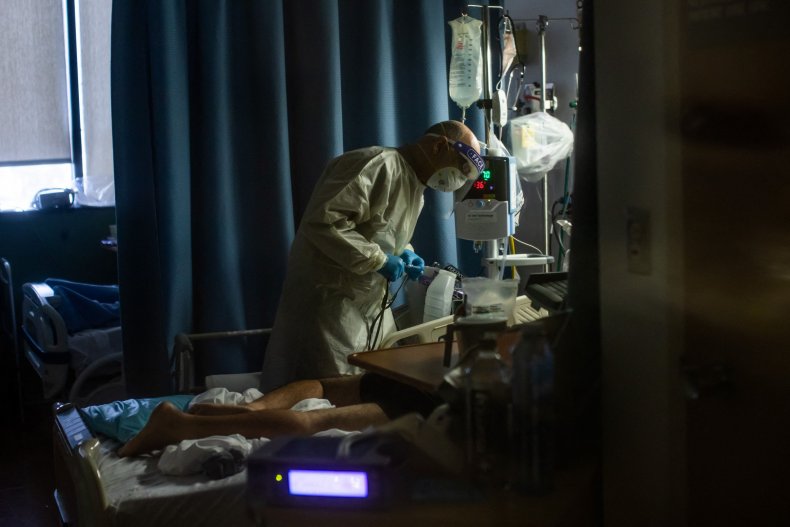 Over the summer, COVID-19 cases in Alabama surged, as the new and highly contagious Delta variant spread across the country.
But recently, cases in the state have been decreasing. The Associated Press reported Wednesday that COVID-19 hospitalizations in the state are now less than half of what they were in September. But Alabama health experts are still urging residents to take COVID-19 precautions and get vaccinated.
"It's exciting that we are starting to see these numbers go down, but this is now the time more than ever to continue to wear masks, to get vaccinated if you haven't been vaccinated yet," Rachael Lee, an epidemiologist with UAB Medicine said, according to the AP.
Alabama health experts said 90 percent of COVID patients are unvaccinated and that hospitals are now treating younger people who have contracted the virus.
Newsweek reached out to Darden, but did not hear back in time for publication.