Unvaccinated Couple Dies From COVID, Six Days Apart
An unvaccinated couple in Florida passed away within a week of one another after battling COVID-19.
"On August 20, 2021, Norma Jean [Reyes] gained her wings after her endless fight with COVID-19. Soon after on August 26, 2021, her husband Elio Reyes Sr. followed the love of his life from fighting the same battle," a fundraiser created for the couple read. The two were married for 26 years.
Their daughter, Bryanna Reyes, told WFLA that she and her parents all tested positive in July before the school year began.
Although Breanna had a mild case, her mom and dad—who she said were both unvaccinated and in their early 50s—had trouble breathing and eventually needed to be hospitalized.
The Reyes' son told WFLA that in his final call with his mom, she was determined to make her way out of the hospital.
"She just said, 'I love you and I'm very proud of everything,'" Elio Reyes Jr. said. "The whole time she kept saying, 'I'm coming home this weekend. I'm gonna fight, gonna work on my oxygen, come home back to the family being able to make sure everything goes right with your dad.' I just didn't think she meant home as in heaven."
Purcell Elementary School, where Norma worked for nearly two decades, described her as the "heart and soul of most events and functions around campus" and her husband as "her worker bee," who was "always at Purcell helping Norma with after school events."
"Whatever Norma needed help with, he was right there for her and for Purcell Elementary. It was a family affair," the school wrote on Friday. "We are going to miss the love and support of the Reyes family forever and always. Their contributions and bright personalities will shine on in many hearts within this community."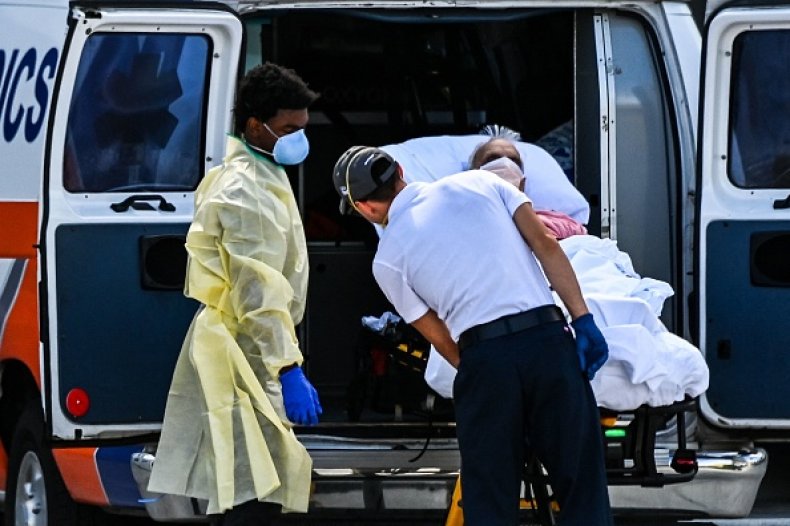 Florida's COVID-19 deaths have reached all-time highs in recent weeks due to a massive surge of cases and hospitalizations spurred by the highly transmissible Delta variant.
On Thursday, data from the Centers for Disease Control and Prevention showed that the state recorded 901 COVID-19 deaths—the highest single-day increase since the pandemic began.
Florida has stopped reporting daily cases of COVID-19, releasing weekly metrics instead.
As the death toll continues to rise, hospital morgues have become overwhelmed.
Last week, Advent Health's Central Florida Division announced that it had ordered 14 portable morgues to help deal with the overflow of deaths, adding that "these coolers are quickly becoming filled also."
State hospitals and doctors have also pointed out that upward of 90 percent of their patients have been unvaccinated, which has shown to cause more severe illness as the aggressive Delta variant has become the dominant strain of the virus.
While Florida's vaccination rate, 52.9 percent, mirrors the national figure of 52.86 percent, some have suggested that its numbers are not enough for the state's older demographic, who are more likely to require hospitalization.
Others have also contended that state officials have not acted swiftly enough to reimplement COVID-19 safety measures amid the surge and allowed for hospitalizations and deaths to continue to accelerate.
Governor Ron DeSantis has signaled that he has no plans to change his coronavirus response—which has included bans on vaccination passports and mask mandates at school—despite the alarming death toll and polling that has indicated a dip in his approval ratings.