Unvaccinated Employees to Have Salary Withheld in Part of Pakistan
Government employees in Pakistani's Sindh province will have their salaries withheld beginning next month if they refuse to be vaccinated against COVID-19.
Sindh chief minister Murad Ali Shah has ordered the finance ministry to stop paying unvaccinated employees as cases continue to surge in the southeastern province.
"Any government employee who is not vaccinated should have their salary stopped from July," Shah said on Thursday.
Teachers in Sindh province will also be required to get their vaccines soon as the province plans to reopen all of its educational institutions starting June 7. Ahead of school reopenings, the provincial government has fixed June 5 as the deadline for all teachers in Sindh to get vaccinated.
Pakistan's third wave of coronavirus infections has begun to steady after weeks of tight restrictions, but Sindh, the second most populous province, has continued to report the highest cases in the country since the pandemic began.
On Thursday, the province reported 1,041 new cases and 22 deaths. The first cases of the delta variant, which was first found in India, was also recently detected in Sindh.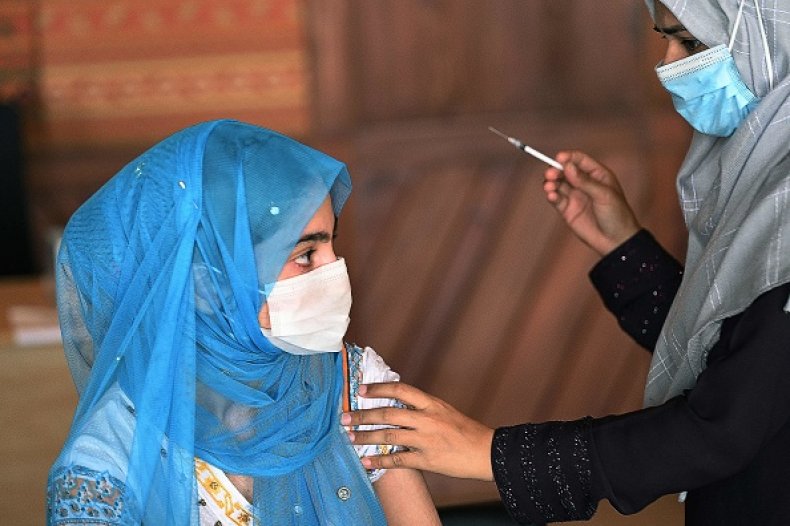 While Pakistan's vaccine rollout has finally begun ramping up, with more than 200,000 doses administered most days, the country has still only fully vaccinated roughly 1.1 percent of its 200 million population.
Poorer Pakistanis have also been presented with greater barriers to getting their shots.
For example, the country requires citizens to have a mobile phone in order to register for a vaccine appointment. Most of the country's vaccine centers are also located in large cities, which makes it challenging for those living in rural areas to get to a vaccine center.
Liaquat Ali Sahi, the secretary general of a labor union at the central State Bank of Pakistan, told France24 that rather than threatening to withhold pay, officials should focus on expanding vaccine access.
"This is a strange order, as people are very much volunteering and willing to get vaccinated," Sahi, who is vaccinated, said. "Instead the government should…create more vaccination centers, especially in rural areas."
According to the Sindh Health Department, more than 1.5 million people have been vaccinated. Pakistan's National Command and Operation Center expects that seventy million people to receive their vaccines by the end of this year, but stressed that everyone will have to play a role in reaching those figures.
This week, Pakistan opened up vaccine eligibility to all adults 19 years and older after launching the use of the locally produced Chinese CanSino COVID-19 vaccine. Vaccines were initially limited to those aged 30 or over.
Newsweek, in partnership with NewsGuard, is dedicated to providing accurate and verifiable vaccine and health information. With NewsGuard's HealthGuard browser extension, users can verify if a website is a trustworthy source of health information. Visit the Newsweek VaxFacts website to learn more and to download the HealthGuard browser extension.