Unvaccinated Fans Can Attend the U.S. Open. Why Can't Novak Djokovic? | Opinion
Fresh off his historic victory at Wimbledon, Novak Djokovic is hoping to compete at the upcoming U.S. Open for his 22nd Grand Slam—which would tie him with Rafael Nadal for the most in history.
Unfortunately, the world's greatest tennis player appears unlikely to make the trip. Although the Serbian star looked perfectly healthy in his four-set victory over Australian Nick Kyrgios in England, current COVID-19 protocols are likely to prevent Djokovic from playing.
"I'm not vaccinated and I'm not planning to get vaccinated," Djokovic said following his victory at Wimbledon.
Djokovic was banned from playing in many tournaments in 2022—including the Australian Open in January—because of his vaccination status. But he was allowed to play in Wimbledon because the United Kingdom had no travel restrictions pertaining to coronavirus vaccination, and organizers of the All England Club announced in April that vaccination would not be mandatory.
The U.S. is a different story.
U.S. policy, according to the Centers for Disease Control and Prevention, is that "Noncitizens who are nonimmigrants and seeking to enter the United States by air are required to show proof of being fully vaccinated against COVID-19 before boarding a flight to the United States from a foreign country."
As a result of these travel restrictions, Djokovic appears unlikely to play in the Open in August even though there are no local restrictions preventing him from doing so. Some players say this is unfair to Djokovic and bad for the game.
"I believe that seeing the strongest player in history being out of the top 20 at the end of the year is not good for tennis," Italian star Flavio Cobolli said in a recent interview. "In my opinion, it is right to let him play in America."
While Djokovic's absence undoubtedly would be bad for the game, it also makes no sense from the standpoint of public health.
First, it's noteworthy that Djokovic had COVID-19 in December. Many sporting organizations—including the NCAA—recognize prior infection as a form of immunization, and rightly so. An abundance of scientific evidence shows that natural immunity offers as much protection as vaccination alone, if not more.
A recent Cornell University-led study, for example, found that people with prior infection saw "little decline in protection even a year after their prior infection." Their level of protection was higher than that of people who had received two Pfizer shots and a booster. Importantly, the study found that both vaccines and natural immunity offer "strong and durable protection" against COVID-related hospitalization and death.
These findings and others point to a simple reality: both natural immunity and vaccination offer significant protection against COVID, especially against a severe symptomatic reaction.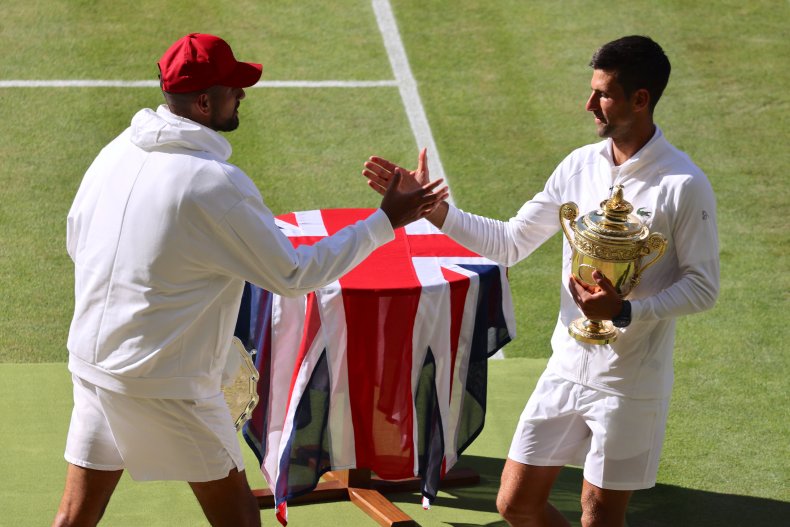 Second, it's worth noting that spectators are allowed to attend the Open regardless of their vaccination status.
"At this time, ticket holders will not be required to show proof of COVID vaccination for admission into the US Open," the event's official website states.
In other words, fans can attend the U.S. Open even if they haven't had the shot—but the world's greatest tennis star will not be able to set foot in the country.
How we arrived here is not a mystery. Vaccination has become one of the most partisan and politicized issues in the world today. People around the world (not just Americans) were divided over vaccines—not over whether they should be available or even whether they are safe and effective, but over whether it was okay to force people to take them.
Coerced vaccination was always problematic because it violates a basic human right: bodily autonomy. But in light of abundant research showing the strength and durability of natural immunity, vaccine mandates don't just look morally dubious; they look senseless.
This helps explain why efforts to coerce vaccination are failing all around the world.
Weeks after its law forcing citizens to get vaccinated (or pay fines) went into effect, Austria suspended the order. Days later, France joined the European trend of scrapping vaccine passports. Cities across the U.S.—from Philadelphia to Minneapolis and beyond—have abandoned vaccine mandates. And just last week, Illinois Governor JB Pritzker announced he was lifting vaccine requirements for college students and university employees.
The trend is clear: vaccine mandates are failing.
Bureaucrats in D.C. are another matter. They have been much slower and more reluctant to abandon COVID restrictions, and have much less incentive to do so.
Fortunately, political pressure—the one thing D.C. seems to pay attention to—is beginning to mount. As the U.S. Open approaches, more and more people are singing the same tune: Djokovic should be allowed to enter the U.S. and play.
"These politicians are getting in the way too much," tennis legend and TV commentator John McEnroe recently said. "Let the guy come in and play in the U.S. I mean come on. This is ridiculous."
He's right—in more ways than one.
Jon Miltimore is managing editor of FEE.org, the online portal of the Foundation for Economic Education.
The views expressed in this article are the writer's own.