Unvaccinated Italians' Movements Restricted in Effort to Prevent Another COVID Lockdown
Italy's government announced new measures Wednesday in an attempt to slow rising COVID cases, while also trying to avoid full-scale lockdowns like the country enacted last year, according to the Associated Press.
Starting December 6, proof of vaccination or of having recovered from COVID will be required to eat at indoor restaurants and go to movie theaters or sporting events. The new order temporarily eliminates the portion of the existing policy that would have also allowed those with a recent negative COVID test to participate in those activities.
The new orders, approved unanimously by Premier Mario Draghi's Cabinet, also mandates vaccinations for law enforcement, military and all school employees, which were previously only required for those who worked in health care and eldercare homes.
"We've begun to return to normality. We want to conserve this normality," Draghi said in a press conference Wednesday.
Italy has vaccinated over 84 percent of its population over the age of 12, and appointments for first doses have slowed. The orders also come as 20 small towns in northern Italy with some of the lowest vaccination rates in the country enacted various forms of lockdowns Wednesday due to fast-rising infection rates.
The decree emphasized the need for local officials to design control measures for their areas, and submit weekly reports to the Interior Ministry on how their measures are being enforced.
Health Minister Roberto Speranza acknowledged Italy was currently in a better position than some of their neighboring countries but said the country has learned from the past that the best strategy is preventative measures.
"Staying in front of the virus is fundamental if you want to keep the situation under control," he said.
For more reporting from the Associated Press, see below: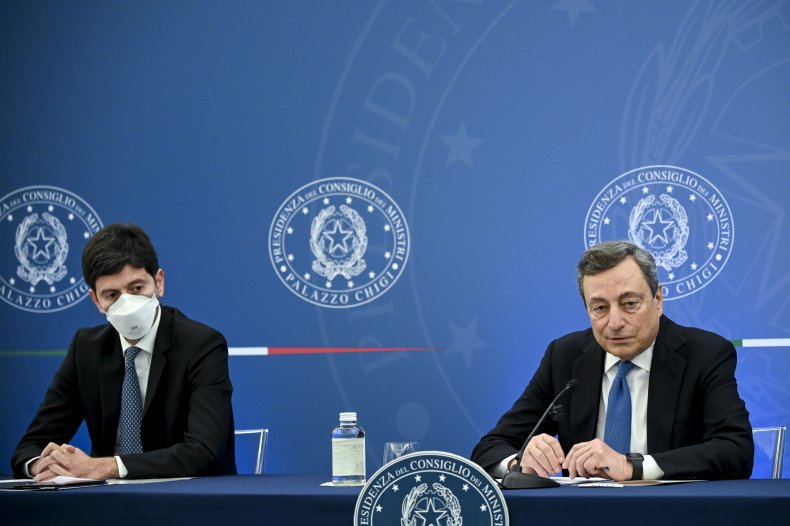 Draghi said the measures were necessary to prevent the "slow but steady" increase in infections from growing while preserving the gains Italy has made in rebooting the European Union's third-largest economy, which shrank 8.9 percent last year.
The concern is particularly acute given the upcoming holiday tourism season and the winter wave of infections. Regional officials in the north, for example, are desperate for Italy's ski industry, which in normal times generates 1.2 billion euros ($1.5 billion) in annual revenues and employs 5,000 permanent and 10,000 seasonal workers, to remain open after losing two seasons to COVID-19.
Italy, where Europe's outbreak began in February 2020, is seeing a rise in infections but to a more measured degree than other EU countries, recording around 10,000 new cases and fewer than 100 deaths a day.
The aim of the new measures is to prevent such blanket lockdowns—an 8 p.m.-5 a.m. curfew and closure of bars and restaurants at 6 p.m.—from returning across the board. The new decree would allow restaurants and other venues to remain open even when cases rise and hospitals fill up, but only to those with proof of vaccination or of having recovered from COVID-19.
Unlike other countries, Italy never relaxed many of its restrictions even as cases tanked with the vaccine: Indoor mask mandates remain in place and Italy last month became the first country in the West to require a health pass to access the workplace.
The so-called Green Pass contained proof of vaccination, of being cured of COVID-19 or a negative test. With the new decree, the government is introducing a "reinforced" Green Pass that excludes the ability to test into certain indoor activities.
Non-vaccinated people, for example, won't be able to go to the movies or theater or eat indoors from December 6-January 15, or beyond that date in regions where infection and hospital admission rates are rising.
The decree also added activities for which even a basic Green Pass is needed, including to check into a hotel or use regional or local public transport. Previously, a Green Pass was necessary only for long-distance public transport.