Unvaccinated Man Given Choice of Double Leg Amputation or Death After COVID Complications
An unvaccinated man from Alamo, Texas, who was suffering from severe complications from COVID-19 said he was given a choice, have both legs amputated or die.
"It was either amputate my feet and live or leave them on and die, so it was a no-brainer," Pepe Forina told KVEO-TV after he had recovered from the leg operation.
Forina, 54, told the station he was admitted on July 26 after his wife called an ambulance because he was experiencing breathing problems after having tested positive for COVID-19 earlier in the week.
After weeks in the hospital, Forina said he briefly felt better before his condition took a severe turn for the worse.
"August 8th the doctor calls my wife and says, 'He is showing signs of improvement.' August the 9th, they call her back with a totally different message and said he might not make it overnight," he told KVEO.
Around this time, Forina said he first noticed the physical signs which indicated he was in trouble.
"They took me out of the COVID unit and into the ICU in the regular hospital. I looked at my feet, my feet were black, and that's when I knew something was wrong," he said.
Forina further detailed making it through a grueling night, a fact which he said surprised even his doctors. However, he was then left with a devastating decision. The doctors had to amputate both of his legs below the knee or he would die.
Dr. Federico Vallejo, a pulmonary and critical care doctor who cared for Forina at DHR Health Rehabilitation Hospital in Edinburg, Texas, explained to KVEO that Forina had peripheral vascular disease, hypertension and other high-risk factors. The doctor said such COVID patients face an increased risk for limb amputation.
Forina's operation took place on September 7, and he is currently undergoing rehabilitation in order to allow him to return home.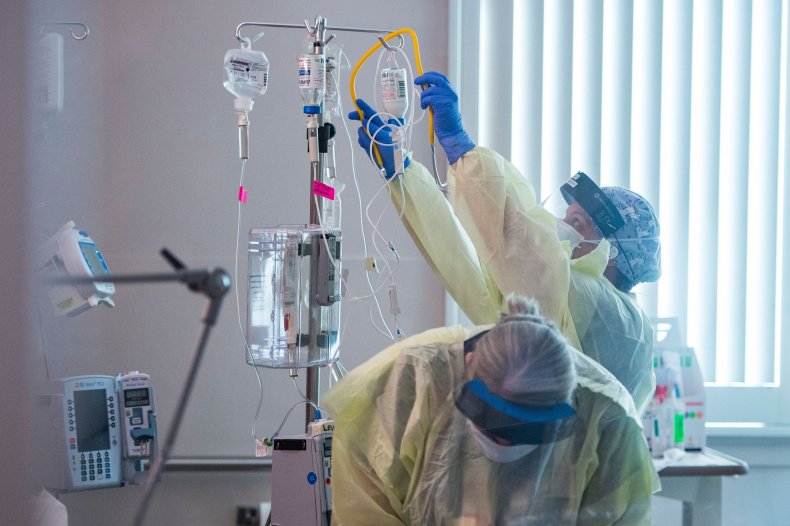 During an interview with The Monitor, a newspaper located in McAllen, Texas, Forina said he ignored requests from his wife and daughter to get the COVID-19 vaccine. When asked by the paper why he didn't get vaccinated, he answered it was out of "stupidity."
"Stupidity, basically because I didn't believe in it," Forina said. "I didn't believe that a vaccine...I just didn't want to get it done."
When questioned by The Monitor about whether he feels others should learn from his mistake and get vaccinated, he insisted he still believes it's a personal decision. However, he seemed to indicate he wished he had chosen more wisely.
"It's a choice," Forina said. "I'm not going to push it on anybody that you need to get vaccinated...It's a choice—a choice that I made poorly. Learn from me, and hopefully you won't be in the same situation I'm in."