Unvaccinated Man Relearning to Walk After COVID Complications, Urges Others Get Shot
A former University of Alabama football player who experienced nerve damage because of COVID-19 is now having to relearn how to walk, stand up and use his right arm.
Justin Moon, 36, wasn't vaccinated against COVID-19 when he contracted the virus over the summer and had to be hospitalized. Until then a generally healthy person, he spent 39 days on a ventilator and while he recovered from the virus, he now faces a long road to recovery and is encouraging others to get vaccinated to prevent others from going through the same experiences.
"There's only one other step beyond where I was at, and that's cremation or going in your box. I actually died for four minutes, and they shocked me and brought me back," Justin told the University of Alabama at Birmingham in a recent interview.
Justin and his wife, Mel Moon, considered getting vaccinated against COVID-19 but were hesitant because of the rampant misinformation about the shot. Amid a surge in cases over the summer, the couple decided getting vaccinated was the right move for them, but days before they were scheduled to get their first dose, they contracted COVID-19.
Mel told the University of Alabama Justin went from thinking it was a sinus infection to being admitted to the hospital within four days. Had he been vaccinated, Justin believes he wouldn't have been on a ventilator or having to relearn how to do basic movements that were once second nature.
"My situation did not have to be like this. If I had not been unsure of the vaccine and got vaccinated, it would have probably gone like a lot of other stories," Justin said. "I would have had a headache, shortness of breath and just laid on the couch for a few days."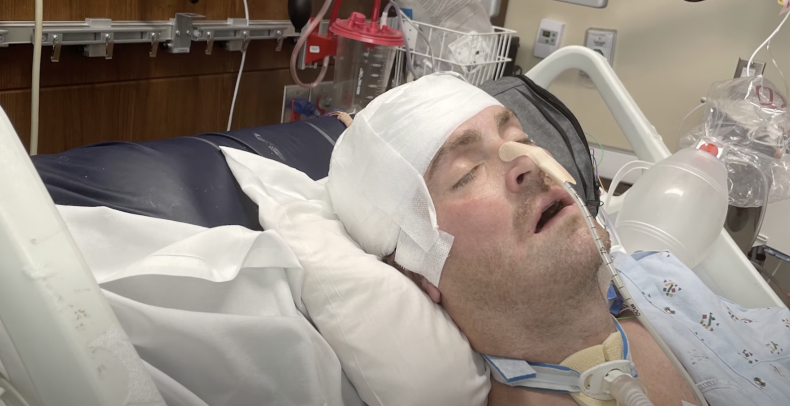 COVID-19 vaccines have proven to be effective at helping to keep people out of the hospital if they contract the virus and surges in hospitalizations are largely being driven by unvaccinated people. People who are unvaccinated are nearly six times more likely to test positive for COVID-19 and are 14 times more likely to die of COVID-19, according to the Centers for Disease Control and Prevention.
Justin was hospitalized for 79 days and at one point, his condition deteriorated to the point that his family was told they should be prepared to say goodbye, according to the University of Alabama. Now that he's made it out of the hospital, he and his wife are working to encourage other people to get vaccinated.
"Don't stand still; do your homework. Don't listen to the wrong sources. Talk to your physician and your family, and make the best decision for you," Justin told the University of Alabama.
The couple estimates that the telling of their story has helped convince 250 people to get vaccinated. He said their "goal" through the nightmare they went through was to try to prevent others from having to live through the same experience.
Brent Patterson, one of Justin's physical therapists, told the University of Alabama that many people don't know that COVID-19 can take away their independence and leaving the hospital is only the beginning of the fight for many people.
"People who had lived normal lives prior to getting the virus wake up paralyzed, unable to walk, talk, eat, swallow, among other things they were able to do before," Patterson said. "The majority of them come to the realization that they could have done something to prevent this from happening."