Unvaccinated Mom Urges Pregnant Women to Get Jab After Prior Miscarriages Made Her Hesitant
A mother is urging pregnant women to get vaccinated against COVID-19 after a bout with the virus turned the birth of her child into an ordeal.
Sarah Heyl, of Sacramento, California, first contracted the virus roughly four months ago, when she was 30 weeks pregnant with her daughter. Her husband Matt experienced a breakthrough case of COVID, having gotten his last shot in April. The couple's 16-month-old son also contracted a minor case, according to KTXL.
Despite the urgings of her doctor, Sarah had opted to forgo vaccination while pregnant. This decision came, in part, because of caution, as Sarah had previously miscarried multiple times as the couple was trying to have children.
She also assumed her risk from the virus would be minor, as she was reasonably healthy and worked from home. The couple now believes that they caught coronavirus from a family member.
"I contracted COVID from a family member who had a brief interaction with my then 16-month-old, and it was enough to infect him," Sarah said. "Luckily, he didn't have any serious symptoms."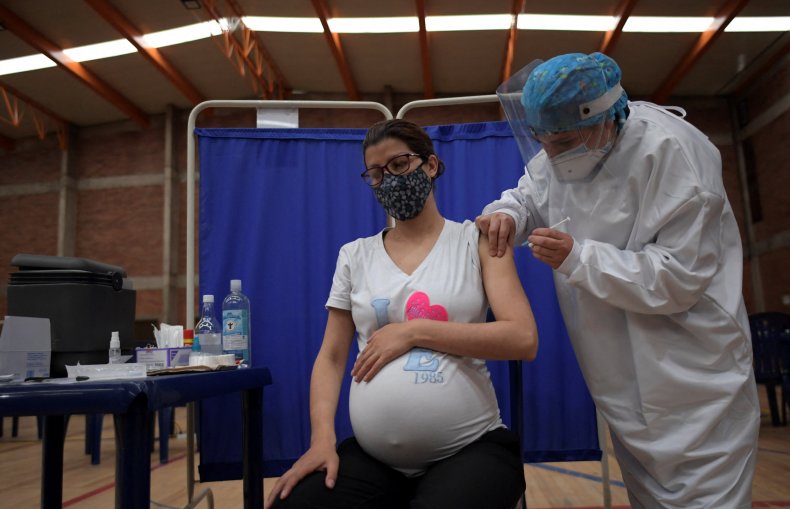 Matt said that his wife's condition became noticeably worse than his over time. At one point, he found that Sarah was up to 36 breathes per minute—roughly three times the standard amount—and knew she needed to be taken to the hospital.
It was decided by doctors that Sarah would have to give birth via C-section at 32 weeks, due to the risk posed to her child by the virus. Following the birth of her daughter, Naomi, Sarah was not allowed to see her newborn for 10 days due to her continued bout with COVID.
Naomi is now four-months-old and healthy. Now Sarah is urging pregnant women to put their worries about coronavirus aside and get vaccinated.
"Something that will stick with me is that because I was positive, Naomi, I didn't get to meet Naomi until 10 days after she was born," Sarah said. "So, that was a tough time that I would never want another mother to experience that separation after birth where you can't see your child, you can't touch your child."
The Centers for Disease Control and Prevention (CDC) urges all people who are pregnant, trying to become pregnant, or were recently pregnant to get vaccinated. As with non-pregnant individuals, the organization's official stance is that the benefits of the COVID-19 vaccines outweigh the relatively rare risks. In some cases, doctors have found that mothers might pass on COVID antibodies to their unborn children in utero.
Newsweek reached out to the CDC for any updated statistics and vaccines and pregnancy.