Unvaccinated Mother Suffered Stillbirth Due to COVID, Urges Pregnant Women to Get Vaccine
An unvaccinated Georgia woman is urging pregnant women to get their vaccines after she suffered a stillbirth due to COVID-19 complications.
Kyndal Nipper was 36 weeks pregnant when both she and her husband tested positive for COVID-19.
Although she only suffered a minor illness, recovering from a low-grade fever and allergy-like symptoms at home, she noticed her unborn baby was moving less than usual in the days after her COVID symptoms first appeared.
"I just felt deep that something was wrong," Nipper told WRBL. "So I went up to Piedmont [Columbus Regional], went straight to labor and delivery, and that's where we found out that, unfortunately, our baby boy was no longer with us."
Piedmont OBGYN Timothy Villegas said testing has shown that when pregnant women contract COVID-19, the virus can infect the placenta and destroy placenta tissue and cause inflammation. These complications in turn cause stillbirths.
"Higher rates of hospitalizations, higher rates of maternal death and even stillbirths, which you know we've seen three cases of that in Columbus in the last month," Villegas told the local outlet. "And this is something we have not seen previously, so we're starting to get really worried about this and get the word out."
Nipper, who was unvaccinated, said she was waiting until after giving birth to get the vaccine because she didn't know enough about it.
"The vaccine was so new we decided to wait until after we had our son to get it," she said. "We didn't really know much about it, but we just figured we would just wait until after he was born to get it."
She says she regrets not getting the vaccine before getting infected and is now urging pregnant women to get vaccinated to avoid the tragic loss she suffered.
"What's important for me is that no other mother has to go through this pain," Nipper said. "We would do anything to keep our children safe, even our unborn children, and if I could just help one mom reassure herself that she is doing everything she can to protect her and protect her baby, then this is worth it."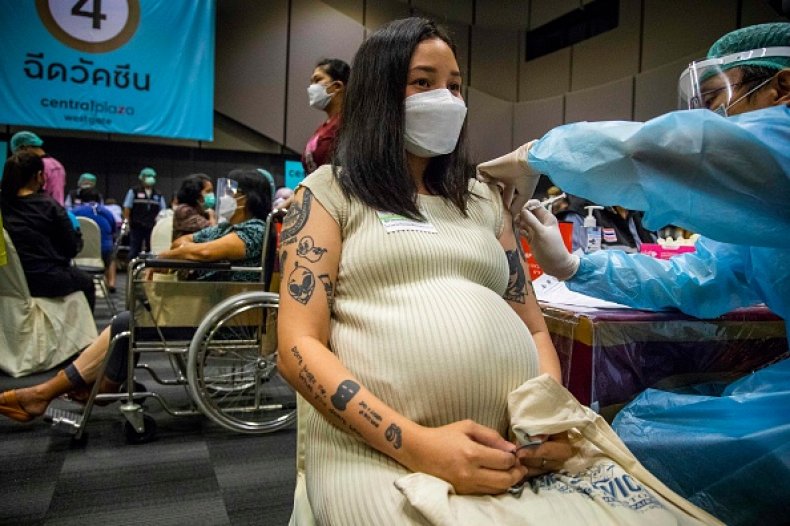 Health officials have continued to urge pregnant women to get vaccinated amid the rapid spread of the Delta variant.
Hospital doctors in Louisiana have noted that the now-dominant variant is causing a rise in COVID hospitalizations among pregnant women who don't have other medial problems—a demographic which hadn't seen high rates of admission in the other waves of the pandemic.
"This is really becoming, as we've said before, a disease of the unvaccinated, and it's affecting the pregnant women, her fetus, her newborn, her family at home,"Dr. Jane Martin, a maternal fetal medicine fellow at the Ochsner Baptist hospital in New Orleans, said last month. "It's coming on a lot stronger than other surges have in the pregnant population."
The Centers for Disease Control Prevention has recommended that pregnant people get vaccinated to protect both themselves and their babies and has published data proving the safety of the COVID-19 vaccines for this group.
"CDC encourages all pregnant people or people who are thinking about becoming pregnant and those breastfeeding to get vaccinated to protect themselves from COVID-19," CDC Director Dr. Rochelle Walensky said in an August 11 press release.
Martin previously told Newsweek that she's had to treat many infected pregnant patients with supplemental oxygen, intubation and mechanical ventilation.
"People need to hear it loud that the COVID vaccine does not increase your risk of infertility. It does not increase your risk of miscarriage or any bad pregnancy outcomes," she said.
Update 09/13/21 10:15 a.m. ET This story was first reported by WRBL. An earlier version of this story attributed Nipper's quotes to WJBF.