Unvaccinated New Yorkers 26 Times More Likely to Die of COVID at Omicron Peak
Omicron put even the vaccinated in New York City at a higher risk of infection, hospitalization and death, but the unvaccinated bore the brunt of the outbreak, according to recent data.
Some used the rapidly-spreading Omicron variant's ability to evade COVID vaccines to call the effectiveness of vaccines into question and criticize mandates. However, officials argued the outbreak showed the power of vaccines since those who were vaccinated were far less likely to get seriously ill, and in December, unvaccinated people nationwide were 16 times more likely to be hospitalized and 15 times more likely to die than vaccinated people.
That disparity was even greater in New York City, once the epicenter of the pandemic. During the week of January 8, the peak of the Omicron wave, there were 24 times more hospitalizations among unvaccinated individuals and 26 times more deaths, according to data from the New York City Health Department.
COVID-19 vaccines have become a highly-contentious topic and some of those who are unvaccinated have accused officials of pitting the vaccinated against the unvaccinated, relegating them to second-class citizens. Those pushing for people to get vaccinated have pushed back against the narrative that a person not getting vaccinated only impacts themselves, arguing that cases surging among the unvaccinated have a trickle-down effect.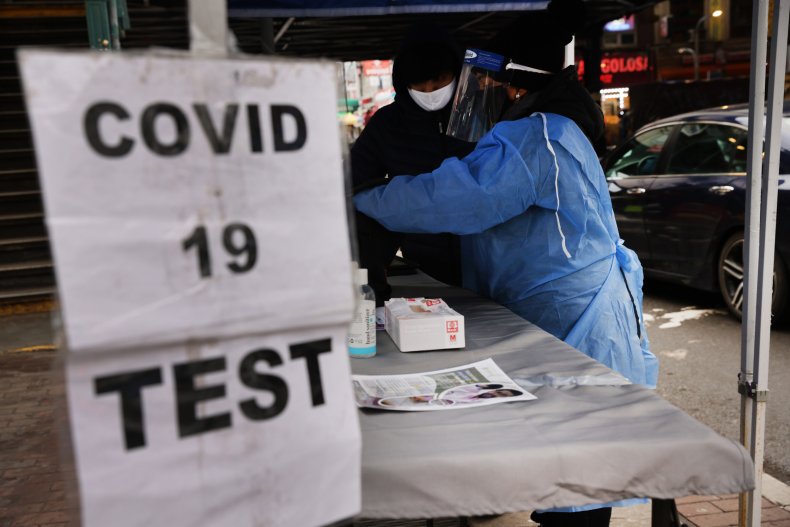 As Omicron spread, hospitals once again became overwhelmed with patients and officials warned that influxes in unvaccinated people being hospitalized takes resources away from treating patients who need help for unrelated issues.
"If you look at the data, you can't walk away from the facts. And the facts are stunningly obvious when you look at the hospitalization and deaths among unvaccinated versus vaccinated; versus vaccinated and boosted," Dr. Anthony Fauci, director of the National Institute of Allergy and Infectious Diseases (NIAID), said during a briefing this week.
Although cases, hospitalizations and deaths seem to be declining in New York City, unvaccinated people are still far more likely to suffer from COVID-19 than their vaccinated counterparts. And, as the variant appears to be waning, the gap between unvaccinated and vaccinated people getting seriously ill and dying grew.
During the week of January 15, hospitalizations among the unvaccinated dropped from 764 per 100,000 people to 587 per 100,000 people. However, vaccinated hospitalizations dropped by half in the same time period, a significantly greater decrease. The most recent data showed unvaccinated people were 36 times more likely to be hospitalized and 30 times more likely to die.
About 84 percent of New York City residents have received at least one dose of the COVID-19 vaccine, according to the Health Department, but only 75 percent are considered fully vaccinated.
Mark D. Levine, Manhattan Borough President, posted the data on Twitter and questioned "what odds" people wanted to have against the virus. While New York City has high vaccination rates, he noted about 1 million people in New York City still are unvaccinated and urged people to get inoculated if they're eligible.