Unvaccinated Pregnant Woman 'Tragically' Dies of COVID After Baby Delivered Prematurely
A 26-year-old woman died from COVID-19 following a two-month stay in the intensive care unit after contracting the virus while pregnant.
Antonietta Delli Santi contracted COVID-19 when she was about six months pregnant and went into the ICU at a Naples, Italy, hospital at the end of August, according to La Stampa, an Italian newspaper. Doctors delivered her baby prematurely, but her daughter died a few days later and her mother followed on Sunday.
Luciano Trivelli, mayor of Montano Antilia, called her death a "tragic moment" that "should never have come." The 26-year-old leaves behind a young son and husband, who she ran a pizzeria with, according to Il Fatto Quotidiano, an Italian newspaper.
"A son who will never see again the one who generated him, a husband who will never see his beloved wife, mother Carmelina and father Giovanni who will never see their beloved daughter again, all of us who will never meet your sweet smile again. Antonietta has embarked on a journey to heaven, where she will meet other angels in this even more gloomy November evening," Trivelli, who knew Della Santi personally from her time living in Montano Antilia, said in a statement.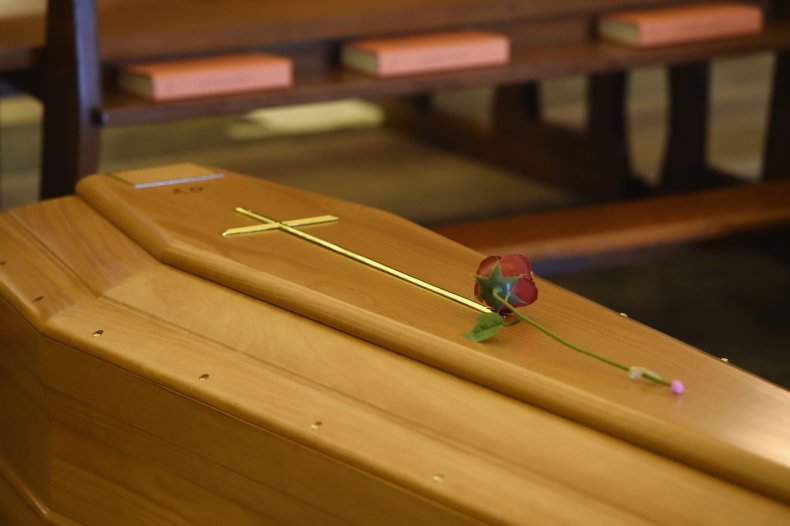 Pregnant women are at a higher risk of developing serious illness from COVID-19 and being put on a ventilator than non-pregnant women. They're also more likely to give birth prematurely than pregnant women who do not have COVID-19, according to the Centers for Disease Control and Prevention (CDC).
Data from the CDC found about 11 percent of about 32,000 pregnant women gave birth prematurely after contracting COVID-19. The bulk of infections, which ran through October 8, tested positive in their third trimester.
The CDC advises pregnant women and women who are thinking about becoming pregnant get vaccinated against COVID-19. It's the same recommendation professor Giuseppe Servillo, head of anesthesia and intensive care at the University Hospital Federico II in Naples, where Delli Santi was being cared for, makes.
"Pregnant women must be vaccinated," he told Adnkronos, an Italian news agency. "Pregnancy can amplify the harmful effects of COVID."
Along with helping to protect the mother from COVID-19, several studies have found that pregnant women getting vaccinated can help pass antibodies to their unborn children. They also found women who breastfeed after being vaccinated can pass antibodies to their children.
Il Fatto Quotidiano reported Delli Santi had been advised against getting vaccinated. It's guidance Walter Ricciardi, an adviser to Health Minister Roberto Speranza, called "criminal" and "ignorant" on Twitter.
Il Messaggero, an Italian newspaper based in Rome, reported Delli Santi had severe scarring on her lungs from COVID-19.