Unvaccinated New York Teacher Says Her Loss of Income Is 'Devastating'
A New York City teacher says being on unpaid leave will be "devastating" as she's a single mother, but she remains firm in her decision to not get vaccinated against COVID-19.
Stephanie Edmonds, who teaches 10th-grade history at a high school in The Bronx, was placed on leave without pay after a vaccine requirement in New York City's massive public school system came into effect on October 4, prompting protests.
About 8,000 of the roughly 150,000 employees who work in the nation's largest school system were placed on unpaid leave because they were not vaccinated, The New York Times reported, citing city officials. Around 2,000 employees have received their first dose of a coronavirus vaccine since then, Mayor Bill de Blasio said on Friday.
Those who get vaccinated after the mandate took effect can return to school once they have received a first shot. Those who don't are barred from schools and placed on unpaid leave.
But Edmonds, 31, says she won't change her mind about getting the vaccine.
"I am a single mom, so the loss of my employment will be devastating," she told Newsweek. "I am not exactly sure where I will go from here, but I believe God will shine his light on us and show us the path forward."
A GoFundMe page has been set up, aiming to raise $2,000 to help Edmonds cover housing, food, and transportation costs.
She said she had applied for a religious exemption, which was denied. She appealed, and her application was again denied. "There was no reason stated, just a form with a box checked next to denied," she said.
"I was raised in a Jewish household and have continued to practice my faith," she added. "Through this process—the process I learned in temple and from my parents—I have come to the sincerely held belief that taking the vaccine is a betrayal of my faith in God and of my religious practices."
Edmonds adds that she believes the city's vaccine mandate goes against the values on which the nation was founded, describing it as "un-American and discriminatory."
She said: "The first European settlers came here for this very reason—to escape religious persecution for not adhering to the official doctrine of the Church."
She also believes a vaccine mandate is not necessary to keep schools open during the pandemic. "Many schools all over the country and the world are operating just fine without such mandates," she said.
New York City's mandate for teachers went into effect later than planned after a federal appeals court granted a temporary injunction that was sought by a group of teachers. A federal appeals panel later reversed that decision, and the Supreme Court also denied a request for an injunction.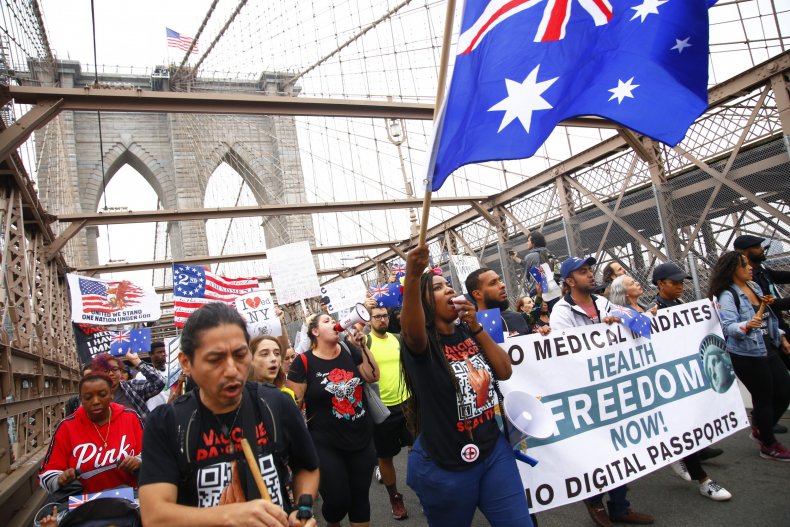 De Blasio announced in August that about 148,000 school employees would have to get at least a first dose of the COVID-19 vaccination by September 27, without a test-out option.
At a press conference after the mandate went into effect, de Blasio said 95 percent of the city's public school employees had received at least a dose of a coronavirus vaccine, including 96 percent of teachers and 99 percent of principals. A similar mandate is set to go into effect in Los Angeles on Friday.
The New York City Department of Education and de Blasio's office have been contacted for comment.