The Ups and Downs of Instant Fame in New Documentary 'Presenting Princess Shaw'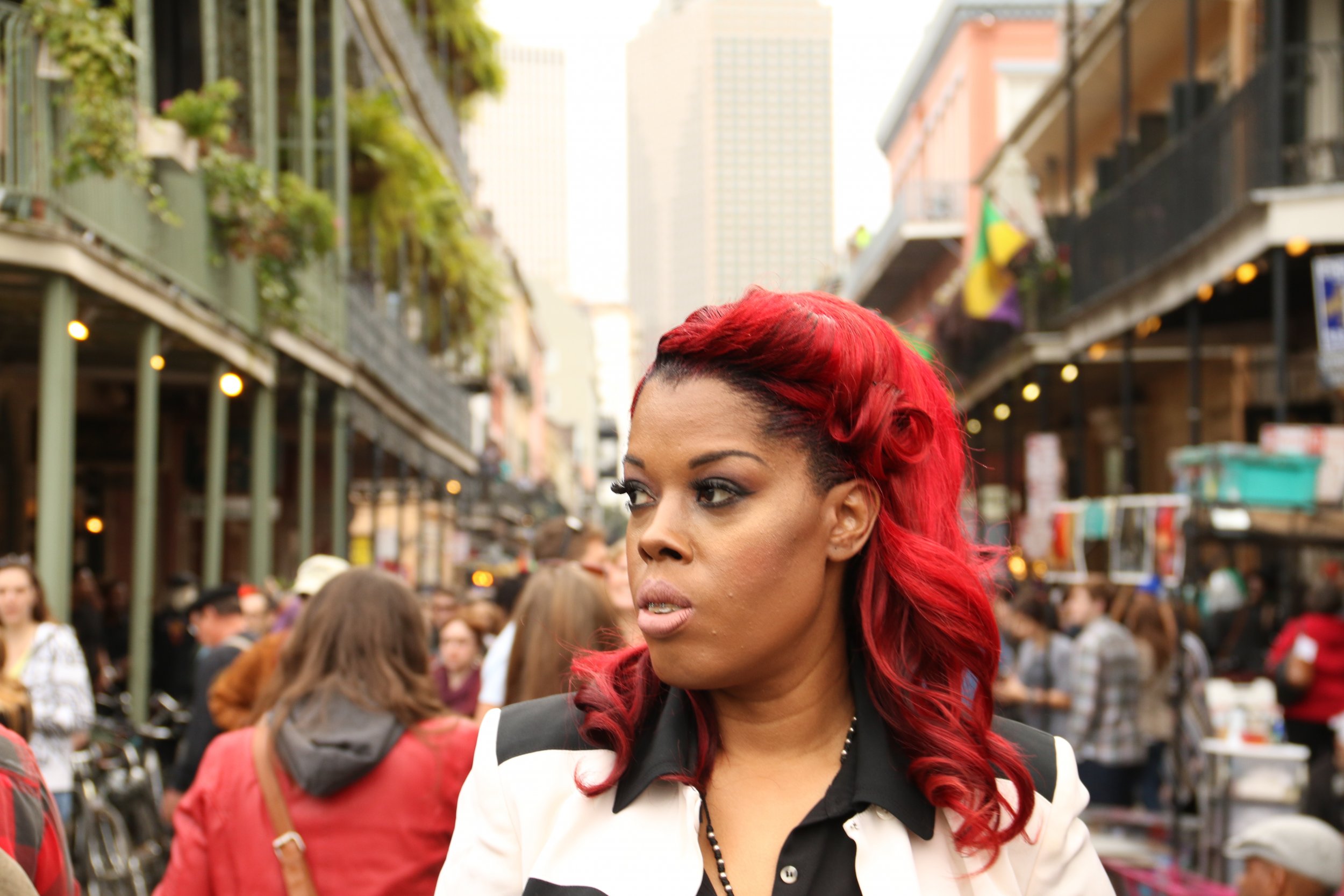 Though Samantha Montgomery spent years posting YouTube videos of herself looking into a camera and singing, she never expected that anyone was looking back—much less someone with the power to completely change her life.
Montgomery was born in Chicago and raised in Indiana. By the late 2000s, she was living in New Orleans and working as a certified nursing assistant at a senior care facility, like her mother and her sister before her. A flamboyant young woman with glowing red hair, she has always had artistic inclinations. She spent her teenage years writing songs to sing, making up dances, gathering her nephews and nieces into a choir, and directing plays. Creativity helped her escape what was otherwise a hard life, full of uncertainty and sexual and physical abuse at the hands of her mother's boyfriend.
"I always had this imagination," Montgomery tells Newsweek. "I had to go somewhere to be safe."
She says she had trouble singing in front of others, and feared reaching the last note she could possibly hit. Then one day, she started singing in the shower to test her vocal range. Suddenly, her voice went up a note, and then up another. "I was like, 'Oh my God, that's who I am! That's my voice!'" Montgomery recalls.
Still, she was too shy to go public. She believed she had crooked teeth, and she didn't want people looking at her mouth while she sang. Then she got braces, and her self-esteem corrected. She started a YouTube channel where she called herself Princess Shaw and recorded freestyle raps and off-the-cuff talks about her haircut, her work, her personal life. Sometimes she would even discuss her psychological trauma, a move she looks back on as a kind of therapy. "When you speak it out, you have to face it," she says. "When I began to say stuff, I started to purge my soul." She would also sing, hoping that somebody would deem the song good enough to make music for her.
Two years later, she received a weird message on Facebook. A man claiming to be a director from Israel wrote to say that he was coming to the U.S. to make a documentary about YouTubers and he wanted to meet her. Montgomery was cautious: People fake accents, you know? Still, she went to meet the guy in a hotel lobby, bringing a friend with her for additional safety.
The man, whose name is Ido Haar, proved to be the real deal. He and Montgomery connected immediately. Over the next several months, he was following her with a camera practically everywhere. The resulting film, Presenting Princess Shaw, hits select theaters and VOD this month and is one of the most surprisingly inspiring stories of the year so far.
Though she'd decided to make a go of singing, Montgomery's music career foundered. She would get a hundred views on a YouTube video and hit some open-mic nights, where she would play to empty rooms and participate in singing competitions with no results, all while trying to pay the bills.
But watching from afar was Kutiman, an Israeli beat-maker who pioneered and perfected the genre of YouTube mashups, assembling dozens of amateur music videos into infectious pop songs. He'd gotten hooked on Montgomery's tunes and used one of them to create a song, the mellow and lovely ballad "Give It Up." It was a big deal, since Kutiman's previous videos almost inevitably went viral, bringing millions of views to his YouTube channel and new fans to the musicians whose material he used. (Kutiman meticulously puts links to all the sources and never uses the songs for commercial purposes.)
Montgomery didn't know her music was being used at the time, but Ido Haar did. An old friend of Kutiman and a director who'd previously made films about illegal Palestinian workers in Israel and the experience of military service members in different countries, he was long fascinated by Kutiman's work and had the idea to film a documentary about what happened to the unknown songwriters featured in his videos. "My previous films were kind of depressing, so I probably was looking for a little hope," Haar tells Newsweek.
When Kutiman started making a new record, the director decided to start the project. At first, he wanted to include several characters in the film, capturing them as they experienced their tastes of viral fame. However, when he watched Princess Shaw's videos and then met Montgomery in person, he reconsidered his tack. "First, I really fell in love with the songs," Haar says. "Then, I felt there was something else there, some story that wasn't being told. I needed to meet her to understand what was going on."
Haar didn't let Montgomery know the details of the film: He wanted to make the moment she discovered the Kutiman video as genuine as possible. As the day approached when he would film her reaction, Haar was sure that the surprise would be ruined. After all, even The New York Times covered the release of the song.
"We were getting breakfast in Atlanta, and then her phone vibrated. And I'm sitting there with my camera, and I'm ready, and she's like, 'Hmmm,' and she puts her phone back," Haar recalls. "And then it vibrates again, and she texts back, and nothing happens!" It took five hours for Montgomery to discover her role in the soon-to-be-viral hit; her reaction is one of the most exciting parts of the film. She wasn't even mad that Haar knew the whole time. "I'm just like, 'You! You!' But there was no anger. I was really happy about it," Montgomery says.
Not everybody has been as forgiving. Presenting Princess Shaw has already been critiqued for scripting reality and withholding information from its main character. Haar is adamant that he didn't do anything wrong. "I didn't hide any dark secret from her," he says. "And I didn't want to ruin this for her and for Kutiman. I really wanted to catch this moment as if there would have been no film about it. After all, she would have discovered the clip anyway, with or without me."
Whatever ethical reservations exist, it's hard not to feel happy for Princess Shaw when she finally gets some recognition. As of now, "Give It Up" has gotten more than 2.5 million views—more than any other Kutiman video—and the release of Presenting Princess Shaw will certainly bring more. She goes to Israel. She meets Kutiman. They become friends. Now they're recording songs together. (When Montgomery spoke with Newsweek, she had just returned from her second trip to Tel Aviv.) "I spent so many hours watching her and listening to her, and then we meet, and she turns out to be such an amazing person, and it's really magical, and we develop this personal connection," says Kutiman. "I mean, what are the chances for that?"
On the surface, that's what the film is about: the human connections that wouldn't have been possible without modern technology, and the new ways in which the American dream lives on. For Haar, however, there is a larger and somewhat darker point. Presenting Princess Shaw is about a person who made it, but it's also about those who didn't—the fellow aspiring singers and musicians whom Montgomery meets in clubs and at competitions. "There is an optimistic side to this: People in different places can share, connect and bring themselves to the light," Haar says. "But there is also some pessimism. There are all those amazing talents that don't have the luck, or the power, or the connections to break through."
And for those who do, what comes next? Haar's movie touches upon it only lightly. As Montgomery tells Newsweek, in her daily life, not much has changed. As of our interview, she still hasn't been approached by any label or promoter. For now, she is touring the country to promote the movie, but when she goes back home, she'll go back to work at the senior facility. While this makes the story less extraordinary, it feels more realistic, especially considering that Montgomery approaches her situation with her standard vivacious resilience. "The moment happens, and then I go to the next one," she says. "I will do this stuff, and then I go home, and I'm just me. And I stay in bed and watch TV, clicking my remote control. But the thing is, I'm OK with it. It doesn't bother me at all."
Still, she appreciates the opportunities. Most of all, the opportunity to sing—and she does sing on every stage the film is presented on. "That's the main thing," she says. "If I get to sing, I'm having a good day. I feel blessed."