UPS Addresses Concerns Over Worker Collapsing in Arizona Heat: 'He Is Fine'
UPS has responded after a homeowner captured the moment a delivery driver collapsed on the porch, due to the hot weather the former assumed.
With a Ring doorbell camera, a homeowner in Scottsdale, Arizona, saw a UPS delivery driver falling to the floor halfway through making a delivery on Thursday, July 14.
Brian Enriquez shared the video with News12 and said he couldn't get to his phone right away when he received the notifications. In the footage, the driver can be seen slowing down and struggling to walk to the door.
The driver then dropped to the floor gradually, while holding on to an envelope to be delivered. He then placed the envelope but fell to the floor.
He appeared to regain some strength and slowly stood to his feet in order to ring the doorbell and head back towards his vehicle. The driver still appeared to struggle to walk.
UPS has since reassured that the driver is now "fine" and contacted his manager for assistance shortly after. The delivery company reiterated that they do not encourage employees to continue working if their health is at risk.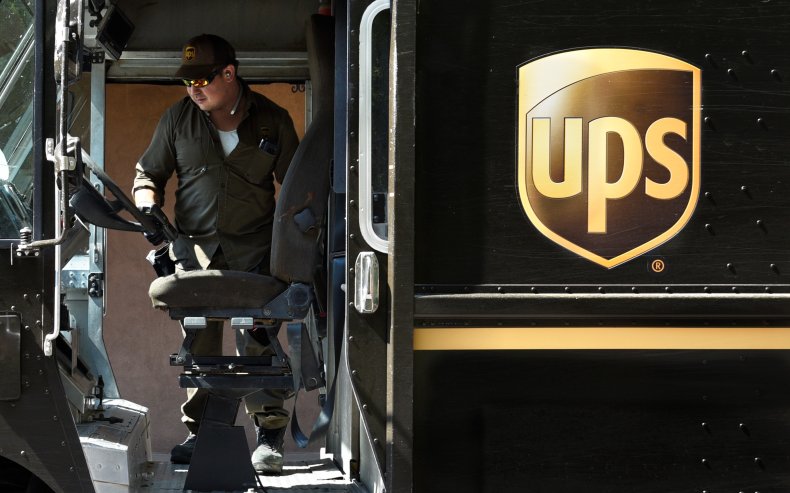 "We appreciate the concern for our employee and can report that he is fine," a spokesperson told Newsweek in a statement.
"UPS drivers are trained to work outdoors and for the effects of hot weather. Our employee used his training to be aware of his situation and contact his manager for assistance, who immediately provided assistance. We never want our employees to continue working to the point that they risk their health or work in an unsafe manner."
In Arizona, where the incident occurred, temperatures have reached 110 degrees in the past week and most days hit 100 degrees. The state, like most of the U.S., faced a recent heat wave and over recent weeks, Arizona has even suffered various wildfires due to the heat.
Homeowner Enriquez told News12 that he hoped sharing the video would encourage delivery companies to provide air conditioning in the vehicles of their drivers.
"I was concerned for the fact that he was coming, stumbling to the door," he added. "Had I gotten to my phone sooner, I could have talked to him through my Ring [doorbell] but he had already left the property at that point."
Earlier in July, a UPS driver reportedly died suddenly in Pasadena, California, while working. The official cause of death has not yet been ruled but Esteban Chavez's family believed heat stroke could be a possible reason.
In a statement to Fox11, UPS said: "We are deeply saddened by the loss of our driver Esteban Chavez and extend our deepest condolences to his family and friends. We are cooperating with the investigating authorities and are respectfully deferring questions about this incident to them."