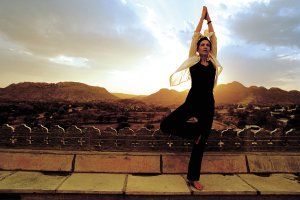 "Relax your kidneys, your pancreas, and your liver," my yoga instructor purred. Perhaps it was the 500-year-old Hindu temple I was meditating in or the sunset I observed while standing in the tree pose, but my gastrointestinal system was on its way to achieving a state of zen. Many local villagers wouldn't dare dwell here after dark: Bhangarh, an abandoned 16th-century city, is believed to be one of the most haunted places in India. But I couldn't care less, not after that hour-and-a-half session. Plus, a butler from Amanbagh, the luxury haveli that arranged this experience, had cold lemonade and cookies waiting for me on the lawn of the palace ruins.
For years, the classic yoga retreat was a pilgrimage to a Himalayan ashram for an austere regimen of meditation and painful asanas à la downward dog. The bare-bones accommodations, lentils-and-naan diet, and smoking and drinking bans were all meant to reflect the ascetic life of a true yogi. But as the hippies and New Age spiritualists turned into health-conscious desk jockeys eager to continue their daily exercise routines on vacation, the ultra-luxury yoga retreat was born. "The words 'luxury' and 'yoga' don't always go together," says Mollie Fitzgerald, owner of Frontiers Travel, a bespoke agency that arranges yoga holidays. But in the past three years, she says, there's been an uptick in demand from clients who want to do yoga while, say, on a yacht cruise in Alaska or a safari tour in Botswana.
The upselling of what is essentially a $20 session at the studio into a high-end experience is slick. Posh resorts argue that their particular combination of location, service, and amenities will somehow elevate the yoga to a near-nirvana level. For instance, at the Preferred property Ananda, a Himalayan destination spa, a 14-day yoga package in its top suite, a one-bedroom villa with a private pool, comes with a personal breathing and meditation instructor as well as two four-handed traditional ayurvedic massages ($14,415). A yoga safari organized by Africa Classic Safaris closes an entire national park in southern Africa so guests can do yoga beside the zebras and giraffes, and it later ferries them to private islands off the coast of Mozambique ($4,370). For something more extreme, Canadian Mountain Holidays is launching a three-day heli-yoga retreat in the Canadian Rockies this July, which involves being whisked by helicopter to the top of picturesque peaks for yoga sessions ($2,350).
To find out for myself whether frills and perks really add value or detract from what is traditionally a no-nonsense art form, I traveled to India, the birthplace of yoga and home to some of the world's most astounding palace and fort hotels. My first stop was a 6:30 a.m. yoga session in Delhi's Lodhi Garden, arranged by the Aman New Delhi. There was none of the usual litter, street-blocking cows, or noisy peddlers that typify urban India, just the sound of kids playing cricket on the freshly mowed grass. After being led through sun salutations and shoulder stands by a chipper instructor in his early 20s, I sat down near a tree for a picnic breakfast served by two Aman waiters. The amenities at this sprawling postmodern hotel, where suites can go for upwards of $2,000 per night, include private pools in each room, dedicated butlers, and an over-the-top rule that your room must be cleaned every time you leave it.
For a more Indian fairy-tale experience, I went to Jaipur, where I practiced sunset yoga on the rampart of hotel baron P.R.S. Oberoi's private residence, Naila Fort. Set on an impregnable rock summit, the 150-year-old restored castle—complete with guard towers turned into bedrooms—has hosted many of his celebrity friends, including Bill Clinton. For those with deep pockets, an excursion can be arranged through Oberoi's nearby garden resort, Rajvilas. I had a similarly enchanted stay at the Preferred property Devi Garh. With a commanding view of the tiny village its owner once ruled, the 18th-century palace turned all-suites boutique hotel boasts a chic minimalist interior design, a state-of-the-art spa, and possibly the highest balcony-to-room ratio I have ever encountered (4–1 in my room). Yoga on an inner rampart high in the palace, followed by a private dinner on a roof alcove, was the epitome of serene.
But it wasn't all bliss. The staff at Devi Garh was unprofessional at times, which deflated my yoga high. I was excited about yoga at Udaipur's Taj Lake Palace, a favorite of Queen Elizabeth's and Jackie Kennedy's, but the session turned out to be in a gloomy stateroom with the shades drawn. That was still better than yoga on the private beach at the Leela Kempinski at Kovalam, which became a very public spectacle involving dozens of shirtless fishermen (although the cliff-top yoga pavilion was pleasant).
My verdict is that luxury and yoga can be hit or miss, particularly as much of the experience comes down to chemistry with your instructor; in India, that included everyone from yogi masters to drill sergeants to guys more interested in a big tip. Indeed, if you are already the resort type, yoga can be the icing on the cake. But if you find paying thousands of dollars for this sort of fitness holiday ridiculous, well, there's always yoga in the park—sans waiters.