Russian Plane With 234 People On Board Crash-lands in Cornfield After Birds Fly Into Engine Causing Fire, 23 Injured
Passengers aboard a Russian plane that crash-landed in a cornfield have given an emotional thank you to the airline crew for saving their lives.
The Ural Airlines Airbus 321 heading to Simferopol in Crimea made an emergency landing shortly after takeoff near Zhukovsky International Airport southeast of Moscow on Wednesday.
The state-run news agency TASS reported that the plane had struck a flock of birds shortly after take-off and two engines caught fire. The agency reported that there were 234 people on board, including seven crew members.
At least 23 people were injured, including nine children ranging from 2 to 9 years old. They are being treated in hospital. Initial reports suggest there were no fatalities.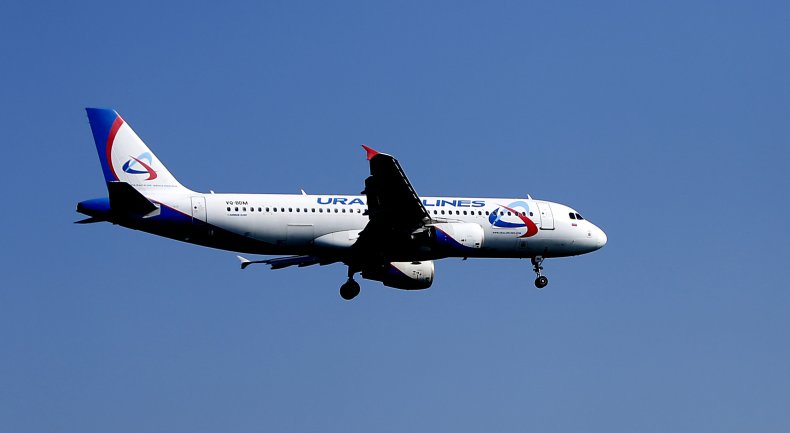 In dramatic scenes, video footage shows the plane resting in a cornfield and its passengers walking through crops to safety.
Footage tweeted by REN TV shows shocked passengers on the ground being told over a loudspeaker by what appears to be a pilot to not return to the plane to pick up their luggage.
One woman then shouts, "Thank you to the pilot, and the cabin crew," while another woman said "thank you so much!" before the passengers burst into spontaneous applause next to a stewardess who is in tears. "Well done guys, thank you for saving our lives," one woman said.
An unnamed male passenger films himself in front of the plane with his phone and says in the video: "I can't explain it, it was heart-stopping. It was really, really crazy."
Another passenger, named as Alla Lyetyashaya, said that on the plane she had heard "some kind of strange noises" adding that "we were told that there were sparks, but I didn't see any myself. Then we just started to descend.
"The flight attendants acted calmly, were competent, didn't shout, did a great job. But as for the passengers—there were many children—it was just a nightmare. They were all screaming like you would see in a film. The flight attendants calmly evacuated the plane, a big thank you to them. Everything's OK. We are all happy we are still alive. It's a miracle, thanks to the pilot."
In a statement, Ural Airlines tweeted: "Birds got into both engines. The engines turned off and the crew carried out the landing…one kilometer away from the runway."
Aviation authorities are investigating the incident.
In May, at least 41 people aboard a Russian Aeroflot SU1492 were killed after it crash-landed at a Moscow airport and burst into flames on impact.