Urban Explorer Finds Decaying Cockpits at Former Airline Complex: 'Rot'
An eerie video of an abandoned former British Airways (BA) training facility is being shared by an urban explorer who found plane sections and flight simulators rotting inside.
The decaying complex, in Cranebank, near Heathrow Airport in the U.K., has been left to the mercy of the elements after it closed down some years ago.
Office chairs, desks, paperwork, furniture, posters, projectors, kitchen equipment and TVs were all left inside—including pricey flight simulators and cockpits used for training.
Footage shows dusty plane cabins and airplane seats inside the training simulators, with oxygen masks littered on the floor.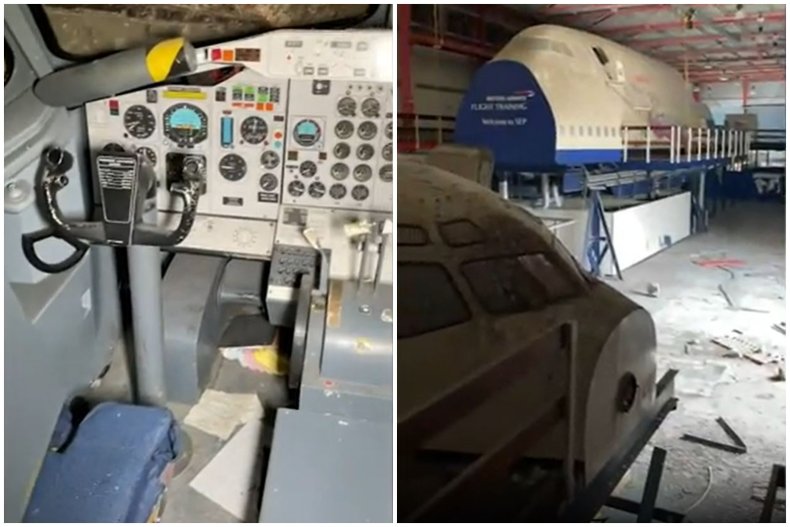 The sprawling complex has severely deteriorated, with ceiling tiles falling off to turn to mush on the ground, water damage in numerous rooms, smashed glass, broken doors, and flooding, leading to moss, mold and fungus growing on nearly every surface.
Vandals have stripped valuable items, such as copper wiring, from the building, according to urban explorers.
One urban explorer, named Chloe, shared a clip to her TikTok page, @chloeurbex, last month as she explored the site covered in the airline's logo.
"Abandoned British Airways," she captioned it, as she filmed the interior, which looks like the set of an apocalypse movie.
The voice-over explains: "The British Airways training facility site has been abandoned for several years, due to another site being built nearby.
"Flight simulators left covered in pigeon s***. Classrooms and corridors have collected moss and grass over the years. Office left all stripped from thieves and vandals. A rather interesting explore."
The clip, which can be seen here, has amassed more than 900,000 views, as people were taken back by the level of decay.
Kevin wrote: "Quite amazing; what a waste of office furniture others could have used."
Tom Sanderson commented: "I don't understand why buildings, especially ones this big are just abandoned. It's a waste."
Liam Cowley remarked: "Always amazes me how quickly nature takes over the concrete jungle."
Andy Watson wrote: "Sad. Visited there in 2014 ish. Really vibrant office filled with trainees. Spotlessly clean."
Booko pointed: "Looks like it's been abandoned for much longer because of the moss."
AmandaLo thought: "So they just upped sticks and left. What the hell."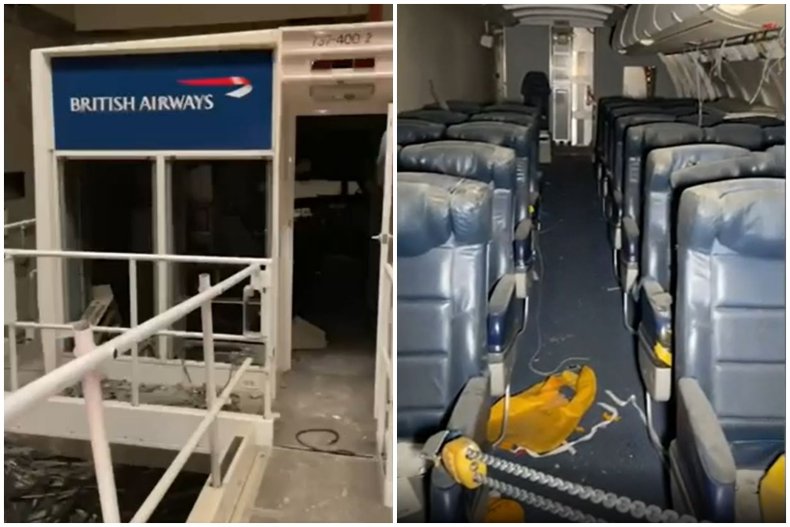 It does make you wonder, how can they spend all that money, just to leave it to rot," oNoobmaster69o added.
Back in 2012, a report from BA to the local authority, Hillingdon Council, described the location as: "The Cranebank estate, which houses the existing flight training facilities, is generally in a poor condition, with the 1960s/70s buildings inefficient, both operationally and environmentally, and an overall dated campus environment."
Explaining more about the relocation of the site, the document continued: "Looking forward this project seeks to improve British Airways portfolio by relocating the teaching and training facilities of Cranebank across to the Maintenance Base.
"This will resolve a number of long-standing real estate issues at Heathrow, including an improved and more efficient use of the base whilst also offering potential attractive future uses for the Cranebank site."
A spokesperson for BA confirmed to Newsweek the airline no longer owns the site, saying: "​This facility has not been used by British Airways for several years."
Chloe isn't the first urban explorer to look around the facility, with a YouTuber, going by @thebeardedexplorer_, sharing a clip from there last year.
The 33-minute video, posted in January, was captioned: "Probably the most difficult location I have ever explored! With 24/7 on site security and guard dogs it really wasn't an easy one! The only way in was to walk through a flooded foot path which was absolutely freezing!!
"The site was used for pilots to learn how to fly and learn about BA's planes closed around 2011-2016. The site was relocated and the old one is going to be redeveloped. But what has been left behind will blow your mind!!"
Newsweek reached out to Chloe and @thebeardedexplorer_ for comment.
The chart below, provided by Statista, shows the world's busiest airports pre-pandemic.
Update 6/8/22, 11:30 a.m. EDT: This article was updated with photos and video from @chloeurbex.