Urban Scrawl: The Written Word In Street Art
Across the world the side walk is turned into an art installation with street art
Street art is a powerful contemporary art platform. It's difficult to find a city that has not been touched by it. Its presence changes with time and external influences, as does the power and visibility of art in any city.
Text is often an integral part of the art that appears on walls.Sometimes the imagery is big and beautiful, the result of organized festivals and paint jams. In its humbler form it's small and often easy to overlook, but it celebrates free speech and allows anonymous protest at the same time. It can be playful or profound. It can express beliefs and fears and pleasures. It can be gentle and touching, small and unpretentious, or openly assertive, subversive or downright aggressive. Whether it's been sprayed, stenciled or pasted onto a surface or simply scrawled onto the footpath, it can share a heartfelt message or be boldly poetic. It can inspire, amaze and offend. It will always be more abrasive where and when life is more difficult, such as during times of political or social unrest.
The images in this article have been captured in cities large and small, from locations where street art is valued and thus has the power to speak to the passer-by. They haven't been selected for their beauty, but rather because of what they say. They can all be found in Urban Scrawl, a book that looks at words on walls, footpaths and street signs.
Melbourne, Australia
Melbourne is a prime location for street art. Its walls are home to large murals that celebrate life and beauty, and to small, scrawled words that speak of humor, wisdom and dissent. Artists visit from around the globe to add to the complex mix of urban art.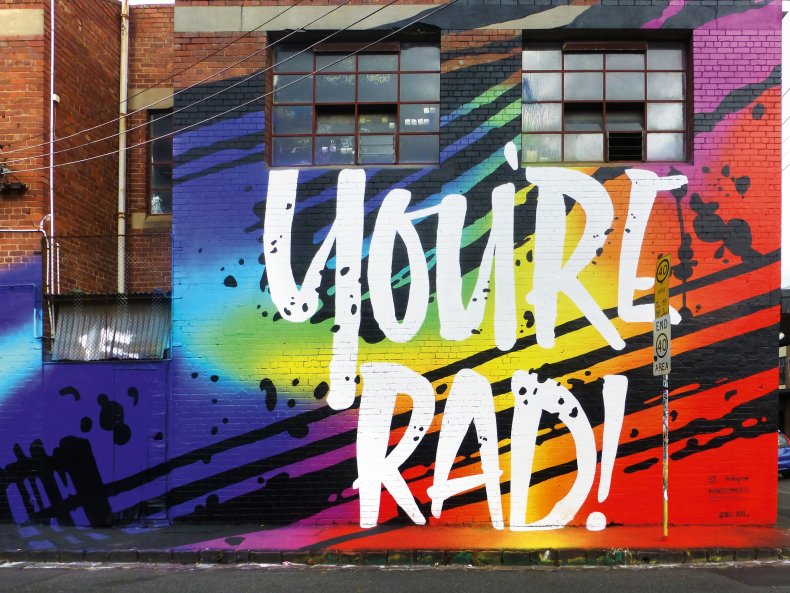 'You're rad', painted by George Rose in the inner Melbourne suburb of Fitzroy, is a dramatic expression of approval. The eye-catching waves of spectrum color with the superimposed white text and black slashes and splashes are a welcome burst of love. It's a perfect example of the way in which painted walls can draw attention to themselves and their message in an otherwise grey urban environment.
Melbourne has embraced street art as one aspect of its rich cultural environment. It is appearing in suburbs across the broad expanse of Melbourne's geography, but the most fertile areas are Fitzroy and Collingwood, Richmond and Brunswick as well as the laneways of the CBD.
New York City, USA
Love is a major source of inspiration in all art forms, reflecting and commenting on issues of affection and romance to passion, and from compassion to an appreciation of life's simple pleasures. Expressions of love have a place on walls everywhere, especially in ordinary places, amidst the grime of everyday life.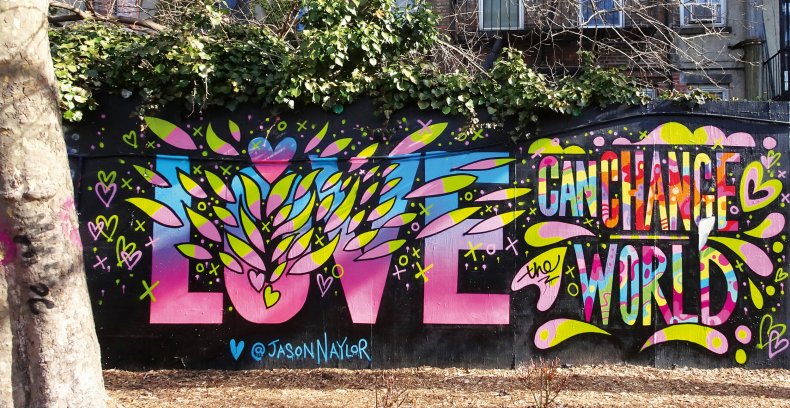 A perfect example of this is the work of Jason Naylor, a prolific creator of walls that contain colorful text. His work can be found across New York City, where it interacts with street art in many styles by an enormous range of talented individuals.
The New York scene is a world leader. It's an urban canvas with a fine pedigree. It became the center of the graffiti scene in the 1970s. In the 1980s Keith Haring was bombing subways with his iconic figures, and the vibrant street work of Jean-Michel Basquiat, with its system of personal symbols, was being recognized by galleries and collectors. It has only grown in strength since then, with the Lower East Side, Bushwick and Williamsburg being prime locations for painted walls.
Stavanger, Norway
Returning to the theme of love, sadly we all know that love and hate can co-exist, and dying love can become active dislike and even hatred. This has been cleverly suggested by Dolk's grenade-headed figures, below. Dolk is a widely respected Norwegian stencil artist who has left his work in cities around the world as well as in his home country.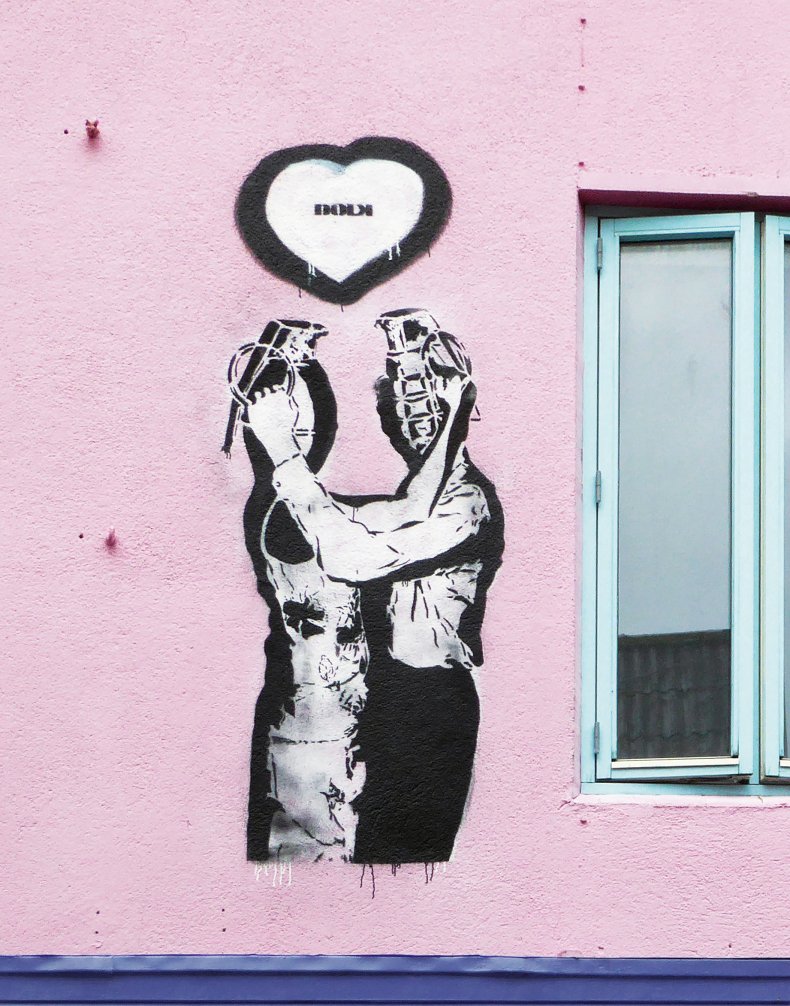 Stavanger is Norway's fourth-largest city but it's a titan in street art terms. It hosts an annual Nuart Festival which brings both local and international artists to paint on its walls, creating an energetic visual environment.
London, United Kingdom
Humour has always been an important element in art, and this is definitely true of street art. It often brings a smile to the face. Sometimes it even encourages us to laugh out loud. What could be more refreshing than the look of absolute delight on the faces of Zabou's characters? That Yeah Bitches on the cap says it all.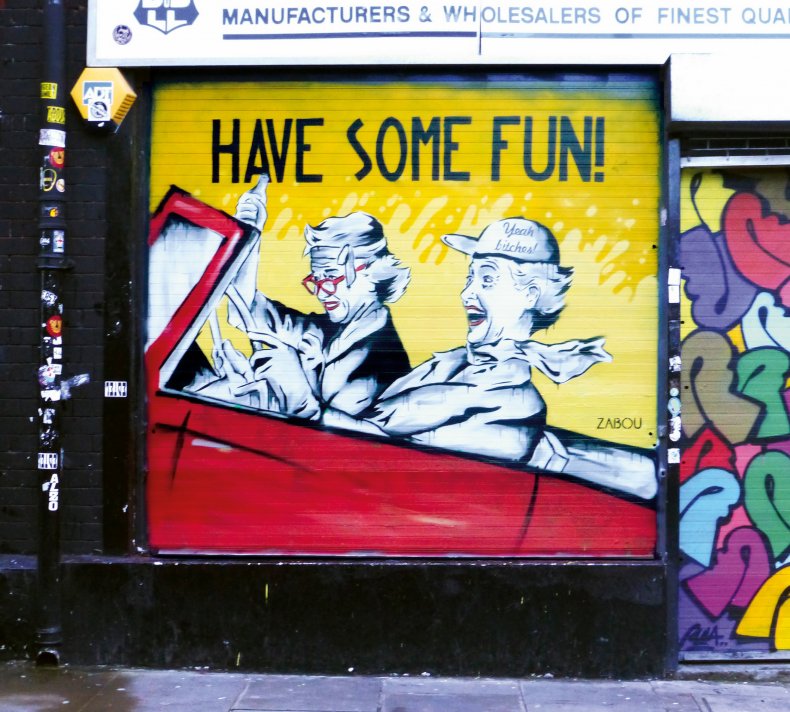 This delightful work by Zabou, a French artist who has been living in London since 2012, was painted in Shoreditch, the epicenter of street art in that great city. London has a long tradition of graffiti and street art. The works have a real immediacy as they are potentially so ephemeral. As is often the case, though, in today's world the same areas are being opened to gentrification, so old walls are disappearing, together with the art that has been a virtual rotating canvas. Hackney, Camden and more recently Penge, are other areas where street art hunters would enjoy a rewarding foray with a camera.
Lisbon, Portugal
Lisbon has been growing in street art stature for a number of years. Lisbon City Council has been taking an active role in allowing street artists to use abandoned buildings as part of a process of urban renewal. Not only is there powerful work in the center of the city, but a number of outer suburbs are benefitting from the regenerative power of enormous murals to create a sense of pride in their local community.
Street artists often share 'words of wisdom'. They can often be found in unexpected places – on rooftops and footpaths, even scrawled on fire hydrants and bridge stanchions. The message can be gentle and heartfelt, flippant or profound. It might give hope and encouragement or advice and caution.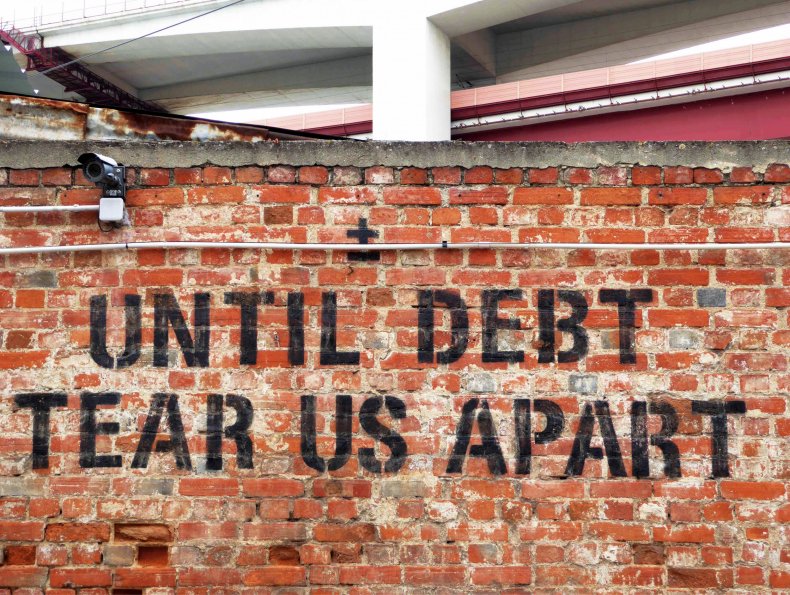 One artist who excels in this area is Miguel Januário, the Portuguese artist behind the name ±MaisMenos±. Translating to ±MoreLess±, ±MaisMenos± is an ongoing project of visual intervention in the urban environment. The artist offers direct, incisive statements that use clever word-play to encourage the observer to think about the dominant social and economic systems. Other pithy stenciled images by this artist in this economically troubled time include 'There Is No Place Like Hope', 'In Goods We Trust' and 'Private Poverty'.
Paris, France
As with most cities, street art in Paris is concentrated in certain areas. The cultural melange of the 13th arrondissement is a residential and commercial mix with many tall buildings which act as urban canvases. Some streets of the more bohemian neighborhood of Belleville are virtual open-air galleries. In suburban Vitry-sur-Seine, to the southeast of Paris, the walls are covered in paintings and stencils, largely because the artist C215 is a local resident and has been responsible for inviting dozens of artists from around the world to visit.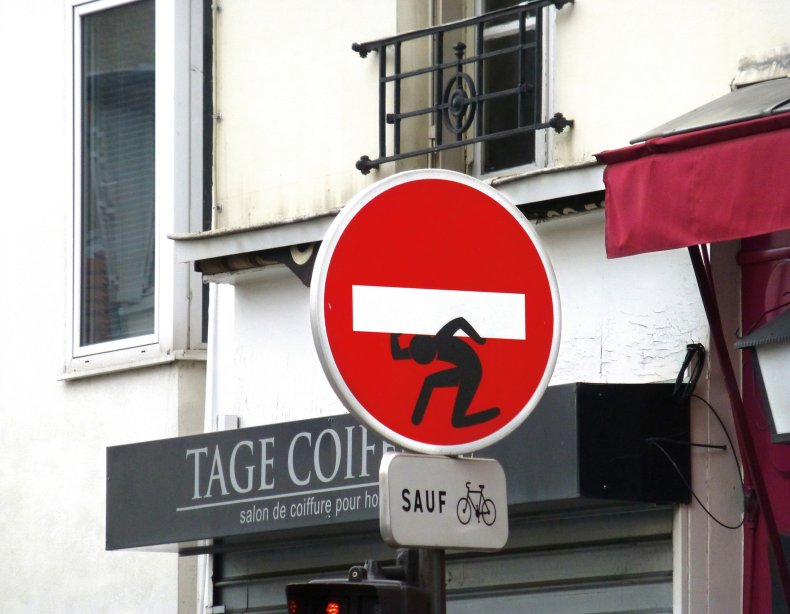 One of the pleasures of street art hunting in Paris is finding examples of the prolific work of artists such as Clet Abraham. He takes advantage of the universal, and wordless, language spoken by street signs to insert humor into urban streets by using removable vinyl stickers, such as this Atlantean figure on a Do Not Enter sign in Paris. Not strictly legal, these additions can be attached quickly, under cover of darkness. They may be in situ for a week or five years, depending on the response of the local authorities.
This discussion of cities is by no means complete. There are many more that could be added to this list: Valparaíso in Chile, for example; Barcelona; Los Angeles and Miami in the USA; and Christchurch in New Zealand.
I'll close with a final image that will probably make you smile (unless it's a little too close for comfort).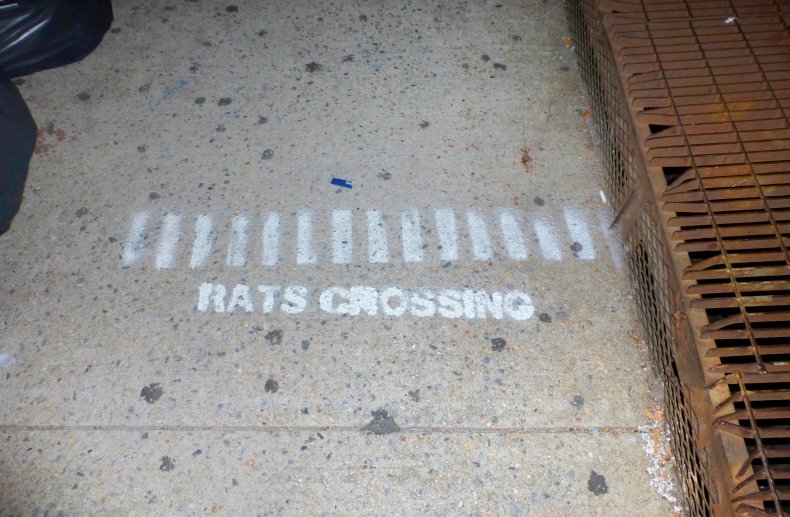 Footpaths are generally not the most visually stimulating feature of our urban environment, but sometimes looking down rather than at our smartphones can have its delights. We were walking through Greenwich Village a number of years ago and laughed out loud when we saw the 'Rats crossing' sign. It was quite fitting as a couple of healthy-looking specimens had just crossed the 'road'. There is something quintessentially NYC here– it's pragmatic and humorous in equal measure.
This article has been excerpted from the book Urban Scrawl: The Written Word in Street Art. Lou Chamberlin is a street art documenter with a home base in Melbourne. She has published five books about street art: in Melbourne, across Australia, and on the international stage.