Urban Meyer, Jaguars Made Smart Decision Considering COVID Vaccine Status During Cuts
Urban Meyer is clearly a smart guy when it comes to football.
His 187-32 college record and three FBS national championships would indicate that. But when you consider he's also the creator of the spread option that's essentially become the default offense in both college football and the NFL, it's easy to see that Meyer knows how to get a competitive advantage.
So when the first-year Jacksonville Jaguars coach stated Tuesday that he and general manager Trent Baalke considered a player's COVID-19 vaccine status when deciding on Jacksonville's final 53-man roster, it wasn't just a smart decision. It was a no-brainer.
"Everyone was considered—production and also whether he was vaccinated or not," Meyer said. "Can I say that was a decision maker? It was certainly in consideration."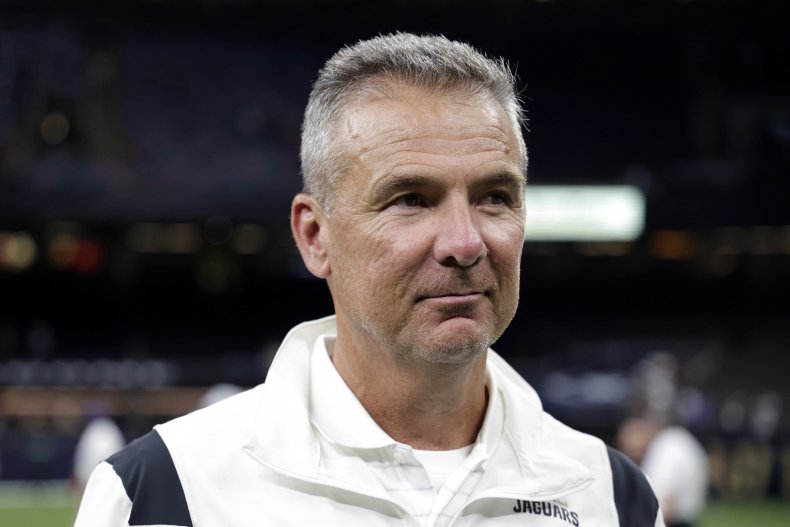 Perhaps Meyer's lone mistake was being honest since his admission to the press during his post-cut media availability set off a firestorm online and from the NFLPA.
"These comments have led us to open an investigation," NFLPA spokesperson George Atallah told Profootballtalk on Wednesday.
The threat of an investigation caused the Jaguars to release a statement walking back Meyer's comments Wednesday.
"Availability is one of the many factors taken into account when making roster decisions," the statement said. "We have vaccinated and unvaccinated players, and no player was released due to [his] vaccination status. Ultimately, decisions are based on a player's ability to help the Jaguars win."
But in the last sentence lies the importance of having vaccinated players. Given the prevalence of breakthrough infections due to the rampant spread of the Delta variant in the United States—particularly in Florida—and the NFL's protocols for vaccinated vs. unvaccinated players, having a large population of unvaccinated players on a team's roster constitutes a competitive disadvantage.
According to the protocols agreed to by the NFL and NFLPA, any player who tests positive for COVID-19 must miss 10 days regardless of vaccine status, but an infected player who is vaccinated may return early if he tests negative twice at least 24 hours apart.
The NFL and NFLPA added new protocols for the regular season Tuesday, according to NFL.com. Unvaccinated and partially vaccinated players will be tested daily and will not be allowed inside his team's facility without first passing a COVID-19 test. Fully vaccinated players are subject to weekly testing.
Unjabbed players who come in close contact with staff or fellow player who tests positive must quarantine away from his team for five days. Vaccinated players who come in close contact do not need to quarantine.
Unvaccinated players must mask inside team facilities and are barred from taking private transportation to games. Those who violate the terms will be fined, first $14,650, then subject to additional amounts and could be subject to four-game suspensions due to conduct detrimental to his team.
Teams are at risk of forfeiting games that are unable to be rescheduled due to outbreaks among unvaccinated players.
About 93 percent of all players have been fully vaccinated, and four teams, including the Buffalo Bills, have a vaccine rare of less than 89 percent.
"I think there's a personal decision and a competitive decision," Bills coach Sean McDermott said during post-practice press availability last Wednesday. "When the numbers are the numbers, some people are in a better position than we are.… When you're going through a week, if this were a real week and having the players out that we have, it makes it hard to win games that way."
McDermott was among the many coaches who said a player's vaccine status wouldn't lead directly to his release. Yet, considering how forward most NFL coaches have been about getting vaccines, and how football coaches hate both distractions and players missing time due to injury/illness, that was probably just lip service to keep an investigation at bay.
The fact is there are only about 200 unvaccinated players league-wide, according to the NFL website, but they are among the league's most talented players. The margin of error is so thin among teams each season, and this year making the playoffs could come down to which teams have the most vaccinated players.
Meyer, leading a team that went 1–15 last season, understands this. So if you want to criticize him for anything, do so for being open about making one more consideration that puts his team in the best position to win.