U.S. Getting Ready for Action Against Venezuela? '5,000 Troops to Colombia,' John Bolton's Notes Appear to Say
White House national security adviser John Bolton's notes carried what appeared to be an interesting message left unspoken during Monday's press conference on the political crisis in Venezuela.
Bolton and Treasury Secretary Steve Mnuchin rolled out new sanctions against Venezuelan President Nicolás Maduro and his country's state-run oil company. The United States has sided with National Assembly head Juan Guaidó's bid to be recognized as the country's legitimate leader. Guaidó declared himself "acting president" last week in a move recognized by the U.S. and a number of its allies but opposed by Maduro and his own partners.
As Washington's diplomats were expelled from Caracas, Bolton warned of a "significant response" against Venezuela should it harm any U.S. citizens. Speaking on the possibility of taking military action, Bolton said that "the president has made it very clear...that all options are on the table."
What he did not say—and what eagle-eyed Twitter users noticed—was what seemed to be another message written on the first page of the notepad in Bolton's hand. It appeared to read: "Afghanistan —> welcome the talks. 5,000 troops to Colombia."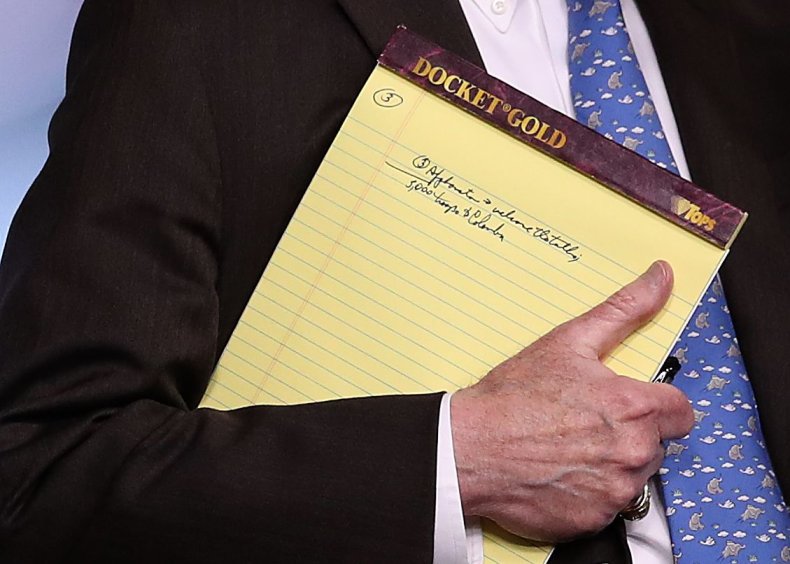 Left-wing-led Venezuela is bordered by longtime rival Colombia to the west and the region's leading military power, Brazil, to the east. The two U.S. allies have elected right-wing governments deeply critical of Maduro, who retains the support of his armed forces and has rallied his troops in a display of might intended for detractors at home and abroad.
Guaidó countered by calling for new protests and offering amnesty for defecting troops in order to win military support. The self-proclaimed president has capitalized on protests surrounding Maduro's second term, which began earlier this month following last year's election. That contest was boycotted by the opposition amid allegations of fraud and an economy that has suffered historic levels of hyperinflation, leading to shortages in goods and a mass exodus of refugees. The ensuing unrest has killed at least 16 people in recent days.
The tense situation has polarized the international community, with Brazil and Colombia joining other regional U.S. allies—such as Argentina, Costa Rica, Ecuador, Guatemala, Honduras, Panama, Paraguay and Peru—in backing Guaidó. Meanwhile, allied left-wing-led powers Bolivia, Cuba, El Salvador and Nicaragua have stood behind Maduro. Australia, Canada, Israel and the United Kingdom were among those endorsing the opposition, while Belarus, China, Iran, Russia, South Africa, Syria and Turkey have maintained their support of the government.
Russia and Iran have warned the U.S. against intervening in the crisis and have offered to mediate "between responsible political forces of Venezuela." Mexico and Uruguay—which also still recognize Maduro—have offered to host talks as well. Russia, which sent an air force delegation in a show of support for Venezuela last month, has denied reports that it had sent more military assets in the wake of the recent crisis.
The U.S. has a long history of intervening against socialist and left-wing movements in Latin America, especially through its support of right-wing forces there during the Cold War with the Soviet Union. The CIA was allegedly involved in the 2002 coup attempt against Maduro's predecessor, Hugo Chávez, and the Venezuelan government has accused President Donald Trump's administration of trying to orchestrate a similar conspiracy against Maduro.