U.S. Actually Agrees With Iran and Syria, Says Turkey Is Helping ISIS by Attacking Afrin
The U.S. found itself on Monday roughly aligned with Syria and Iran—two nations it regularly condemns—over their mutual opposition to a Turkish offensive that has rocked the alliances of a seven-year civil war.
Washington hails Turkey as both a fellow NATO Western military alliance member and a partner in the fight against the Islamic State militant group (ISIS), but Ankara's ongoing offensive against a mostly Kurdish city in northwestern Syria has caused Pentagon-backed Kurdish fighters to redirect their efforts away from battling jihadis, frustrating the U.S.-led coalition. As Turkey and the mostly Arab Sunni Muslim insurgents of the Free Syrian Army took control of Afrin on Sunday, the State Department said it was "deeply concerned" over reports of mass evacuations and looting.
Related: U.S. Is Losing a Top Syria War Ally Once Again, This Time to Assad
In a statement delivered by spokeswoman Heather Nauert on Monday, the U.S. fell short of explicitly condemning Turkey and acknowledged its "legitimate security concerns." It also said, however, that Washington remained committed to defeating ISIS via the Syrian Democratic Forces, a group dominated by Kurdish militias considered terrorist organizations by Ankara.
"The fighting in western Syria over the last two months, including in Afrin, has distracted from the Defeat ISIS campaign and provided opportunity for ISIS to begin reconstituting in some areas. This is a serious and growing concern. We call on all actors in Syria to remain focused on this significant threat from ISIS," the statement read.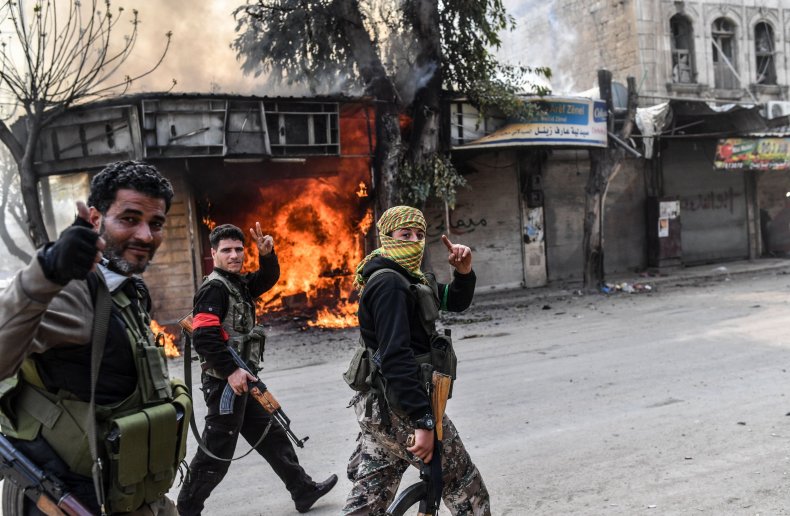 As the Syrian Democratic Forces' Kurdish fighters left the U.S.-led coalition assault on ISIS in eastern Syria, they struck an alliance with the government of Syrian President Bashar al-Assad. The agreement left Washington in an awkward position as its leading ally on the ground teamed up with a government Western powers have attempted to overthrow since 2011.
The U.S. initially entered the Syrian conflict by helping fund, train and arm anti-Assad rebels such as the now-Turkey-aligned Free Syrian Army. As the Syrian opposition became increasingly jihadi and Russia intervened on behalf of Assad and his Iranian allies in 2015, the U.S. switched support to Kurdish fighters, many of which were seen as terrorist organizations by Turkey due to alleged links to the restricted militant Kurdistan Workers' Party (PKK).
Not wanting to risk their partnerships with Turkey, neither the U.S. nor Russia have gotten directly involved on either side of the Afrin operation. Syria and Iran also have complicated relations with Turkey—whom they see as a regional competitor—and Kurds, who have sought greater autonomy in all three countries as well as in neighboring Iraq.
While Syria also referred to the People's Protection Units (YPG) as a terrorist organization, Assad saw the mostly secular Kurdish community as a potential partner against rebel groups and Turkey, which—along with the U.S.—he considered an invading force. In a letter sent Monday to the United Nations Security Council, the Syrian Foreign Ministry condemned the Turkish occupation of Afrin as well as reports of civilian casualties, theft and forced displacement.
"These acts and the Turkish aggressions not only threaten the lives of civilians and the territorial integrity of the Syrian people, but also prolong the war against Syria in service to terrorism and its supporters and threaten the security and peace in the region and the world," the ministry wrote, according to the official Syrian Arab News Agency.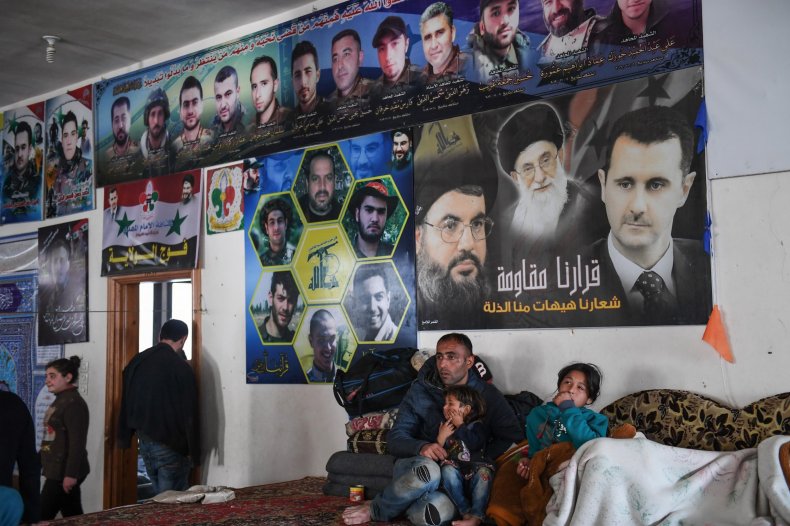 As the Russia-backed Syrian military recovered losses suffered earlier on in the war to rebels and Islamist militants, a number of Iran-backed and mostly Shiite Muslim militias that support Assad have become increasingly influential in the country. Like Russia, Iran has attempted to balance its support for Assad with maintaining a strategic relationship with Turkey.
The two Middle Eastern powers may not agree on the political future of Syria, but they do share an enmity for Saudi Arabia and have worked together under the Russia-led Syrian peace process based in the Kazakh capital of Astana.
About a month after Turkey and the Free Syrian Army launched the campaign against Afrin, Iranian Foreign Minister Mohammad Javad Zarif said he understood why Turkey would oppose the deployment of U.S.-backed Kurds near the border, but argued that "incursions in others' territories is not the way to address the problems," according to Iran's semi-official Press TV outlet.