U.S. Adds 1 Million New COVID Cases in Just 6 Days, Total Is Now Over 12 Million
The U.S. surpassed 12 million cases of the novel coronavirus on Saturday, after recording more than 1 million cases in the past six days.
According to data from Johns Hopkins University, over the past two weeks, the U.S. has seen daily case counts surpassing 100,000.
Last Sunday, the U.S. surpassed more than 11 million cases of the novel virus, and as the virus has continued to spread.
It now took only six days for the U.S. to log another 1 million.
According to data from Johns Hopkins University, there were more than 158,000 new cases on Monday; 161,934 on Tuesday; 170,161 on Wednesday; and 187,833 on Thursday.
On Friday, the country reported more than 195,000 cases, according toJohns Hopkins.
As of Saturday, across the U.S., Texas currently has the most confirmed cases of any state, with more than 1.1 million. Following Texas is California, with over 1 million cases; Florida with over 930,00 cases; Illinois with more than 646,000 cases; and New York, where over 584,000 cases have been recorded.
With a continued increase in cases, several states across the U.S. have imposed new restrictions in an effort to mitigate the spread.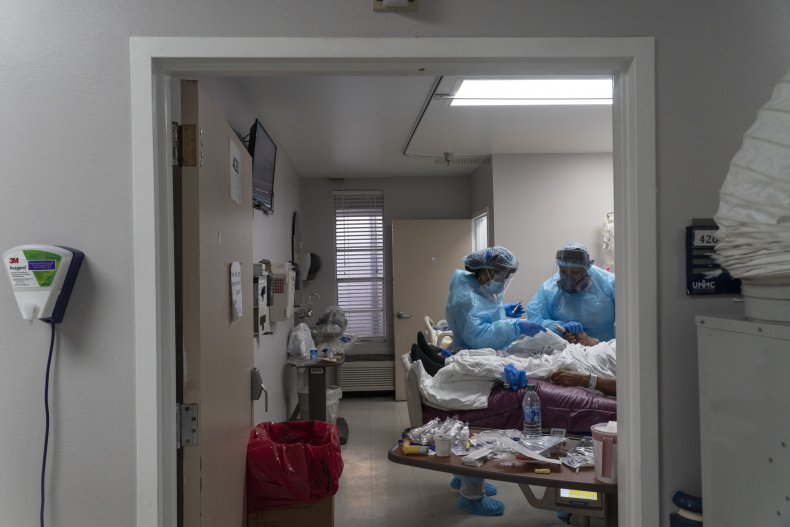 During the first wave of the ongoing pandemic in March and April, only seven states—Arkansas, Iowa, Nebraska, North Dakota, South Dakota, Utah and Wyoming—did not issue statewide quarantine mandates. However, five of those states have imposed new mitigation efforts.
Lawmakers and health officials in Iowa and North Dakota issued statewide mask mandates for indoor settings. In Nebraska and Wyoming, health officials and governors increased social distancing and mask recommendations as well as capacity limits on certain businesses.
Prior to the decisions made in these four states, Utah announced mandatory mask requirements last month.
Meanwhile, governors in South Dakota and Arkansas have continued to reject any such mask requirements or business closures, despite the former reporting over 8,000 new cases, and the latter reporting more than 11,000 new cases in the past week.
On Thursday, Dr. Deborah Birx, a member of the White House Coronavirus Task Force, said that the increase in cases across the U.S. is currently greater than at any point during the ongoing pandemic.
"This is more cases, more rapidly, than what we had seen before," Birx said during a press conference. "You can see the increase in test positivity to around 10 percent."
The increase in cases across the U.S. comes before Americans celebrate Thanksgiving. Several health officials have urged people to stay home for the holiday, and warned that Thanksgiving celebrations could create a surge in new cases.
During an interview on October 28, with JAMA Editor-in-Chief Howard Bauchner, Dr. Anthony Fauci, the nation's leading infectious disease expert, said: "If you look around the country now, many of the infections are in small family and friend gatherings, such as dinner parties and small social gatherings."
"If you have people like elderly, or individuals who are compromised because of underlying conditions, you want to take a couple of steps back and say, is it worth it for this year to bring those people together when you don't know what the status of everybody in that pod that you've created is?" Fauci, who serves as the director of the National Institute of Allergy and Infectious Diseases, said.
Additional reporting by Natalie Colarossi.