U.S. Advisers Assisting With Airstrike Targets on Mount Sinjar: Pentagon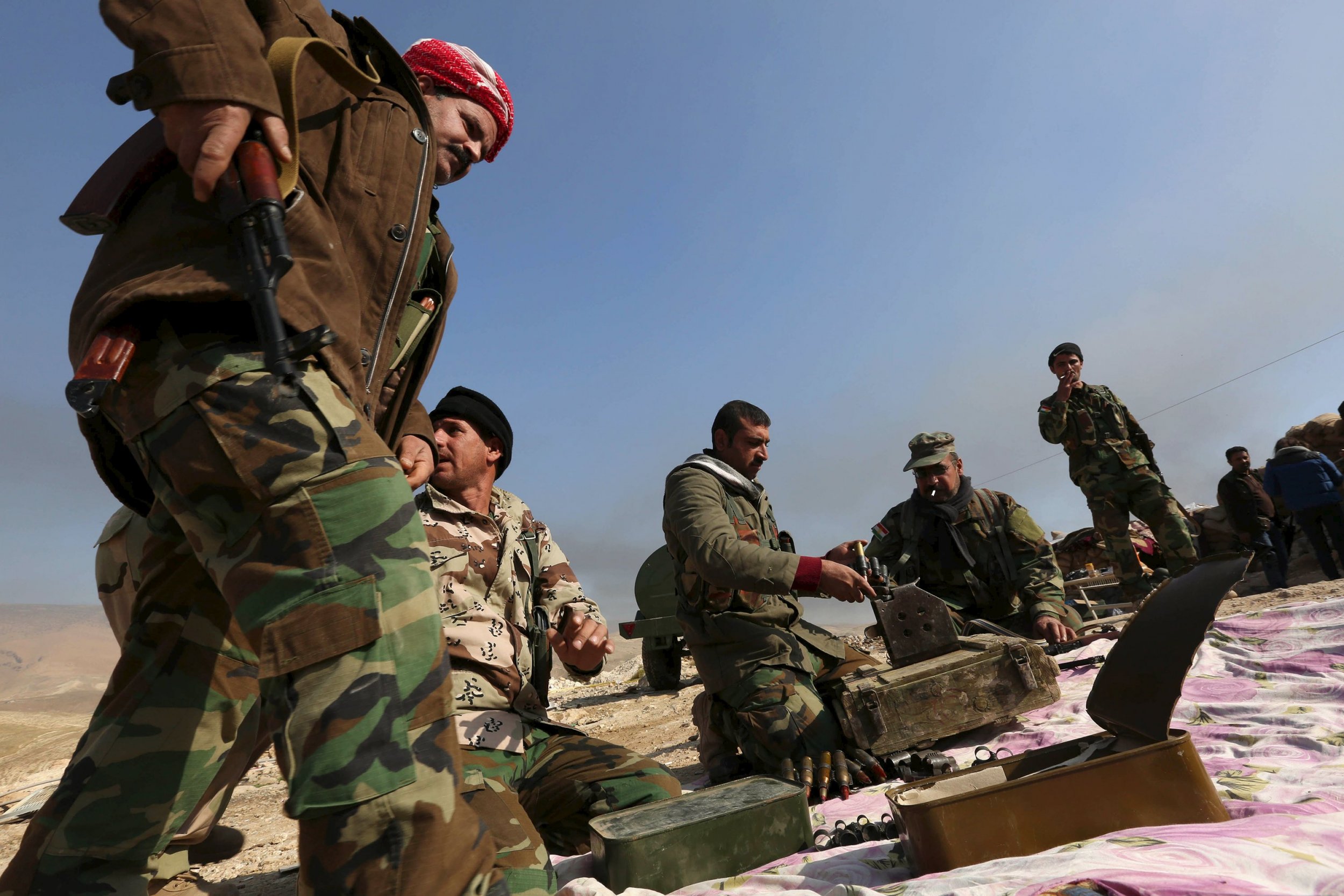 U.S. military advisers are on Sinjar mountain assisting Kurdish forces in the selection of targets for airstrikes in the newly announced Operation Sinjar, the Pentagon said on Thursday.
Operation Sinjar, a joint offensive against ISIS by the U.S.-led coalition and Kurdish peshmerga forces, which began on Thursday morning, will "degrade" ISIS's ability to move men and weapons between northern Iraq and Syria, Pentagon Press Secretary Peter Cook said on Thursday. Cook did not have an estimate for the number of U.S. advisers in Sinjar, but said they are working directly with Iraqi Kurdish forces to pick out targets.
Since Wednesday, coalition forces have hit 36 airstrikes in Iraq, said Cook. He said U.S. and Kurdish forces are working together on the operation to ultimately retake Sinjar from ISIS, starting by clearing a major highway between Raqqa, Syria—an ISIS stronghold—and Mosul, Iraq, which is used by ISIS militants as a key supply route. Peshmerga forces "successfully established blocking positions" along Highway 47, the Pentagon said on Thursday.
"By controlling Highway 47, which is used by [ISIS] to transport weapons, fighters, illicit oil, and other commodities that fund their operations, the coalition intends to increase pressure on the terrorists and isolate their components from each other," the Pentagon said in a statement on Thursday. Around 7,500 Kurdish forces are taking part in the operation, according to the Kurdistan security council.
"If [the highway] is indeed severed, it does mean, potentially, a significant impact on [ISIS]'s operations in that part of Iraq," said Cook, adding that it would harm the group's ability to supply forces, new foreign fighters and financial flows.
Sinjar was captured by ISIS in August 2014. Thousands of people from the minority Yezidi religion were massacred and thousands of Yezidi women and children were taken as sex slaves. Thousands of people scaled Mount Sinjar without food or water to escape ISIS, which issued an ultimatum: flee, convert to Islam or die. A report from the United States Holocaust Memorial Museum published Thursday determined that ISIS perpetrated a genocide against the Yezidi people and carried out crimes against humanity and ethnic cleansing against Christians and the other minority religions in northern Iraq.
The coalition of countries fighting ISIS in Operation Inherent Resolve, published a YouTube video on Thursday showing airstrikes in support of peshmerga forces and in preparation for Operation Sinjar several weeks ago. The video shows a sample of the airstrikes that occurred between October 27 and November 3.
The Pentagon said U.S.-led coalition airstrikes will continue to target ISIS targets, including the group's leaders, supply routes, command facilities and weapons storage. Last month, President Barack Obama announced he would be deploying 50 special forces troops to Syria to aid Syrian moderate rebels.
The U.S.-led coalition has conducted more than 7,870 strikes on ISIS targets in Iraq and Syria since they began in August 2014, according to the Department of Defense.