The U.S. is now advising Americans to reconsider traveling to Canada due to a rising number of COVID-19 cases up north, but figures indicate that the U.S. currently has more than five times the number of cases per capita.
On Tuesday, the State Department updated Canada's travel advisory to a Level Three, following a travel health notice issued by the Centers for Disease Control and Prevention (CDC) on Monday.
Under Level Three, the department advises Americans to "avoid travel due to serious risks to safety and security." Canada's travel advisory was lowered to Level Two earlier this month as border measures were eased, after being categorized as a Level Four in April when cases were soaring.
Although the number of COVID cases in Canada has been rising since mid-July, the country's new confirmed cases per capita remains one-fifth of those in the U.S.
Over the last week, Canada has reported nine COVID-19 cases per 100,000 people, compared to 48 new cases per 100,000 in the U.S., according to data from The New York Times.
In the states and provinces with the lowest number of new cases, the figures in the U.S. are 18 times those in Canada.
In Newfoundland and Labrador, Prince Edward Island and Nova Scotia, there has been one, or fewer, new cases per capita recorded over the last week. In places like Maine, Connecticut and Maryland, 18 to 19 new cases were reported over the same time period.
The CDC primarily determines risk levels by the number of cumulative new COVID-19 cases over the past 28 days per 100,000 people. Countries that report 100 to 500 new cases per capita over the last month are designated to Level Three.
While Canada has significantly fewer new virus cases per capita, the country's coronavirus metrics have also remained relatively low over the summer, which may make recent changes, driven by the highly contagious Delta variant, look much more drastic.
Over the last two weeks, Canada has seen a 63 percent jump in new cases, while the U.S. has reported a 12 percent increase.
The updated advisory comes almost a month after the U.S. decided to keep its land border closed with Canada until at least September 21 over concerns of the variant.
Canada, on the other hand, has eased measures for vaccinated American travelers, allowing those who have received their vaccines to travel for nonessential purposes through land, air and sea borders and without the previously required 14-day quarantine.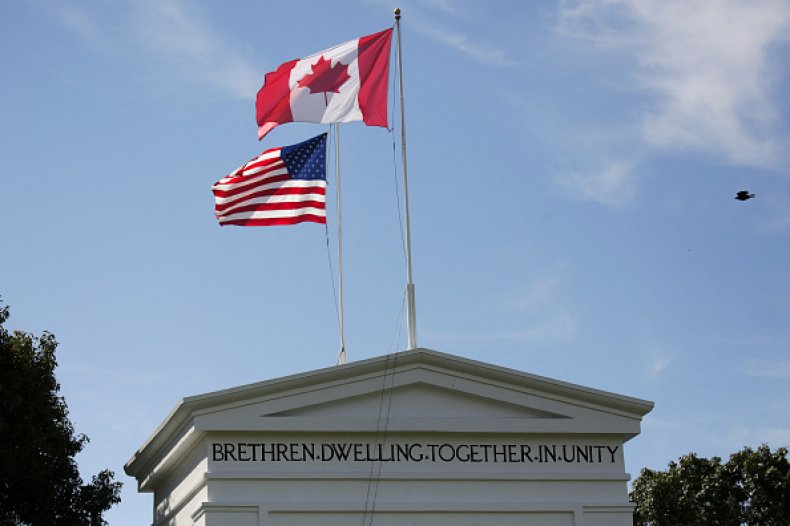 Rising cases brought on by the Delta variant have also led other countries to reconsider allowing in travelers.
On Monday, the European Union recommended that its 27 nations reinstate restrictions on American travelers due to the growing number of infections in the U.S. However, the recommendation is non-binding and member countries can continue to keep admitting fully vaccinated U.S. travelers.
While the E.U. recommended that American travelers be limited, it also lifted restrictions from Canada, urging member nations to allow entry of non-essential Canadian travelers—a contradictory move to the latest recommendations of the U.S.
Decisions made by Europe's governing bodies seem to be driven in part by the vaccination rates in the U.S., where vaccine hesitancy has remained an issue for states that have been unable to get more shots into the arms of residents.
Despite a rocky vaccine rollout, Canada has managed to fully vaccinate 76 percent of Canadians over the age of 12. Comparably, only 61 percent of eligible Americans have been inoculated against COVID-19.