Multiple U.S. and Afghan special operations soldiers have been killed Saturday in an ambush in Afghanistan's restive east.
U.S. personnel from the 3rd Battalion, 7th Special Forces Group and members of the allied Afghan Special Operations Forces were conducting key leader engagement, a term that refers to efforts to engage with influential figures within the local community, in the Sherzad district of Nangarhar province when they were exposed to fire, a U.S. official told Newsweek. At least two U.S. troops were killed and six more wounded, while Afghan forces suffered nine fatalities.
"Upon completing a key-leader engagement at the district center, current reports indicate an individual in an Afghan uniform opened fire on the combined U.S. and Afghan force with a machine gun," U.S. Forces Afghanistan spokesperson Colonel Sonny Leggett said in a statement sent to Newsweek. "We are still collecting information and the cause or motive behind the attack is unknown at this time. The incident is under investigation."
The attack is being classified as "green-on-blue," meaning it was perpetrated by a member or members of the partnered Afghan security forces against U.S. troops.
"A combined U.S. and Afghan force conducting an operation in Nangarhar Province was engaged by direct fire on Feb. 8. We are assessing the situation and will provide further updates as they become available," Col. Leggett said.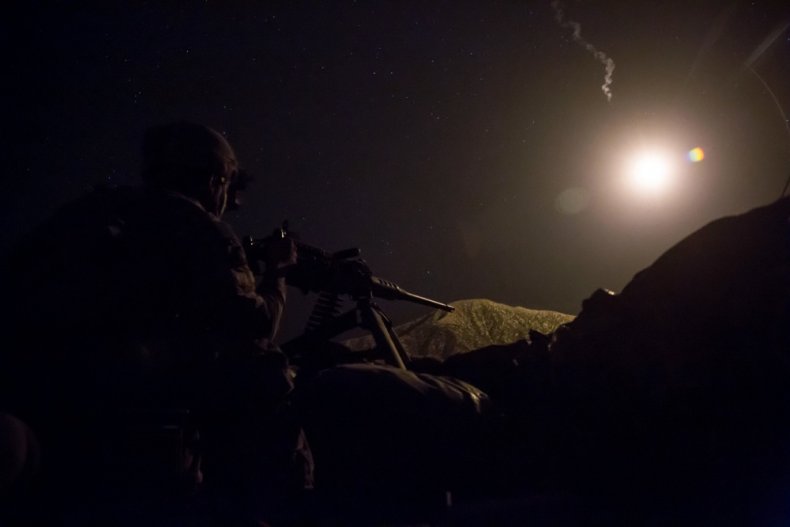 More than 2,400 U.S. personnel have been killed in Afghanistan since 2001, the year the United States and its allies intervened to overthrow a Taliban-led government allied with Al-Qaeda shortly after the September 11, 2001 attacks. The conflict has since become the longest in U.S. history, and this latest incident comes as President Donald Trump pushes to end it.
U.S. officials told Newsweek earlier this week that a peace deal between Washington and the Taliban was soon expected. Such an agreement may entail the U.S. drawing down its current force strength of around 14,000 to about a third of that figure.
Secretary of Defense Mark Esper said in December that the U.S. military "could go down to a lower number with or without that political agreement." Secretary of State Mike Pompeo said Monday, however, the Trump administration sought "demonstrable evidence" that the Taliban was willing to end its violent tactics and talk directly with the Afghan government in Kabul.
Continued unrest across Afghanistan has repeatedly complicated efforts to reach an agreement. As U.S. and Taliban officials met for multiple rounds of peace talks in the Qatari capital of Doha over the past year, the Islamist militant group has continued to stage attacks on both military and civilian targets, calling for an immediate withdrawal of U.S. and partnered forces of the NATO Western military alliance.
Last month, two U.S. soldiers were killed and two more wounded when their vehicle struck an improvised explosive device in the southern province of Kandahar. Two U.S. airmen died weeks later after their Bombardier E-11A crashed in Ghazni province, though the Pentagon has said "no indication it was caused by enemy fire."
As Newsweek reported Wednesday, a U.S. citizen has also been kidnapped by hostile forces in Afghanistan. Mark R. Frerichs, a 57-year-old government contractor from Lombard, Illinois, was captured last week by the Taliban-allied Haqqani network in southeastern Khost province and is currently being held hostage by the militants.
In its latest report, the congressionally-mandated Office of the U.S. Special Inspector General for Afghanistan Reconstruction said Tuesday that the number of attacks launched by the Taliban and other militant groups in the last three months of 2019 was at the highest level than in that same period of any year since it began recording such data in 2010.
This is a developing story.