U.S. Agrees to Pay Family of Japanese Woman Killed by American Military Worker
The U.S. government will offer compensation to the family of a Japanese woman killed by a U.S. military worker in 2016, newspaper The Japan Times reported.
"In case the payment from the U.S. side falls short, the Japanese government will pay the rest as condolence money," Japanese Defense Minister Itsunori Onodera said Friday after meeting with U.S. Defense Secretary Jim Mattis.
Kenneth Franklin Shinzato was sentenced to life in prison in December 2017 for the April 2016 rape and murder of a 20-year-old woman in Okinawa, an island in the East China Sea used by U.S. troops for training. Shinzato was in the Marines from 2007 to 2014. At the time of the murder, he was employed by an internet company serving the Kadena Air Base, which spans two nearby towns and the city of Okinawa.
Prosecutors said Shinzato "stabbed the victim in the neck with a knife three or four times and struck her with a bar on the back of her head between five and 10 times."
Shinzato said he had not intended to murder the woman. "I am detained because she unexpectedly died. I did not intend to kill her," he said.
When the U.S. government establishes a military base in a foreign country, it seeks to conclude a Status of Forces Agreement (SOFA), which determines operating conditions for stationed troops. The conditions discussed often include criminal liability in cases of misconduct by U.S. troops.
The victim's family appealed to the U.S. government after Shinzato said he did not have enough money to pay the compensation, a stipulation agreed upon under the U.S.-Japan SOFA, according to The Japan Times. The amount of money the court ordered Shinzato to pay has not been published.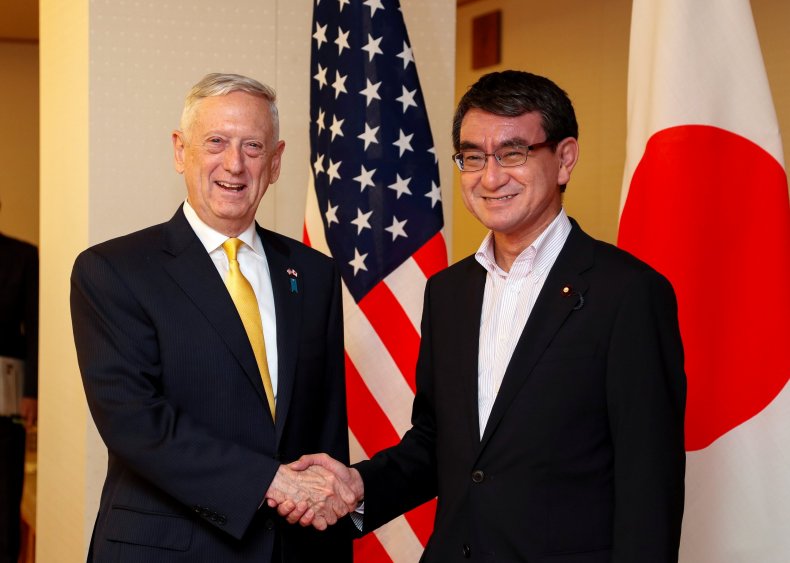 The rape and murder fueled tensions in Okinawa, an island that Japanese citizens have shared with U.S. military personnel since World War II and which houses the most Marines outside the U.S. Locals have complained of noise pollution and fears about their safety. ABC News reported in 2016 that military facilities occupy approximately 20 percent of the island, where 30,000 troops lived.
The South China Morning Post newspaper reported that police statistics indicate 741 "serious" crimes—such as rape, burglary or murder—involving either active U.S. troops or civilian workers took place between 1972 and the end of 2015. The most notorious crime in Okinawa remains the 1995 rape of a 12-year-old Okinawan girl by three Marines, who were later convicted.
In 2016, tens of thousands of protesters staged an event to publicize discontent with the military presence in Okinawa and demanded U.S. troops leave the island.