U.S. Tries Out Portable 'Air Base in a Box' in Poland to Prepare for Potential Russia Conflict
The U.S. Air Force has been testing out a new "air base in a box" in Poland, in preparation for any potential conflict with Russia or any other foreign enemy.
The scheme "will enable the service to rapidly move to a partner nation's airfield, set up a squadron and begin flying combat missions," according to Defense News, which traveled to see the deployable air base system first-hand in July and published a feature about the portable bases Sunday.
"When we deploy forward, we have very generous hosts, but in a crisis, they're going to need their capabilities for their priorities, their mission sets, and we're going to fight jointly and operate jointly," Brigadier General Roy Agustin, U.S. Air Forces Europe's director of logistics, engineering and force protection, told the website in an interview.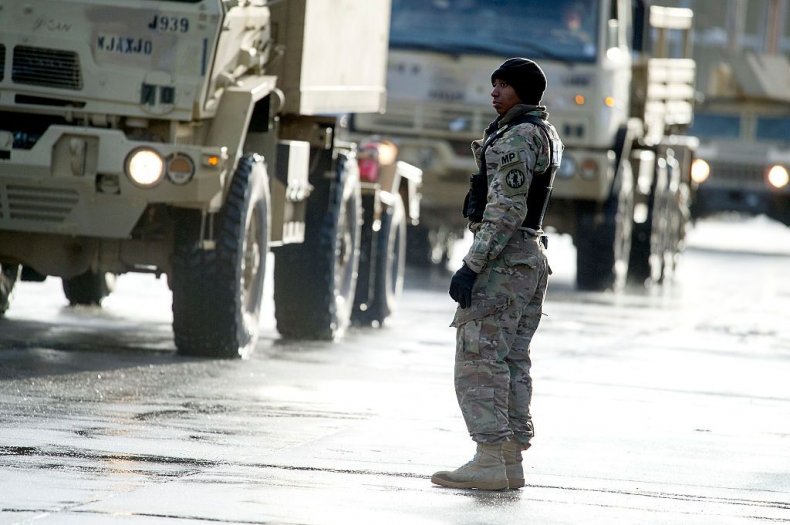 Agustin explained that "rather than add a burden" to local partners by requiring things like power and lodging, the portable bases allow the Air Force to show up equipped and ready. "We are both more capable and there's more synergy as a result," he said.
Although "in a box" makes the system sound compact, it actually still entails a significant number of moving parts. As Defense News noted, 87 trucks, two C-130J military transport aircraft and a train were required to move the equivalent of 321 pallets of equipment—including about 60 vehicles and 161 containers—into Poland.
The first vehicles were loaded on July 16 and everything arrived by July 31. That particular base, which was just set up as a test, is also only about 20 percent of the size of a full-fledged system.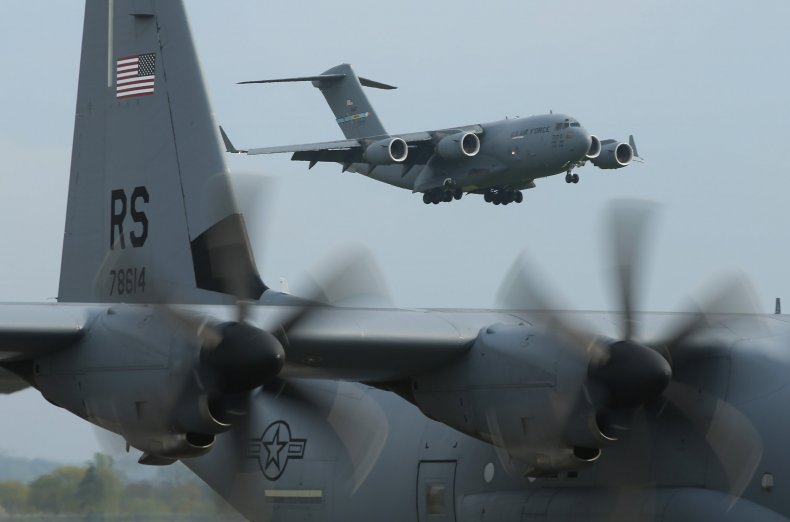 Agustin explained that the air base system is different than more traditional portable base systems in that it also includes medical support, transportation and construction vehicles, as well as tools for setting up airfield operations. The Air Force is also pre-positioning the systems throughout Europe, so they can be deployed rapidly in the face of any threat.
The effort from the Air Force has come at a time of continued tensions between NATO and Russia. Since Moscow supported separatist rebels in Ukraine in 2014 and also moved to annex the Crimean peninsula, many European nations have raised concerns that Russian President Vladimir Putin may have similar expansionist ambitions regarding their own territory.
Earlier this year, reports circulated suggesting that Poland had offered $2 billion for the U.S. to be stationed permanently within its borders for protection from Russia. In late May, Moscow respondedto the news, saying any such move could "lead to counteraction from the Russian side."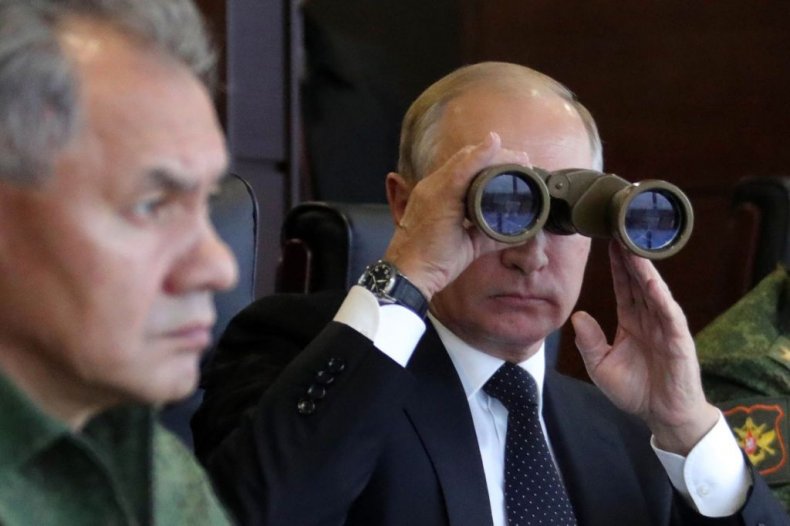 "When we see the gradual expansion of NATO military structures towards our borders … this of course in no way creates security and stability on the continent," Kremlin spokesman Dmitry Peskov said in a press conference at the time.
Vladimir Dzhabarov, first deputy head of the Federation Council's Foreign Affairs committee, warned that Poland's moves to cozy up to NATO could make it "one of the main targets in case of a possible conflict." The Moscow Times reported.
"The closer they get to NATO, the more endangered Poland's very existence becomes," Dzhabarov added.