U.S. Air Force Plane That Crashed In Taliban-held Territory Identified As Critical Communications Aircraft
The plane belonging to the U.S. Air Force that crashed Monday in Taliban-held territory in the Ghazni province of central Afghanistan, just south of the capital, has been identified as an aircraft that provides real-time information flow to military commanders and troops on the ground.
The aircraft is a U.S. Air Force Bombardier Global 6000 or E-11A Battlefield Airborne Communications Node, Resolute Support officials said. The aircraft was assigned to the 430th Expeditionary Electronic Combat Squadron based out of Kandahar Airfield, about 178 miles southwest of where the plane crashed, according to U.S. military officials, who spoke to Newsweek on condition of anonymity because they were not allowed to speak on behalf of the Defense Department.
"The crash is under investigation, there are no indications the crash was caused by enemy fire. We will provide additional information as it becomes available," said U.S. Army Colonel Sonny Leggett, a spokesman for U.S. Forces-Afghanistan. "Taliban claims that additional aircraft have crashed are false."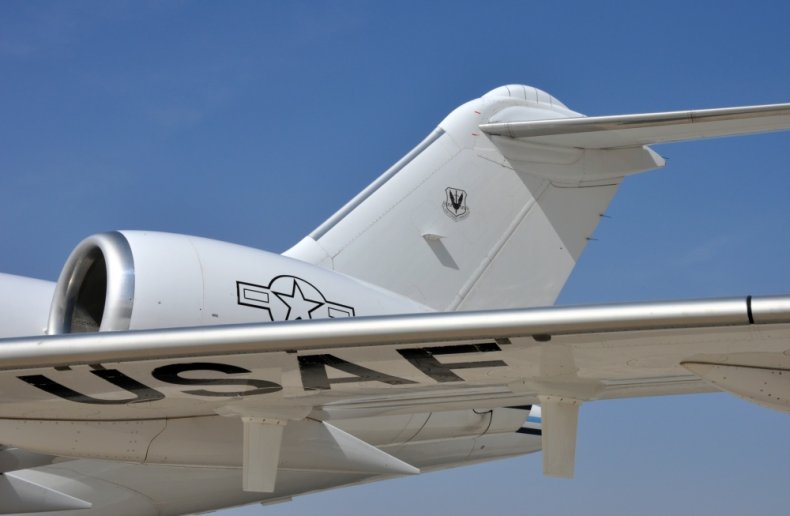 Newsweek subscription offers >
Arif Noori, a provincial government spokesman, told CBS News the plane appeared to have been flying between Kandahar in the south and Kabul in the north. Ghazni province falls in between those two locations. Noori said the bodies of two pilots were found at the crash site.
It is not immediately clear what caused the plane to crash. The Taliban claimed responsibility on social media for bringing down the U.S. military plane, saying they killed many American service members, including high-ranking members of the Central Intelligence Agency. The militant group is known to exaggerate or fabricate enemy casualties in their battlefield claims.
The CIA declined to comment about the incident.
On social media, unverified images and videos from the crash site emerged. One video shows smoke billowing up from the wreckage as it pans to the tail of the aircraft, where American military insignias and markings can be seen, destroyed by fire. A still image reviewed by Newsweek shows the Air Combat Command insignia of the U.S. Air Force.
Newsweek subscription offers >
Early reports about the plane crash in central Afghanistan said that a commercial airliner operated by Ariana Afghan Airlines was involved. The company denied those reports.
The crash comes as American and Taliban negotiators appear to be on the verge of striking a peace deal in Qatar. Zalmay Khalilzad, U.S. special representative for Afghanistan, has been working to reduce violence in the region ahead of a peace deal since negotiations restarted in November after President Donald Trump visited U.S. troops on Thanksgiving.
The peace talks were put on hold in December after the Taliban attacked Bagram Airfield. Khalilzad condemned the assault on Twitter, saying, "[The] #Taliban must show they are willing & able to respond to Afghan desire for peace."
Earlier this month, a roadside bomb killed two U.S. service members, U.S. Army Staff Sergeant Ian P. McLaughlin and Private First Class Miguel Villalon, in Kandahar province. Both soldiers were assigned to the 82nd Airborne Division out of Fort Bragg in North Carolina.
More American service members died fighting the Taliban and other insurgent groups in 2019 than in any other year since 2014 when the United States marked the end of combat operations in Afghanistan. Twenty were killed in 2019, 13 in 2018, and 11 in 2017.
U.S. Air Force Plane That Crashed In Taliban-held Territory Identified As Critical Communications Aircraft | World