U.S. Air Force Tests West Coast Nuclear Deterrent as Navy Nears North Korea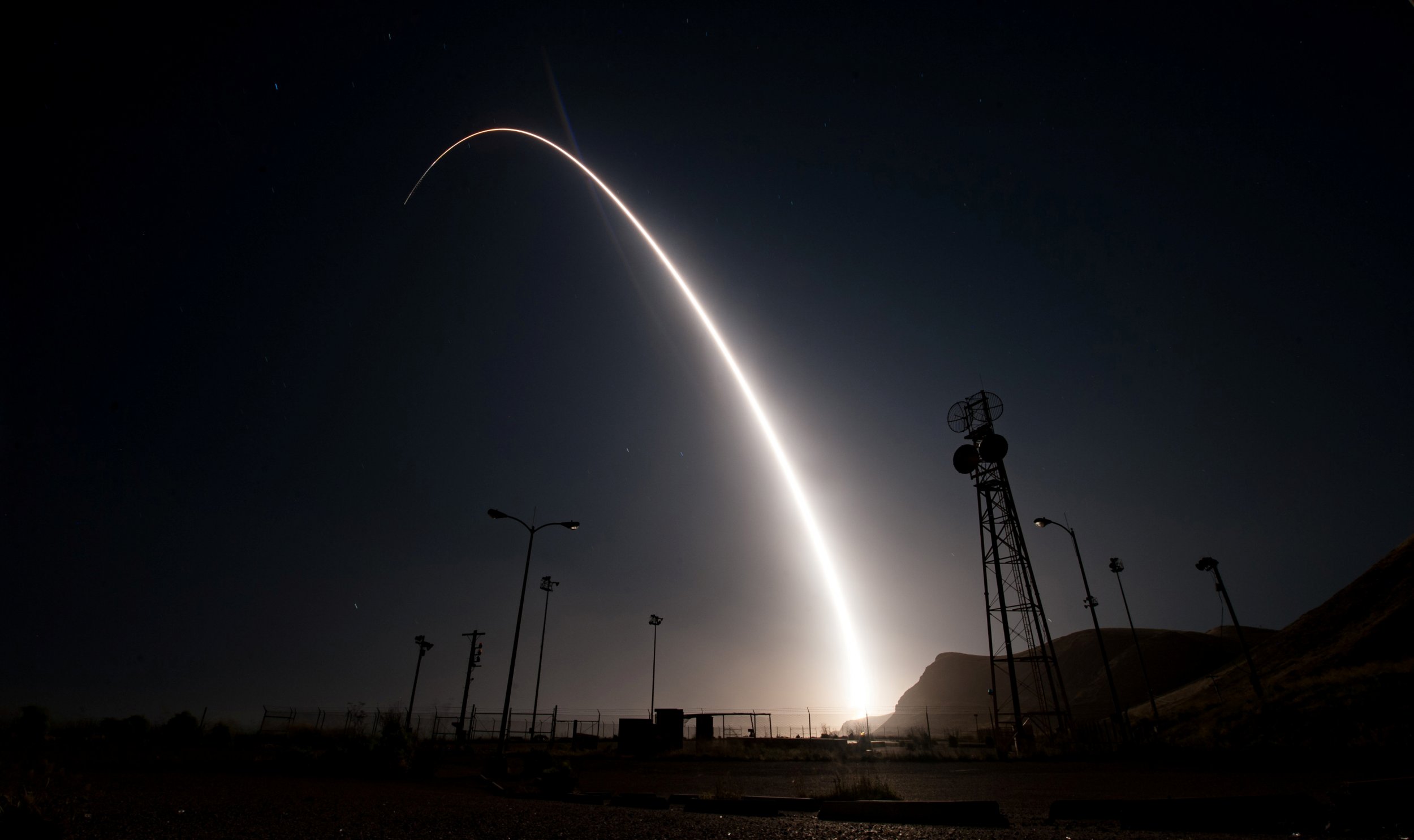 The Air Force launched an unarmed intercontinental ballistic missile (ICBM) thousands of miles into the South Pacific early Wednesday morning to test the nation's nuclear deterrence capabilities. The event comes as Washington formulates a strategy to deal with nuclear-armed North Korea and its pursuit of ICBM technology.
The test by Air Force Global Strike Command was conducted just after midnight Wednesday at California's Vandenberg Air Force Base. The launch team successfully fired the inert nuclear-capable LGM-30 Minuteman III approximately 4,200 miles out to sea, where it eventually landed near the Kwajalein Atoll in the Marshall Islands, according to a press release by the Air Force Global Strike Command. Air Force spokesperson Carla Pampe said the test affirmed the accuracy and fundamental functions of the weapon, calling the test "reliable."
Related: U.S. holds war games with allies as North Korea vows to wipe enemies off the Earth
"Everything it was designed to do, it did," she told Newsweek Wednesday.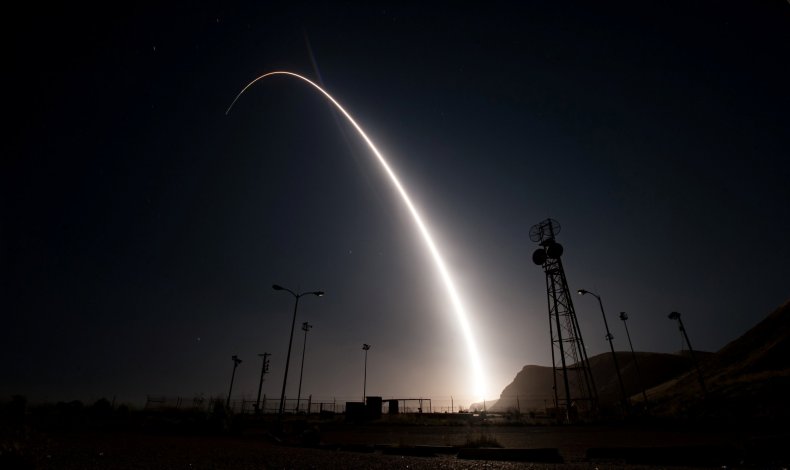 Pampe said such tests are routine and are often planned three to five years in advance. She said this particular launch was originally scheduled for last October, but it was delayed by wildfires in the region. Still, the test's timing was criticized Monday by the Nuclear Age Peace Foundation, a California-based nonprofit opposed to the proliferation of nuclear weapons. In a statement, the group's president, David Krieger, accused the U.S. of "operating with a clear double standard" by condemning North Korea for conducting ballistic missile tests while justifying its own based on national defense.
The launch came during a political crisis between Washington and Pyongyang in the Western Pacific, where President Donald Trump has dispatched the Carl Vinson Carrier Strike Group, saying he wants to prevent North Korea from pursuing a sixth nuclear weapons test. The U.S naval formation has conducted military drills with regional allies South Korea and Japan in preparation for a potential military conflict with North Korea, which the White House has suggested was being considered if Pyongyang went ahead with plans to conduct another nuclear weapons test.
North Korea has responded to such threats by vowing to unleash its arsenal, estimated at about 1,000 ballistic missiles and 20 nuclear warheads, against regional foes. North Korean leader Kim Jong Un announced earlier this year that his nation was in the final phases of developing a nuclear-capable ICBM that could hit the U.S., but security analysts have questioned the authoritarian nation's true progress. During a teleconference hosted earlier this month by North Korea monitoring group 38 North, John Schilling, a satellite and launch vehicle propulsion system specialist at Aerospace Corporation, estimated North Korea would not be able to produce a weapon capable of striking the U.S. until at least 2020, and not before significant testing.
The nearly 60-foot-long, 80,000 pound Minuteman III missile costs about $7 million a unit and can travel as fast 15,000 miles per hour (Mach 23), and is capable of striking land targets more than 6,000 miles away, according to a 2016 report by the Federation of American Scientists. The U.S. is believed to possess up to 530 of the missiles, a number that is to drop to about to 450 by 2018 in compliance with the NEW START treaty signed in 2010 by former President Barack Obama and his Russian counterpart at the time, Dmitry Medvedev.
Earlier this year, however, President Donald Trump told Russian President Vladimir Putin during a call that the treaty, which was designed to reduce the U.S. and Russian nuclear weapons stockpiles, was a bad deal, Reuters reported.