Do You Have to Wear a Face Mask on a Plane? U.S. Airlines Could Stop You From Flying If You Don't
Airlines for America (A4A) has announced that major U.S. airlines will be enforcing face-covering policies. Alaska Airlines, American Airlines, Delta Air Lines, Hawaiian Airlines, JetBlue Airways, Southwest Airlines, and United Airlines will be implementing new rules that require passengers and customer-facing employees to wear masks or coverings that cover their nose and mouth.
A4A President and CEO Nicholas E. Calio said in a statement: "U.S. airlines are very serious about requiring face coverings on their flights. Carriers are stepping up enforcement of face coverings and implementing substantial consequences for those who do not comply with the rules.
"Face coverings are one of several public health measures recommended by the CDC as an important layer of protection for passengers and customer-facing employees."
According to the new policies that will be implemented by A4A, airlines will explain their face-covering policies in communications with customers before the flight and may require them to acknowledge the rules during check-in.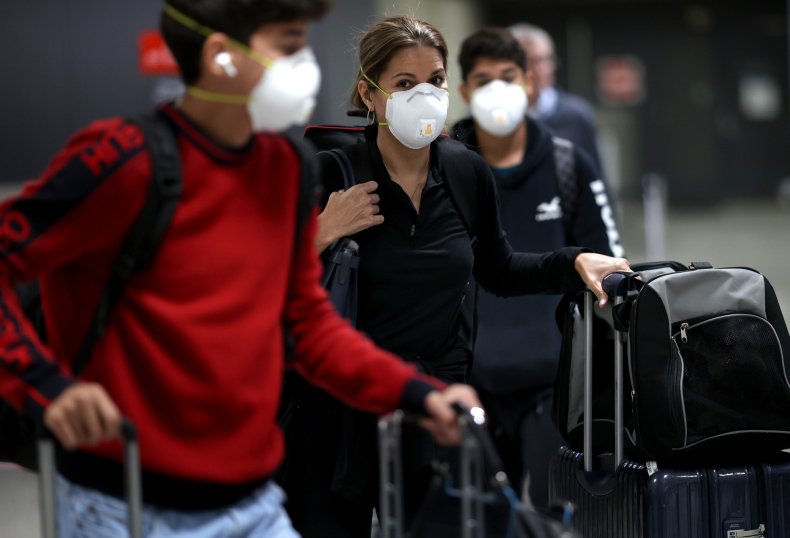 Once onboard, crew members will announce details of their policy, including the consequences for violating the rules. Individual airline carriers will determine the consequences for customers who do not comply with the policies, which could include being suspended from flying with that airline.
Last month, A4A announced a "Fly Healthy. Fly Smart" initiative which announced actions that would be required from both airlines and customers. A4A said in the guidelines that: "Every part of the flying experience has been modified with the wellbeing of passengers and employees in mind."
As well as requiring their customers to use face coverings, airlines will have to use HEPA filtration systems that eliminate 99.9 percent of pathogens, including viruses; sterilize with electrostatic sprayers and foggers; sanitize counters, kiosks, and gate areas; disinfect surfaces like armrests and seat buckles, and reduce touchpoints like beverage services.
A4A also said in the guidelines of its initiative that: "Passengers share in the responsibility to make flying a safe and enjoyable experience for everyone. These actions, while small, have a wide-ranging effect that serve as an added measure of protection."
When flying with an airline belonging to A4A, customers will have to follow recommendations from the Centers for Disease Control and Prevention (CDC) which include wearing a face covering over their nose and mouth, washing their hands often for at least 20 seconds, covering their face when coughing or sneezing, using their smartphone to check-in, avoiding touching their face, and staying home if they are sick.
The CDC has published advice for people who are considering traveling and says: "Do not travel if you are sick, or if you have been around someone with COVID-19 in the past 14 days. Do not travel with someone who is sick."