U.S.-Backed Syria Fighters Consider Their Own Cause as Russia and Turkey Deal in Idlib
The. U.S.-backed Syrian Democratic Forces have been sidelined by all sides dealing over their war-torn country's future, now the mostly Kurdish group hopes the Damascus government will grant them a leading role in the fight against a common foe—but major rifts remain.
In an interview aired Thursday by the Rossiya 24 network, Syrian President Bashar al-Assad again appealed to Kurdish fighters to abandon their partnership with the United States and embrace the central government in order to jointly battle Turkey and allied insurgents present in northern border pockets of territory. He argued that Washington showed its true colors when it withdrew its forces rather than defend Kurdish fighters from Ankara's October offensive and instead fortified U.S. control over eastern oil fields.
"They are moving in line with the Americans and the Turks. Only the Syrian government and other segments of Syrian society are fighting the Turks and losing martyrs every day," Assad claimed ahead of Friday's Moscow-Ankara ceasefire that paused months of deadly clashes between pro-government forces and rebels, jihadis and Turkish troops operating in Idlib province.
"If they were to say, 'We will agree with you against the Turks,' my response would be, 'We are ready, send your fighters so that together we can defend our land,'" the Syrian leader added, addressing the Kurdish community he argued Syria had long sheltered from Turkish aggression in the past, "even though they were not Syrians."
But these Kurdish fighters now long for self-rule and the Syrian leader said that, while Damascus has "always been positive regarding the Kurdish issue," the "Kurdish cause"—autonomy across the parts of the north and east—"is a false title." These words were ill-received by Elham Ahmed, president of the executive committee of the Syrian Democratic Forces' political wing.
"The statements of the Syrian president neither serve the territorial integrity of Syria, nor do they serve internal Syrian dialogue. They strengthen the convictions of the Turkish side to occupy," Ahmed said Friday in a statement that challenged Assad's historical record. "As Syrians, what's required from us, is to focus on the language of pluralism, participation and reliance on multiple identities of the Syrian state."
A letter signed by some 31 parties in the mostly Kurdish-ruled autonomous administration of northern and eastern Syria shared a similar message. Negotiations between the two sides remain largely frozen and the Syrian government has largely focused on reclaiming insurgent-held Idlib, but the collapse of a fragile truce there between Russia and Turkey may actually prove fortuitous for reconciliation.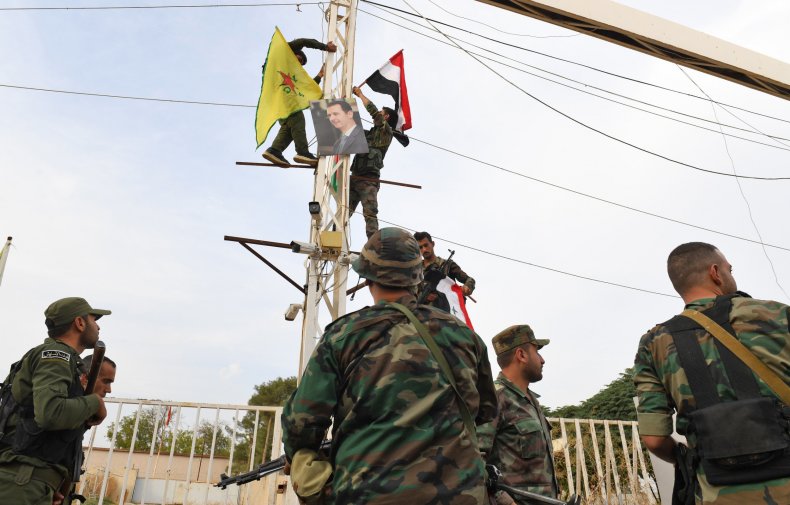 The Syrian Democratic Forces have alternatively fought with and against government forces throughout the conflict but since 2015 they have predominantly operated as part of the U.S.-led coalition's war against the Islamic State militant group (ISIS). With the jihadis largely defeated, however, the United States' lack of interest in becoming further entrenched in Syria's nine-year civil or in defying NATO ally Turkey has had a major effect on their calculus.
Putin and Erdogan have repeatedly demonstrated themselves as central figures in the war. Though their arrangements have all inevitably caved in to Syrian government advances, this was a preferable alternative to Kurdish fighters seeking to form a united front.
"I think the hope among the political leadership here is that Putin and Erdogan can't compromise and that the Syrian Arab Army instead come to the Syrian Democratic Forces with a more open ear to talks about working together to remove Turkey and its proxies from Idlib and after Afrin and other occupied regions," Thomas McClure, a researcher with the northeast Syria-based Rojava Information Center, told Newsweek.
Though he calls this "a realistically distant project right now," McClure says the ultimate goal of Syrian northeast autonomous administration officials is to "come to some kind of deal with Damascus allowing them to retain their autonomy in the regions under their control, to retain military autonomy under the Syrian Arab Army and to take back those regions occupied by Turkey."
These areas include northern Aleppo's Afrin, seized in early 2018, as well as Hasakah's Ras al-Ayn and Raqqa's Tel Abyad, taken in last year's October incursion. In both instances, pro-Syrian government forces and Syrian Kurdish fighters, many of them with the People's Protection Units (YPG), teamed up to some extent.
These partnerships have been fleeting, however, without any serious political process. The Syrian Democratic Forces have repeatedly affirmed their commitment to the U.S.-led coalition, a stumbling block for what both Damascus and the autonomous northeastern administration call their "Syrian-Syrian dialogue."
Washington seeks a political solution to the conflict in Syria but has refused the mandate of Assad, who stands accused of war crimes in his cross-country conquest. James Jeffrey, the State Department's special representative for Syria and envoy to the fight against ISIS, said the U.S. would only work with "the forces that are basically aligned with the United States, with the European Union, with the Arab League, with the UN effort, to achieve a political solution with a compromise result in Syria."
"That, sadly, does not include the Assad regime, and that's where the problem begins," he added, accusing the Syrian leader of human rights abuses in Idlib.
"Our main effort in terms of what tools we have to try to push for a negotiated settlement are economic and diplomatic. It is the isolation of the evil Assad regime and it is our sanctions policy and a denial of reconstruction assistance to keep this – to keep the pressure on the regime and on the regime's supporters, Russia and Iran, to come to a compromise result," Jeffrey said,.