U.S., Allies Vow to Continue Black Sea Military Drills, Russia Sends Warplanes to Defend Borders
Officials of the U.S. military and NATO alliance have told Newsweek they intend to press on with their annual Black Sea exercises in spite of heightened tensions with nearby Russia, which has accused the rival bloc of provocations near its borders, and has reinforced its airspace with warplanes.
A growing chorus of political, military and diplomatic officials in Moscow have hit out at the 30-nation Exercise Sea Breeze drills co-hosted by the United States and Ukraine in recent weeks.
The criticism intensified after Russia accused a participating battleship of the United Kingdom of sailing irresponsibly toward Russian-claimed waters last month, prompting a Russian vessel to fire warning shots.
Russian Deputy Foreign Minister Sergei Ryabkov told the International Affairs journal Tuesday that Moscow was prepared to use force to ward off threats.
"With provocateurs it's essential to speak as straightforwardly as possible,
Ryabkov said, "spelling out in detail why they would be better off leaving their provocations aside next time and staying away from that area, because they will get clocked in the nose."
"The risks of conflicts may further mount," he added. "The Black Sea is not a place where such games are permissible."
The following day, Kremlin spokesperson Dmitry Peskov doubled down on the warning.
"[Both at the level of] the Russian president and other levels it has been stated many times that Russia would take appropriate measures in the event of violations of the state border at sea," he told reporters Wednesday, according to the state-run Tass Russian News Agency.
"So, in this case, every time when Russia's state border is violated, the necessary measures will be taken," Peskov said. "The border guards will take steps stipulated by all instructions in the event of state border violations, and certainly all diplomatic tools will be also used."
Such rhetoric has been dismissed by the U.S. side, which continues to assert the right to operate in the Black Sea despite geopolitical tensions associated with the maneuvers.
"The approximately 30 nations participating in Sea Breeze demonstrate an international commitment to stability of the Black Sea," U.S. Navy Sixth Fleet Deputy Public Affairs Officer Lieutenant Commander Matthew Comer told Newsweek. "Misinformation threatens that stability of this vital international waterway."
He said the exercises, scheduled to run from June 28 to July 10, would continue, along with other planned operations in the Black Sea in spite of Russian protests.
"Our operations during the annual execution of Sea Breeze are designed to build cohesion among Allies and partners, and are not in response to any real-world events," Comer said. "U.S. Sixth Fleet along with Allies and partners will continue to conduct routine operations in international waters and airspace, ensuring freedom of navigation and uninhibited maritime trade across the global commons."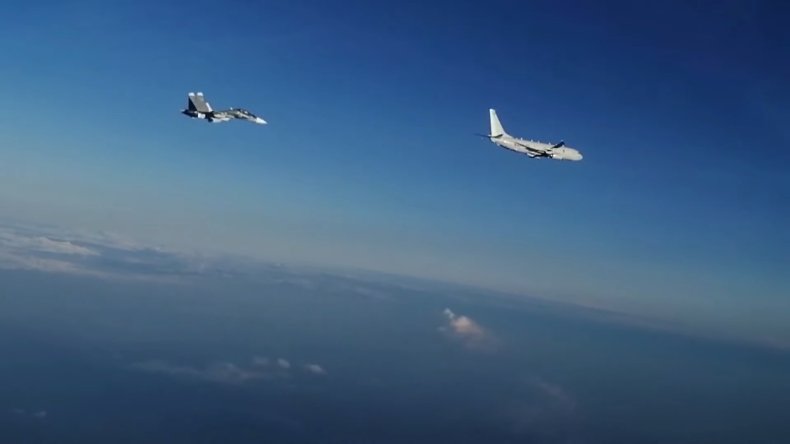 The Black Sea is at the epicenter of the most serious rift between Russia and the NATO alliance in decades.
In 2014, mass demonstrations ousted a Ukrainian government resisting Western overtures, prompting rival a pro-Russian uprising in the east and in the Crimean Peninsula. Moscow dispatched unmarked troops to secure Russian interests there, including the strategically important headquarters of their Black Sea Fleet.
As a separatist insurgency erupted in the eastern region of Donbas, a referendum in Crimea resulted in its annexation by Russia. But Ukraine has refused to recognize the change of status, and the rival NATO-Russian buildup that followed marked the largest mobilization in the region since the Cold War.
"Since Russia's illegal annexation of Crimea, NATO has increased its presence in the Black Sea," a NATO official told Newsweek. "NATO ships routinely operate in the Black Sea, consistent with international law, usually patrolling the waters for around two-thirds of the year. We have also increased our cooperation with partners in the region, including Ukraine, with greater information sharing, port visits and exercises."
He noted that increased NATO activity extends beyond the Black Sea itself.
"Several Allies also conduct NATO air policing in the Black Sea region, and three NATO members are littoral states with their own forces in the region," the official said. "NATO Allies and partners are committed to ensuring that the Black Sea region remains stable and secure."
Russia has made a point to make its grievances known, including through the simulation of firing advanced S-400 surface-to-air missile systems against enemy aircraft Tuesday in the Black Sea-adjacent Krasnodar region of the Southern Military District.
That same day, Russian Su-30SM fighters jets attached to the aviation units of the Black Sea Fleet escorted a U.S. Navy Poseidon P-8 flying over the Black Sea. The Russian Defense Ministry said the twin Russian aircraft "identified the aerial object and did not allow it to violate the State Border of the Russian Federation" in an operation it said was conducted "in strict accordance with the International Rules for the Use of Airspace."
Also on Tuesday, U.S. Navy Commander Daniel Marzluff, the U.S. Sixth Fleet's Black Sea Region Engagement Lead, told Newsweek that Exercise Sea Breeze was "essential" in deterring Russian aggression and asserting U.S. and NATO backing for Ukraine as it remained locked in a bloody stalemate with pro-Russian rebels.
"This is clearly the most effective way to bring a unified front to this kind of rogue action," Marzluff said.
On Wednesday, Ukrainian Deputy Prime Minister and Minister for Reintegration of the Temporarily Occupied Territories of Ukraine Oleksii Reznikov met with NATO Secretary-General Jens Stoltenberg at the alliance's headquarters in Brussels.
Russia sent another military message Wednesday via the five-hour flight of Tu-22M long-range strategic bombers escorted by Su-30M2 fighters over the Black Sea. Meanwhile, Black Sea Fleet minesweeper Valentina Pikul conducted anti-mine, anti-aircraft and anti-sabotage exercises in the Kerch Strait, a flashpoint that Russia has previously closed to outside traffic, cutting off maritime traffic to Ukrainian ports.
International tensions surrounding the Ukraine conflict and Black Sea region were a topic of discussion when President Joe Biden met last month with his Russian counterpart Vladimir Putin for their first bilateral summit since the former took office in January.
The White House has extended an invitation to host Ukrainian President Volodymyr Zelenskyy for a summit of his own alongside Biden sometime this summer, though no date has been announced.
Meanwhile, efforts to resolve the conflict in Ukraine continue under the auspices of the Organization for Security and Co-operation in Europe. Its parliament adopted a resolution condemning alleged violations in the self-proclaimed separatist republics of Ukraine along with Russian restrictions on access to Crimea and the neighboring Black Sea and Sea of Azov, which are divided by the Kerch Strait.
The Russian delegation rejected the resolution as invalid on procedural grounds, claiming that the vote took place after the head of Moscow's team, Pyotr Tolstoy, cut his video feed. He argued that all members must be present to secure a two-thirds majority in order for a resolution to be adopted.